Spinal Cord Injury Awareness Day 2019: Roger's Story
16 May 2019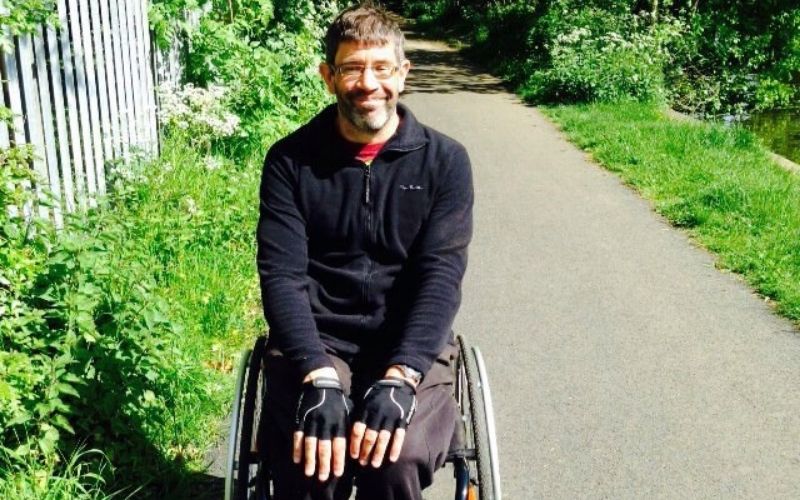 For Spinal Cord Injury Awareness day, we're focusing on the importance of having 'a place to call my own' and the benefits it brings. We recently spoke to Roger about how having an accessible home helps him lead an independent life.
In August 2014, Roger was putting boarding out his loft. It was a hot day and incredibly stuffy at the top of the house.
''I must have passed out and fell through the hatch. All the wind was knocked out of me. I felt cold and slipped in and out of consciousness,'' Roger says.
Roger had sustained a T12 incomplete spinal cord injury. After ten weeks at a spinal centre, he was ready to go home. But his family home in Strood wasn't accessible and impossible to adapt. Roger had to spend ten weeks at a respite home.
''It was ok. My wife used to visit me, and the staff were good. The challenges were that most people were older, some of them were a lot older.''
During this time, Roger's wife spent a lot of time looking for suitable properties. It was a difficult search and none of the properties they found were completely accessible. They finally found a bungalow that – with some work – could be the perfect home for them both.
Roger had a personal injury insurance policy, and the pay-out helped covered the cost of the adaptations they needed to make.
''We've had a lot of work done. My friend turned one of the rooms into a wet room. He put two weeks of his own time to help build it and only charged for the materials. Another friend also knew a landscaper who sorted out the drive way. It slopes towards the house and ends up level with the front-door entrance, so you don't need a ramp to get in. The two steps to the kitchen door were removed and a sort of hump was created so there's no ramp needed there either.''
Roger feels lucky to have had the finances available to pay for his adaptations and recognises that going through his local authority would have been a much more difficult process.
''I wouldn't have qualified for it because of my pay-out, but we would have had to wait ages. There was one guy who was in the spinal centre at the same time as me. He was living in his conservatory for about a year. I feel lucky to have so much support around to make this bungalow accessible for me.''
Having a place that suits your needs can make a big difference to your quality of life.
Roger explains: ''With the right set up, I've been able to live the life I want. You feel more independent. You can do what you want. You don't need to depend on other people.''
Roger advises people to think about what would facilitate their independence when choosing somewhere to live.
''We did look at one place, but it wasn't quite right as it had two floors, so I'd need to have a stair lift and another wheelchair up there. I'd advise finding a dwelling on one floor, as you don't want to depend on machinery that might go wrong,'' Roger adds.
For Roger and many others, a home is not just bricks and mortar. It's the gateway to a happy, active and independent life after spinal cord injury.
What are you experiences of finding a place to call home? What challenges have you faced? Share your stories on social media and tag them #APlaceOfMyOwn