@sittingdownstyle: Emma's story
4 March 2020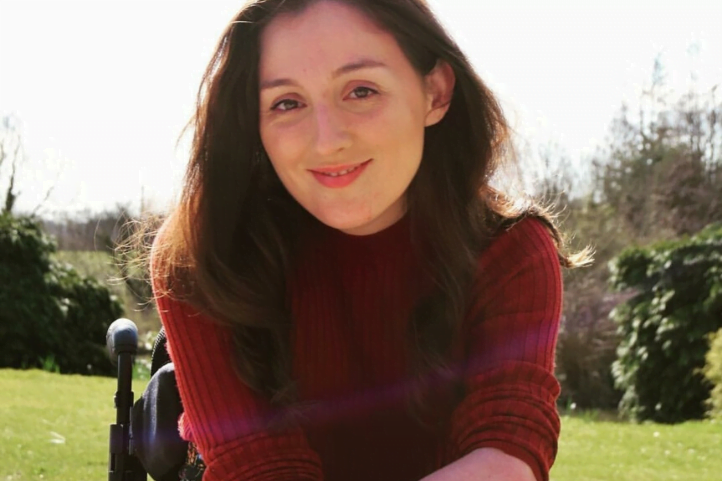 You may know Emma Birch by her Instagram alias @sittingdownstyle. She's a stylish influencer and diversity campaigner with passion in spades for ethical and sustainable fashion. On top of this, Emma works in a Central London museum and also happens to be one of our models taking to the catwalk for next week's fundraiser, Front Row.
Three years ago, Emma's life was suddenly changed. A serious fall left her paralysed from the chest down with no function in her hands. Looking back, Emma remembers feeling lost.
"I wanted to go back to doing what I was doing before, but I knew I couldn't."
Emma knew that she had to understand her limitations. She wanted to live life to the full, but knew this would be easier once she understood the changes she would have to make. Her friends and family were incredibly supportive. When visiting her in hospital they bought some of her home-cooked favourites and created a pub quiz to play with her nurses. But not knowing anyone else with a spinal cord injury left Emma feeling disconnected, especially with her friends.
Emma's referral for rehab at Stoke Mandeville was a turning-point. It helped lift her to a more positive mental place where she could better adjust to her injury. She found the experience incredibly humbling, especially when talking to people who had gone through something similar and she instantly found firm friends.
It was at Stoke Mandeville that Emma first met Back Up, when she took part in one of our wheelchair skills sessions to help her learn vital everyday skills. During this session we also told her all about our courses and activities, which aim to increase confidence and independence in a supportive environment. In April she'll be strapping up for our Multi-Activity Course and she couldn't be more excited to meet new people with a spinal cord injury. As a life-long equestrian she hopes to get back in the saddle at some point during the week.
Emma isn't the only one to have had support from us though – her mum and sister have also used our mentoring services.
"They found the service incredibly useful. I love how Back Up understands that spinal cord injury affects everyone and not just the individual. Families can really struggle, it's so important that information and advice is available to them too."
Emma's set to take charge of the Front Row catwalk for the second year running. This is one of Back Up's biggest fundraisers and in seven years we have raised over £400,000. Emma is particularly proud of joining us again as she has seen firsthand how that money is spent on delivering our life-changing services, such as our family mentoring scheme.
Moreover, she appreciates how the event provides an inclusive opportunity with disabled models placed at the front and centre throughout the evening. During last year's show she suffered spasms in her arms but she knows what to do if this happens again. To Emma, the spasms are an honest reflection of living with a spinal cord injury. She likes to find the funny in things and so will be sure to laugh and carry on. She can't wait to push herself again and get all glammed up, especially for such a worthy cause.
We'll be posting live updates throughout the night on our social media channels, and we know Emma will be too. Not normally tech-savvy, Emma started to use social media because she thought it was fun and could be a great outlet for speaking about both her struggles and achievements, especially for others who could be in the early days of their injury.
Always interested in fashion, Emma wanted to integrate style into her posts and showcase that great looks can be accessible to everyone – so @sittingdownstyle was born. Despite amassing an incredible 25,000 followers Emma still can't seem to believe the impact her posts started to have on others.
Emma says her proudest moment was when a woman from New Zealand got in touch to say that it was because of her posts that she felt confident enough to wear a dress after 30 years using a wheelchair.
It's these messages that really drive Emma to keep going and have continued to spur her interest in the disabled fashion movement, especially when she learnt there's a greater market for dog clothes, then for accessible fashion. Not a designer herself by trade, but she would love to see the movement move forward so that fashion can be an expressive tool for all.
Emma is a big believer in sustainable fashion – she loves shopping in charity and vintage stores, but she knows it takes a lot of persistence to find the pieces you want. It's that very same persistence that has helped her get to where she is today with adapting to her injury and encouraging others across the world to do the same.