Shirley's story: Crafting for Back Up
5 January 2021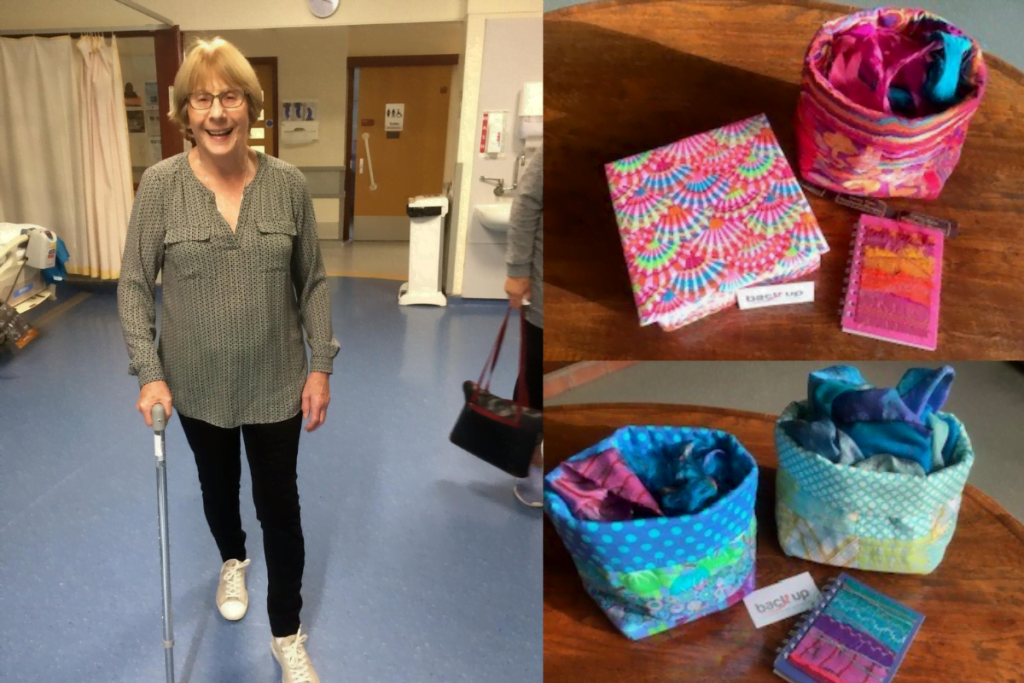 Read on for a blog from Shirley, who is selling her crafting projects to raise money for Back Up. Shirley sustained a spinal cord injury in 2019, and Back Up has helped her overcome the challenges she has faced since then. We're delighted that she is giving something back with her Etsy shop!
Back Up is a charity that was unfamiliar to me until they gave me so much support after sustaining a spinal cord injury. We often have little knowledge of things until they occur close to home. In July 2019 I was 71, in good health and enjoying my retirement. One Tuesday I was stewarding at a textile exhibition which was a yearly event for our group, "Artful Stitchers". 24 hours later, I was seriously ill in Norwich hospital. I was eventually diagnosed with a spinal bleed – which I have since learned is a very rare occurrence.
After many scans and a life-threatening situation overnight, on the Thursday morning I had an operation to repair the bleed. I am eternally grateful to the extremely skilled surgeon who performed the operation. I was totally unaware of what this could all mean for my future, but I now understand how overwhelming this was for family and friends. As I regained consciousness I was completely paralysed except for my right hand. I spent 7 weeks in Norwich hospital unable to get out of bed except for physio therapists helping me to "stand" for a few minutes during the last week. Rehabilitation at Sheffield Spinal Centre was the move I was waiting for.
I spent 5 weeks at Sheffield and was fortunate to make the most amazing progress. Independence was the focus. Transferring from bed to wheelchair and then using a wheelchair to access physiotherapy, the laundry room and meals required stamina and skill. The excellent physiotherapist assured me that I would eventually walk again and although I was rather sceptical, he has been proved right. Such a life changing illness has been a challenge but I have had amazing support from family and friends which has helped me through some difficult times. Sheffield was also where I met someone from Back Up for the first time. It was so good to be able to talk to someone with real experience of living with a spinal cord injury. The conversations I had with people from Back Up during my five-week stay were always reassuring.
When you return home there is a realisation that the care you receive in hospital is no longer available and there are a lot of problems to be dealt with. I contacted Back Up and spoke with Jacques from the mentoring team. It was so good to offload some of the worries that were preoccupying me. I was then matched with a mentor, which was very useful. During lockdown, I made good use of the Back Up Lounge, a Zoom meeting for everyone affected by spinal cord injury. It was good to have conversations about art, literature, and crafts rather than always focusing on disability.
Early on I knew that I would need to draw strength and inspiration from aspects of my life which inspire me. Central to this are textiles, colours, art, nature, literature and of course people. On the anniversary of my illness, I experienced a real slump in mood as the realisation that this was going to be my new normal began to dawn on me.
I knew I needed to regain a positive attitude and this is when I decided to use my love of textiles and sewing as a means of raising money for Back Up. The year of the pandemic coupled with living alone has meant that projects to focus on have become essential. I love working with bright, vibrant colours to create individual designs. I am in the process of setting up an Etsy site to sell products and all the money raised will go to Back Up. I have also involved friends in this project to widen the range of products. I see this as an ongoing fundraiser so that I can continue to support this charity. These products and others are available on Etsy, ShirleyReesTextiles.
Do you need support after spinal cord injury? Register for our services and our team will be in touch.