Sarah's story: Keeping independent with a high level injury
6 May 2020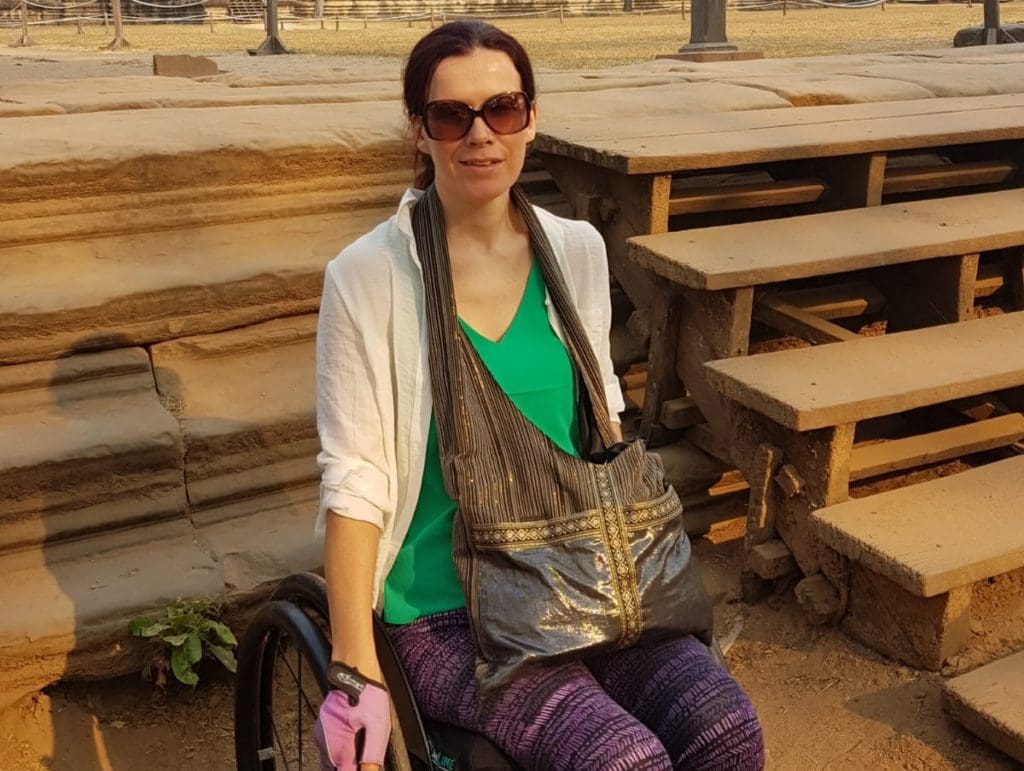 Sarah has been living life with a spinal cord injury for a long time now. She sustained a high-level spinal cord injury when she was a involved in a car accident 26 years ago when she was 16 years old. The crash broke her neck, resulting in her spinal cord being permanently damaged at the C7 level. The crash completely changed Sarah's life. Not only was she facing life as a wheelchair user, she was completely uncertain as to what her future would be like.
"My injury completely overwhelmed both me and my family. I spent eight months in hospital, missing an entire year of school. My whole life was put on hold.
"I felt like I was reverting to a small child while all my friends were progressing. The future was really uncertain. There was no prognosis as to how independent I would be years later."
Although she was worried about her future, maintaining her independence became a motivator for Sarah. She was determined to live her life to the full after her life-changing injury. The fear of missing out on her future spurred her along. This determination is what led her to get support from Back Up.
"I decided to go on a Lake District Multi Activity Course. I absolutely loved it! It opened my eyes to what was possible after spinal cord injury.
"I thought some of the activities, like the camping, would be difficult. But with the right attitude – and the right people around me – I found that nothing was impossible."
Sarah loved our Multi Activity Course so much she decided to come on one of our sit skiing courses too. This course also massively helped Sarah – it was her first ever long haul flight without her family, a chance to try a new sport, and an opportunity to make new friends. By pushing herself on these courses, Sarah realised that she was still able to live an independent and full life after spinal cord injury.
"These courses really helped my confidence. It helped me realise it was ok to push myself. If you can do something like flying to America after spinal cord injury, everything seems a bit easier. Relationship problems, that job interview you've been worrying about, all those problems are easier to work out.
"Your injury seems like a much smaller problem in your life when you have confidence."
Since attending these courses, Sarah has been living a happy, independent life. She has travelled all over the world, including Australia, Africa, Asia, and all around the USA. Of course, even though travel is not currently possible in these tricky times, knowing that travel is still something she could do after spinal cord injury helped boost Sarah's confidence.
Sarah never stopped being motivated to live her life to the full – she says she is quite stubborn and enjoys problem solving, which she says helps her independence!
Of course, Sarah also knows that she needs to take care of herself, to make sure she can live independently. Sarah recommends keeping active to ensure she can keep active and independent.
"You can get all sorts of problems if you don't look after your body after spinal cord injury. I get nerve pain if I don't keep active, the more I exercise, the better I feel."
"I also use a standing frame every day. For me, this keeps my spasms under control. I have to be quite proactive about my health."
For Sarah, becoming independent was a gradual thing. She had to do a lot of learning, and a lot of testing to see her full potential. That's why she decided to become a mentor for Back Up, so she can share her tips and advice with people in a similar situation.
"Charities like Back Up are so important. I've been a mentor since the very beginning, it's so rewarding to share my knowledge in the hopes it may help someone else."
We are glad we were able to support Sarah after she sustained her spinal cord injury. If you need someone to talk to, don't forget that Back Up is always here. Get in touch with us on 020 8875 1805.