Ray's story: Back Up's spinal cord injury support groups mean I'm no longer on my own
1 August 2022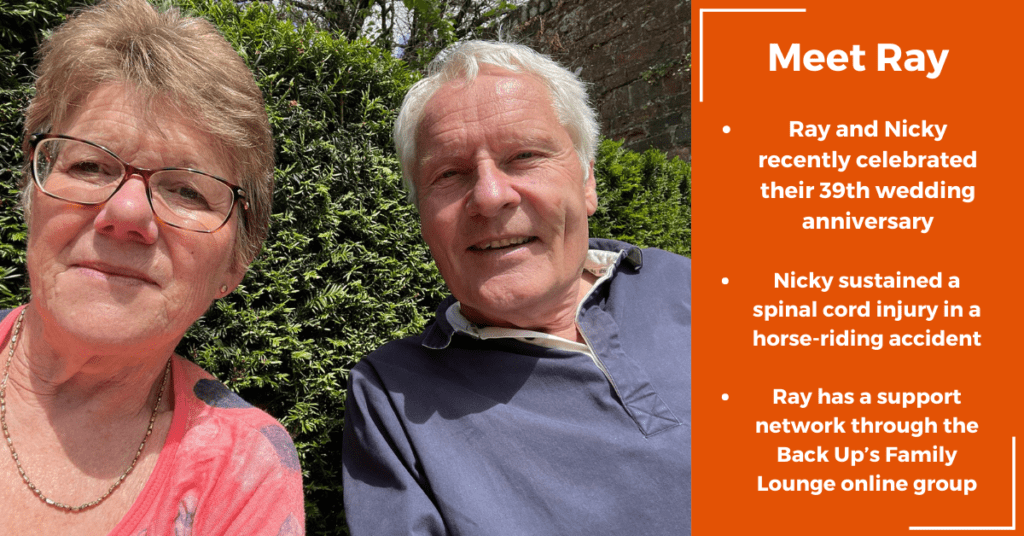 After 39 years together, full-time jobs and bringing up three children, Ray and his wife Nicky were looking forward to a quiet retirement.
"When we moved into our house 39 years ago – straight after our wedding – it was a bit of mess. It's a 500-year-old farmhouse that was used as farm workers' cottages."
"We thought it'd be a five-year project, but with two children arriving in the next few years, things took a bit longer! We were living busy lives, and in the mid-90s. We had another child who was born prematurely – it was touch and go for the first 24 hours. But thankfully he pulled through, and he hasn't looked back!"
"We put the kids through school and college, and two went to university. One by one, they left home, which left us rattling around a bit but we loved the house and there was no point in moving at that time. About seven years ago, when I worked for a marketing agency and Nicky was working at a private school, we both decided it was time to retire."
"We were enjoying retirement – Nicky had two horses that she rode a lot, and we were enjoying going on holidays and basically doing whatever we wanted."
"But then, 18 months ago, Nicky had a riding accident, which left her with a spinal cord injury. The accident was a complete shock – you just don't expect things like that to happen."
"Nicky broke her back in two places, and one of those breaks damaged her spinal cord."
"This was during one of the national lockdowns, so I couldn't visit her in the hospital. I was at home, looking after her horses – I lost about a stone in weight, as wheeling horse muck around makes you very fit! In the meantime, she was recovering at the spinal unit in Salisbury hospital. Because the family couldn't visit her, we bought her a tablet so that she could communicate with us, but it wasn't the same as seeing her in person."
Discovering Back Up in Salisbury spinal unit
"Back Up visited Nicky while she was in Salisbury Spinal Unit and left their card. When she came home about six months later, I got in touch and attended the Family Lounge in October."
The Back Up Lounge is an online meet-up every two weeks open to anyone affected by a spinal cord injury. In the Family Lounge, you can chat with Back Up's family support team and meet other family members of someone with a spinal cord injury. No topic is off-limits!
"I've found the Back Up Lounge so helpful, just to speak to others who have been through similar situations, many who have been in this situation a lot longer than me."
"I feel like I'm no longer on my own. You can ask for help from others who know what you're going through."
"After Nicky came home, it took us a while to find our feet. Now, things have settled into a new routine."
Getting help, advice and comfort from others
"We're now trying to sell our house, as it's not at all wheelchair-accessible for Nicky. I mentioned to the others in the Back Up Lounge that we were looking for lifts and wet rooms, and I received some very helpful information. People are happy to chat about anything and share their advice and experience."
"One week we almost exclusively talked about Wheelchair-Accessible Vehicles. While we don't need one at the moment, I know I can go into the Lounge and get people's advice if the time comes. It's a fantastic mix of people and very light-hearted, lots of laughs!"
"If your loved one has a spinal cord injury, go to the Lounge – don't feel reluctant! You can ask any question, and someone will know the answer."
"Please don't sit and worry about something on your own. It's been illuminating for me to understand just how common spinal cord injuries are. There are a lot of people there who can help you out. Try it!"
Interested in attending The Back Up Lounge? Sign up today!