Laura's story: Giving up time to be a young volunteer
3 December 2019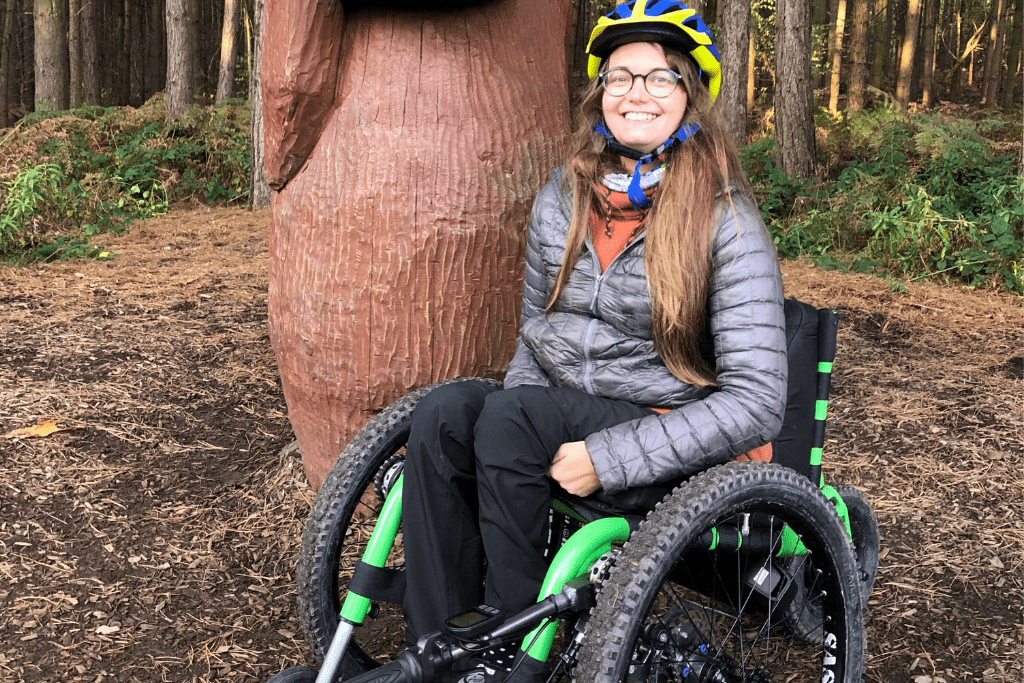 Laura's life was suddenly changed at a young age. After being diagnosed with scoliosis she went in to have an operation for it. A mistake during surgery resulted in a spinal cord injury.
"The surgeon stopped the blood supply to my spinal cord and I woke up paralysed. I sustained a complete injury at the T2/T4 level. I was only 11 at the time, and it was really hard to get used to."
Laura says a difficult part of having a spinal cord injury at a young age was the social isolation that came with it. She was in a spinal centre for a year, between year six and seven at school. When she went back to school, she found it hard to settle in.
"I suddenly became 'the girl in the wheelchair'. Other kids used to pick on me. I had very low confidence and I lost a lot of self-esteem.
"It was a very isolating experience."
Fortunately, Back Up was there to support Laura. She got in touch with us and applied to go on one of our young people's multi activity courses. She wasn't just able to try out fun adaptive activities like abseiling and canoeing – she also made friends with other young people in similar situations. This massively boosted her confidence, helping her when she returned to school.
"After the course, my parents said the old Laura was back. I came home chatty and positive again. I was able to go back to school, feeling confident enough to make new friends."
Our courses also helped Laura find role models. She looked up to our group leaders – volunteers who help coordinate our courses and ensure they run smoothly. They showed her that adults with a spinal cord injury can life an active, independent life.
"I knew I wanted to be a group leader when I was older. Seeing adults with a spinal cord injury that lived on their own, worked, and drove was massive for me. It helped me realise I could do that."
Laura decided to become a volunteer as soon as she could. She was one of the founding members of our Youth Advisory Group (YAG). This is a team of young volunteers who meet to discuss how our children and young people's services should be run. Their input helps us shape how we support under-18s affected by spinal cord injury. As she got older, Laura also became an education advocate to support young people as they return to school or college after spinal cord injury.
"I was able to educate young people, parents, and teachers about life with a spinal cord injury. This kind of outreach is important, I went through difficulties in school after I sustained my injury.
"I was once that isolated little girl who was worried about going back to school as a wheelchair user. I know how hard it can be."
More recently, Laura volunteered as a group leader on our Moving Forwards course – one of the courses Laura helped develop as a member of the YAG. Moving Forwards is aimed at 18-25s and covers everything to do with living alone for the first time after spinal cord injury. This includes cooking, getting around big cities, and travelling. It's also a great chance for participants to learn life skills from other young people. Laura says this is one of the most rewarding parts of giving up her time as a volunteer.
"As a group leader, I like to share my spinal cord injury experiences – warts and all – with other young people. For me, Back Up is all about helping people realise they can be independent and live a full life. Sharing what I've been through is a big part of that.
"Every time I volunteer on a Back Up course I make new friends and learn something new myself too."
We're glad Laura finds volunteering rewarding, and we're very grateful for her ongoing support! If you're interested in supporting us as a courses volunteer get in touch with Karim.