Hannah's story: Verbal Independence
1 May 2019
Hannah's life changed completely when she was just fifteen years old. One day, she had a sudden pain in her shoulder blades. Hannah assumed it was from playing netball, but it got worse as the day went on. She was already limping by the time she saw her GP. Hannah was sent straight to hospital for a scan, and the problem was discovered in her spinal cord.
"They said I had a swelling, caused by transverse myelitis. Everything went downhill from there, and I stopped being able to move my body. I lost the ability to breathe and had to use a ventilator. I was paralysed from the neck down."
For a sporty teenager like Hannah, her sudden injury was devastating. All she wanted to do was see her friends and get started on her GCSEs. But for Hannah, the most difficult part came after she left hospital. She had to adapt to having a live-in care team.
"When I left hospital, I had a team of different carers. It was hard for me and my family to adjust to having new people around constantly."
Hannah says that her initial care team was good, but their hours were quite restrictive. The care helped her health, but not her social life. This all changed years later when Hannah got the opportunity to hire her own personal assistants (PAs). Hannah soon became more verbally independent and able to direct her own care.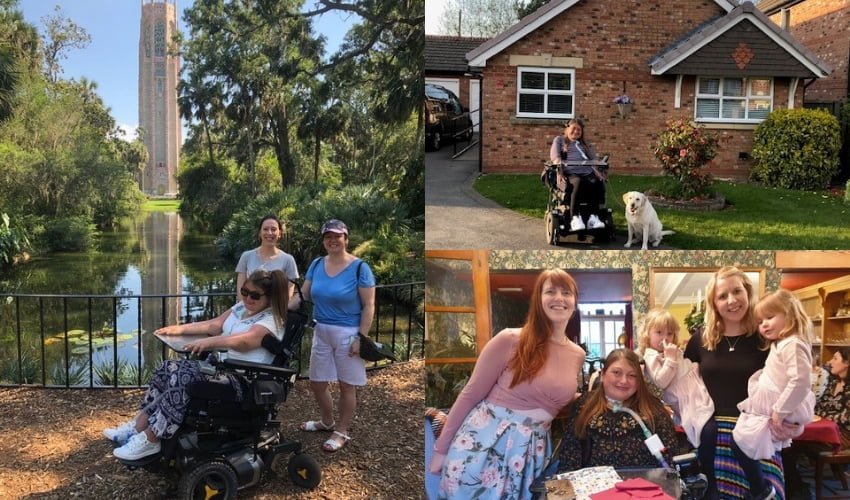 "I got on a pilot scheme for personal health budgets. The money the NHS spent on my care team went to me instead, so I could recruit my own PAs. We were nervous about this at first, as it was a big responsibility. But we started to phase out my original care team, and I gradually started to employ my own PAs."
Hannah can now shape her care to suit her needs. She can interview and hire the right PAs and set their work hours. She says it can be "hard work" but very empowering.
"The fact that I employ ten PAs now is amazing. I get a lot of independence from hiring my own team. They're all really dedicated."
Having her own care team has allowed Hannah to move out of her family home and get her own place. Their duties don't stop at her medical needs like changing her ventilator. They also help with cooking, cleaning, and providing transport. Most importantly, they empower her to live independently.
"I never thought I'd be here 20 years ago. I'm now able to do what everyone else can do. I've got a great social life, lovely people around me, and I can work."
Hannah likes to keep herself busy. She works with the Cheshire police two days a week, and she loves travelling. Last year, she visited Florida with her family and brought along two of her PAs. Hannah needs to be very organised with managing her PAs, so she delegates some of her tasks.
"I have a friend who helps me with making my PA rota spreadsheets, which ensures I have the right cover every day. My PA team leaders handle the team's annual leave and out-of-hours questions. This frees me up to focus on my job.
"With travelling, I talk with my PAs and decide who is coming along and who is staying in the UK. We make sure some team members are on reserve – in case something happens last minute and one of my PAs can't make it. Everyone else either takes annual leave or uses the time to go on training courses."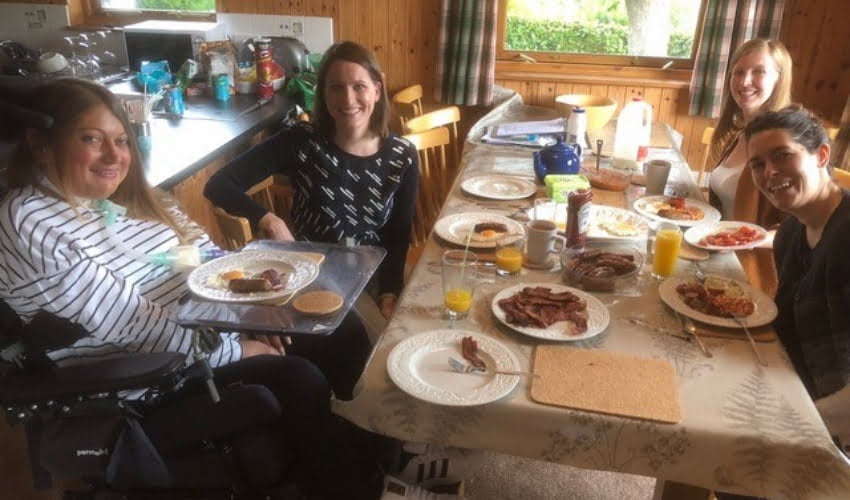 When it comes to being verbally independent, Hannah says it's important to remember that it's all about knowing what you need and being assertive about your care. She admits this can be quite tricky sometimes, especially if you're an "over-thinker" like her.
"I do find it difficult to be assertive with my PAs. No one asks to be in my situation, and it's even harder if you've never managed people before. The key is to be honest with the people around you, and to make sure you have the right team for your needs.
"One of the things that's helped me be more assertive is realising that communication is key. If you don't talk openly, nothing will be resolved. You need to be confident and tackle the tricky topics that may pop up. I've also found it useful to chat with people who have experience in management positions. My sister and dad have had experience managing people, so picking their brains was really useful.
"You also need to bear in mind that you can be the fairest employer in the world, but you'll never make everyone happy all of the time. You need to be firm about your wellbeing, so you can go out and enjoy life."
Hannah's top tips for managing her own care
"I have quarterly one-to-one meetings with my team. This gives me the chance to have time alone with each of my PAs. We're able to talk about issues, highlight potential changes, and give them the chance to talk about how they're doing."
"I do find it hard to be assertive, but if a problem comes up it's best to nip it in the bud. If something is bothering me or one of my PAs, it's best to talk about it as soon as possible. Nothing will change if there isn't any communication."
"I hire two PAs as a team leader and a deputy team leader. They handle signing off annual leave, and they have a phone that the other PAs can contact them on if they're running late, need to report sickness, or if they have any other out-of-hours issues. This helps maintain a better work-life balance, as I don't need to deal with those issues myself.''
"I make sure my team know they're valued. I'm sure to thank them at the end of their shifts, and I try to be as positive and uplifting as possible. They're doing an absolutely essential job, so let them know they're helping you live your life."
"I keep an eye out for the following traits when hiring : Reliability, empathy, enthusiasm, flexibility and a sense of humour!"
"All my new PAs have an induction process. First, they come in for an initial chat, where we talk in more detail about my care needs and their rota. Next, I have them shadow another PA. They need to see all 24 hours of my day, from when I wake up to when I go to sleep, so they shadow all the shift patterns.
"Then we start training. I like to get started with manual handling – that's when they learn how to transfer me to and from my chair. My PAs are only able to work by themselves once we are both happy that they're confident in the role."
"When training, try not to bombard people with too much information. Keep at a steady pace – what's normal for you may not be for them."
"It can be hard, but don't take things too personally. As a manager, not everyone will like you all the time. Just understand that nobody is perfect, so don't discount people too quickly. Everyone in your team has their own strengths and weaknesses."
"If you have a PA who is overbearing or trying to direct you, it's once again really important to be open. Remind them that they can change their situation, but you can't change yours. If they aren't fulfilling the role the way that you need, you should make that known."
Do you want to talk about your experiences with care and PAs? Get in touch with our outreach and support team by email or call them on 020 8875 1805.