The SCI Tri Challenge story
5 April 2018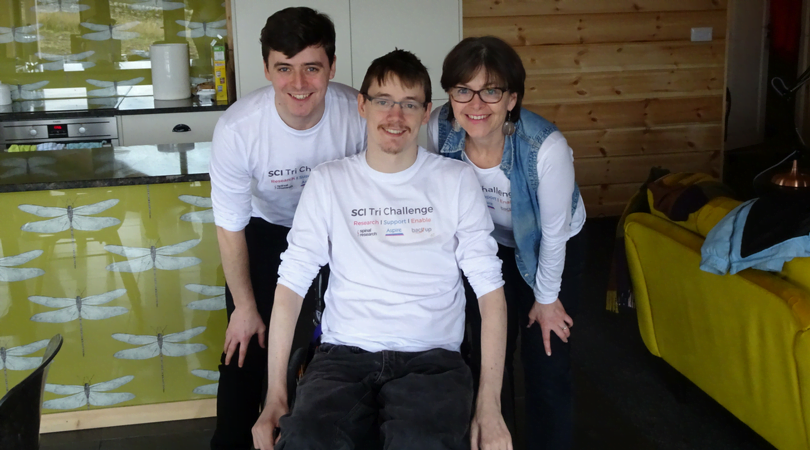 Life changed for the Dickinson family when they were involved in a car accident in 2009.
Sam, 26, says: "My family and I were driving south from Scotland where I grew up. We were visiting family in Bath just before Christmas 2009 and were driving along a straight bit of motorway when we hit black ice. We came off the road and rolled once. The whiplash effect from the rotation of the car broke my neck at C5/6 level."
This high level spinal cord injury had a massive impact on Sam and his whole family.
"Sam's injury has to be taken into account at all times," says Sarah, Sam's mother. "If we want to go somewhere, then that needs to be accessible for him to be part of everything we do when we're together.
"Life is not the same but that doesn't mean it's not good – it just has a new dimension added to it. Sam is living his life independently and I really wanted that for him and I want that for everyone who is affected by spinal cord injury."
The experiences Sam and his family have gone through have meant that they have had to find new ways to have fun together, especially when doing activities as a family.  This motivated Sarah to come up with the SCI Tri Challenge, a completely accessible triathlon that anyone can participate in to get healthy and active.
The challenge is made up of swim, (hand)/cycle and run/push events which are designed to be accessible to as many people as possible. Individuals can take part by doing all three elements themselves, or by forming a team with one or two others so that the three elements are covered between them. The event runs for the duration of July and August and participants do what they can when they can.
43 people got involved in the last challenge Sarah organised, raising £13,000. Through this new inclusive challenge, Sarah hopes to raise even more money and awareness for Back Up as well as for Aspire and Spinal Research – all spinal cord injury charities.
"I would like to see an increased awareness of these three charities as well as awareness raised about the injury itself and how it affects families," Sarah explains.
As well as organising the challenge, the Dickinson family will also be launching the event with a team made up of Sam, Sarah and Andrew, Sam's brother.
Andrew, 23, says:
"The SCI Tri Challenge is all about everyone getting involved and having fun together. After my brother's spinal cord injury, that was something I worried about: would we still be able to do things together as a family in the way that we used to? The last 8 years have constantly shown me that, yes, we absolutely can.
"On a side note, my wife will also be happy to see me getting on the bike again as I've done the fairly stereotypical thing of letting things go a bit since our wedding last summer!"
The family want to get as many people involved in the challenge as possible, so they've ensured that the challenge is an all-age, all-ability event that is accessible to everyone.
"The event is about being part of something. It's for everyone to get involved with, regardless of ability. It's not how far you go or how fast you do it that matters but setting distances that challenge you which, when done, will make you feel brilliant about what you have achieved," says Sarah.
Sam adds: "I think one of the great things about previous fundraising challenges that Mum has organised is the togetherness. There has always been a feeling of community and shared achievement for everyone involved. I'm really hoping for something similar with this one and I'm looking forward to it. I'll obviously still find a way to compete with Andrew!"
If you'd like to find out how you can get involved with the SCI Tri Challenge, please get in touch with Alex or call her on 0208 875 1805.