Healthy life with a high level spinal cord injury
2 May 2017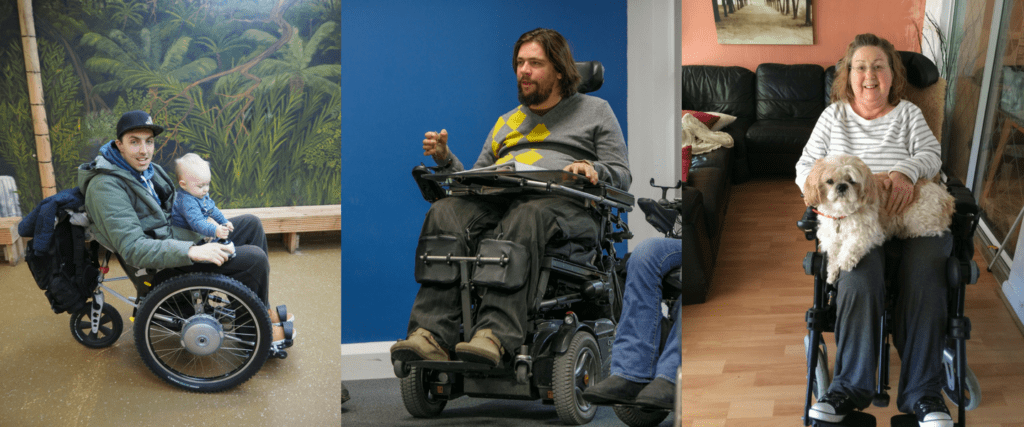 We spoke to five people with a high level spinal cord injury about their experiences and tips for taking care of their health, fitness and emotional wellbeing (The letters after their age refer to their level of injury. You can visit our what is spinal cord injury section to find out more).
---
Josh Harcourt, 29, C4 complete
"I used to be a gymnast who trained six days a week. I'm now paralysed, C4 complete, and have limited and weak movement of my arms.
I still have the motivation to want to train and keep fit. I do hours of physio and stand in a frame to help with bone density. I stretch to lessen spasms and keep joints and tendons from stiffening. These simple, basic things are really important for my health and other people with a spinal cord injury too. It's not all about marathons and high intensity exercise.
It's important to remember that health, fitness and wellbeing are different for each individual. For one person, it's about eating healthily and looking after their skin to prevent marks and sores. For someone else, it's being a para athlete that can push for miles at a very intense rate. But it's not all about the latter which can be many people's perspective."
---
Tracy, 53, C3/4 incomplete
"I'm out every day to walk my dog Ruby by the river, as this really helps me to relax and is great for both of us.
I also try to use the standing frame twice a week and I do breathing exercises. I learnt a little technique in hospital to expand my lungs fully: take a big breath, then two smaller breaths before holding.  This is good if I have some congestion on my lungs as it helps me to cough.
Generally keeping my mind healthy is easier than keeping my body healthy. I have a very full social life and never turn down an invite. But I have to be pro-active and be the one to arrange things to do with friends, that way I can check access and parking. I also volunteer for Back Up! which has given me a massive confidence boost and I feel valued and appreciated."
---
Laura, 36, C5 complete
"I have to look after my body and maximise what I can through stretching, standing using a frame, and using an arm bike. I sing loudly in the car and shout.  This works on the muscles you breath with – the upper shoulders. At my level of injury, the diaphragm, intercostal muscles (between ribs) and abdominal muscles don't work.  But if you work on the muscles that do function properly, it helps project your voice further and helps against chest infections. I make an effort to look nice and look after my skin. I eat healthily too which is difficult but I'm conscious I don't want to put on weight. I still treat myself and go out for meals; I just have much smaller portions.
It's tough to do stuff without people around me so I make sure I take time for myself. I walk the dog on my own, and even in the rain I still take the dog out. I did get stuck in a puddle once and had to call my personal assistant (PA). Now I always take my phone with me!"
---
Chris Yeates, 32, C6 complete
"When I was newly injured health, fitness and wellbeing were a massive part of my life and my immediate focus. My consultant said the fact that I was fit and healthy before my accident was more than likely what helped me survive and this still resonates with me today. After being discharged from hospital, I tried all the possible treatments and therapies to see what movement would come back. Although I'm not walking, I'm glad I did it. I built strength, gained some more movement and learnt to understand my body more.
I'm tetraplegic and so getting an aerobic workout is what I've found the hardest. I use a rowing machine – it's by far the best way for me to keep fit. Over the years exercising has slowly taken a back seat when life gets in the way: work, socialising, kids etc. It's hard to find the right balance.
You'll always get people saying, 'so and so is walking, and trying so hard', and I wonder if people think I'm not. These comments come from people who don't understand spinal cord injury. It gives you an opportunity to educate them, but it can still be annoying.''
---
Andrew Bush, 35, C4/5 sensory incomplete
"When I had my injury 17 years ago, I thought enough physiotherapy could reverse any damage to my spinal cord. In the first few years, I purchased a hand and leg exercise bike. I made sure to use it as much as possible and to have a regular stretching routine that I could do in bed.
As the years have passed, my dedication to maintaining fitness was put to one side as I saw little improvement and other elements of my life were more important.
Some years on I've realized neglecting a structured routine has caused a number of health ailments – problems with joints (knuckles, knees and ankles), as well as an out-of-place hip which has accentuated the scoliosis in my spine. I believe a number of these elements have also led to an increased spasticity.
I am now making a concerted effort to stem the slow deterioration of my condition by building in a reasonable and structured exercise routine.
All of us with a spinal cord injury need to take control of our future wellbeing and understand the responsibilities we have to our body, mind and soul."
---
If you have questions about any of the issues raised in this piece, please contact our Outreach team at outreachandsupport@backuptrust.org.uk or call us on 020 8875 1805. You can also visit our support for you section to find out more about the services we offer and how we can help.