Guy's guest blog: New beginnings
1 July 2020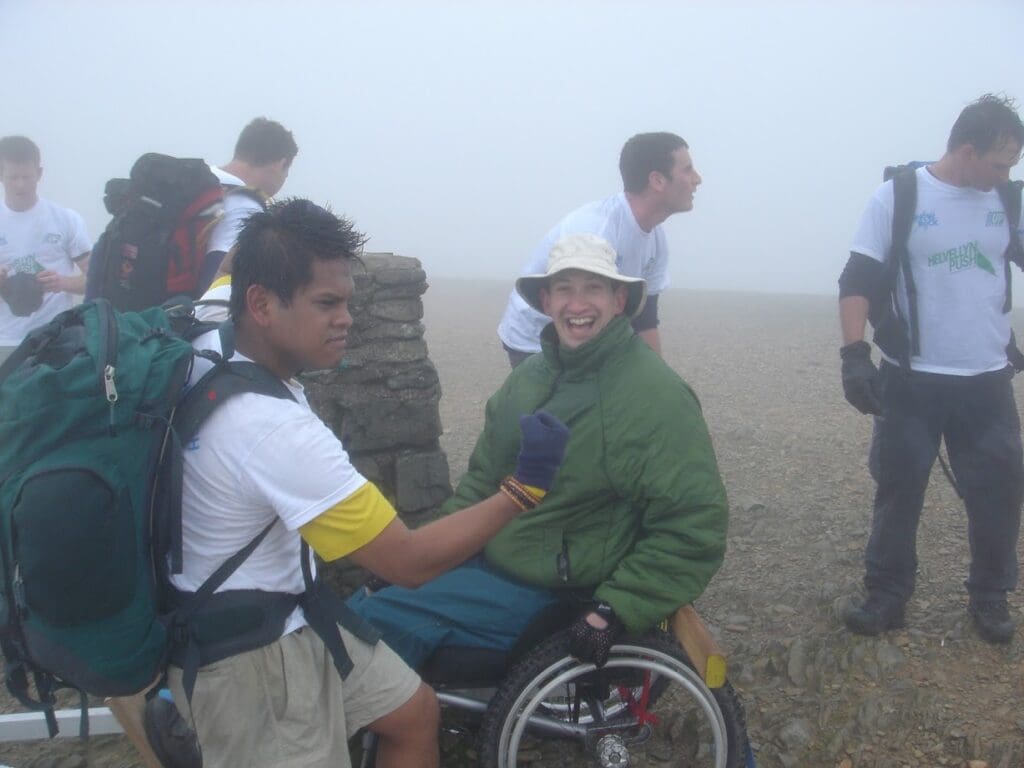 Read on for a fantastic guest blog by Guy. He told us about his journey after sustaining a spinal cord injury, and the new beginnings he discovered along the way  – from ski karting with us in Sweden to starting a new business. 
I have experienced many new beginnings post-accident. Recently, as part of my emotional healing, I've been going back to the start and thinking about my moment of impact with the lorry. Nearly 17 years on, it's starting to feel like a spiritual moment: I mean, how long was it between hearing the horn and lying on the road waiting for an ambulance to arrive? Time enough for sensory shutdown and clear mental processing: registering the threat, seeing the lorry radiator grill, considering whether to run for the other side – risking being hit by an unseen vehicle – or returning to the safety of the pavement I'd just stepped off, realising there was no time, turning my back and relaxing, the intense force of travelling forward with the lorry, a Starsky & Hutch roll to my stop. And now, doing the therapy I could have done earlier in my life, I see that paralysis is a deep part of my psyche in ways that I didn't previously understand.
I have found physical rehab easier to face than emotional recovery. In those early years, too many things were a painful reminder of all I had lost – and I didn't allow myself to grieve. Pre-injury, I was an army reservist. The Brecon Beacons were a loved training ground for how they pushed me and showed how much further on my limits were from self-perception; hills and mountains had been my joy, so I avoided them to escape my pain. With Back Up I found another new beginning. I don't remember why I signed up for the skiing course. I think I felt I had no other option.
We went to Åre in Sweden. As we started out, I felt resentful that the non-disabled "buddies" were giving up their time to come and help. I resented that I needed their help. However, that was blown away the moment the first skiing lesson started. The joy of moving under my own steam again, the energy of the mountain, the focus of trying to acquire a new skill and the glow of fresh air and exercise. But it was the laughter that was transformative. We laughed together for the whole week: at breakfast, at the bottoms of slopes, through lunch and, especially, in the bar late into each night. I became human again. It was tonic for my soul.
When it came to signing up for the Snowdon Push, "Might you be interested…?" never needed finishing. Friends were quick to sign up to get me up and down those hills. Back Up gave me a way to enjoy old pleasures with old friends in my new circumstances.
This year, I have a new business beginning. Drawing on two decades of professional and lived experience with property and disability to deliver impact through accessible property, in a sector I know and love. Many people here share experience and frustrations with inadequate housing or trying to find somewhere accessible to live and rent. I work closely with different groups of property professionals, including landlords, investors and developers. My remit is to bring inclusive design into the mainstream, which surprises people at first. It's a different mindset for most, and very satisfying seeing the eureka moment, when clients get the financial and social benefits of owning accessible properties and having wheelchair users as tenants.
Please do visit my website, and get in touch. I love to hear your experiences. They're valuable for building a picture of the impact that housing has on the lives of wheelchair users and our families.
It's wonderful being at the start again, with the mutual benefits of hindsight and possibility.