Sex Education's George Robinson talks about acting, intimacy, and spinal cord injury
17 January 2020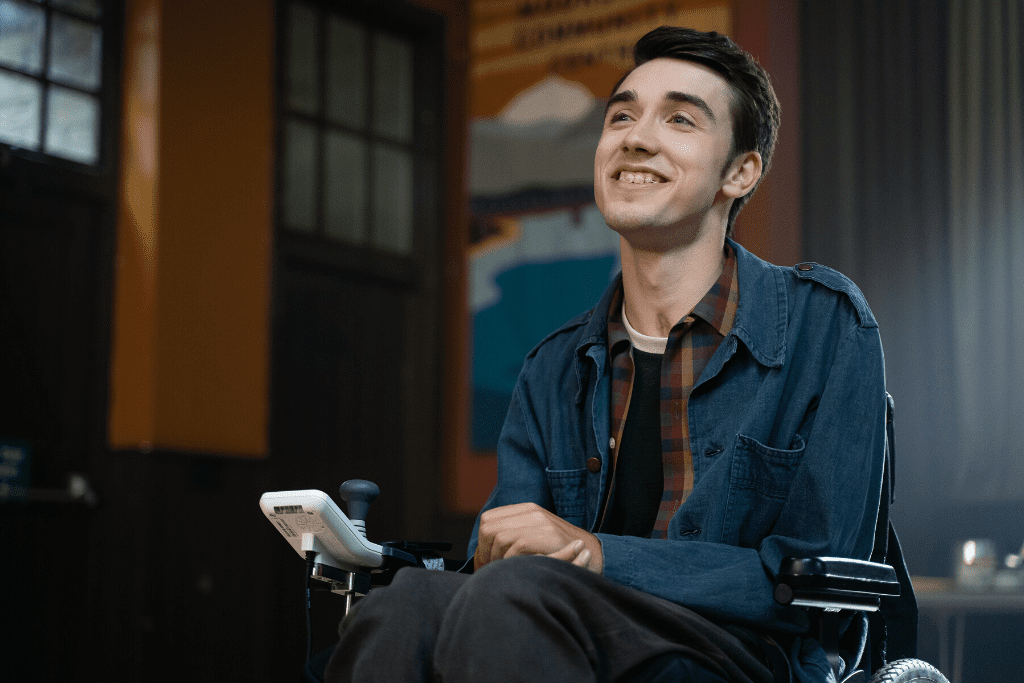 We interviewed George Robinson, who plays Isaac in Sex Education on Netflix. After George was paralysed in a life-changing rugby accident, we were there to support him and his family with confidence-boosting courses and mentoring.
We caught up with George to chat about spinal cord injury, acting in Sex Education, and his hatred of bananas.
Tell us a bit about yourself – who are you, what do you do, maybe a fun fact?
I'm George Robinson. I'm an actor, and I guess a fun fact about myself is that when I was at primary school I pretended to be allergic to bananas so I could have first pick at the fruit bowl. It let me get to the best orange first!
How did you sustain your spinal cord injury?
Just over four and a half years ago when I was 17, I was on a school rugby tour in South Africa. I went in for a tackle, and it didn't go well. I broke my neck at the C4/C5 level. This means I have no mobility below the level of my injury and I can't use my arms or hands.
But once you have the right infrastructure in place, living independently with a spinal cord injury can be quite simple. I have a personal assistant who helps me cook, get me up in the morning, and do things around the house. I also use a power chair – mine is essentially a manual wheelchair that has been retroactively fitted with powered wheels. It's fantastic, it's really lightweight and helps me get around freely.
How did you adapt to life after spinal cord injury.
After spending 37 days in a South African hospital I went back to the UK. While I was undergoing rehab, I met Andy, from Back Up's services team. He has a high level spinal cord injury like me, and was also injured in a rugby accident. He introduced me to the support services Back Up offer, but more importantly, he showed me that there is a future after spinal cord injury – he's living proof of that.
Once I came out of hospital I went on a wheelchair skills course for 18-25 year olds in Leeds which really helped me. It was great to be around people in similar situations, share stories, and have a laugh. It was a great experience, I'm really grateful for it.
Why did you decide to start acting?
I was involved in acting when I was younger, always taking part in school plays. I wanted to pursue it further. But after I had my injury, I was questioning if it was right for me. I was unsure if I wanted to put myself out there as an actor. But I re-evaluated myself, and realised that I needed to get out there again as a disabled actor.
Acting is something I've always enjoyed doing. The main reason I started was because I love the collaborative atmosphere. You go into a drama classroom and it's unlike any other class. You work with your mates and have a laugh. I realised that even after my injury, I still wanted to be a part of that collaborative atmosphere. Since then it all kind of escalated and now I'm in this Netflix show!
How did you come across sex education – What drew you towards applying for the role?
My agent sent me the role of Isaac. I was aware of Sex Education, but I hadn't actually watched it. But as soon as I read the character description I instantly knew who he was and how I wanted to play him. It just clicked, so I applied.
Netflix got back to me and invited me to read for the role. I thought I would just go in and just be me. If they liked me I would get the role, if they didn't I had nothing to lose. I thought it was mad that they even considered me.
The role of Isaac was originally written as an amputee, but they said they would re-write the character based around the disability of the successful applicant. So when I was successful in the audition they wrote him as having a spinal cord injury.
This show is quite a big deal, did that make you nervous?
I was definitely nervous going in to some degree. But my approach to it was to just throw myself into it. As long as I knew the lines, then I reckoned I could do it! Obviously I was thinking "oh my God, I'm working alongside people like Gillian Anderson and Asa Butterfield". But like I said, I threw myself into it. That seems to be a reoccurring theme in my life, I threw myself into a bad rugby tackle and now I'm throwing myself into acting.
Tell me a bit about your character.
Isaac is a troublemaker. He moves into the caravan site with his brother Joe. They're new to Moordale and they just want to have fun and make the most out of their new surroundings.
Isaac has a bit of a baby face and is a wheelchair user, so he uses that to his advantage. he plays the 'vulnerability card' to get up to mischief. He's very dry humoured and sarcastic, but he also has a lot going on. There's plenty bubbling under the surface. I thought he was great fun to play.
The show focuses on sex, relationships, and intimacy – was that a worry for you after spinal cord injury?
I think it was a personal worry. Every spinal cord injury is different, you can't just look stuff up on the internet to see if something would work for you. It's very individual, you almost have to learn things yourself and talk to people in similar situations.
After spinal cord injury, you're rediscovering your body and figuring out how everything works. It's hard enough when you're growing up without a disability, but with a spinal cord injury there's just another layer of difficulty. You need to find out how things work for you, and how comfortable you are with aspects of yourself – not just physically, but emotionally. You have to think of how much of yourself you want to share with someone else in intimate moments.
As soon as you find someone you want to share intimacy with, in an understanding atmosphere, then everything is alright.
There are definitely some of these worries with Isaac. His character has been injured longer than myself, but he certainly feels unsure about some aspects of intimacy.
Did you learn anything about yourself in this role?
Acting in Sex Education has taught me a lot. Playing Isaac has helped me be more confident and comfortable in myself. I feel that sometimes I can be chasing other people's approval, but Isaac is more than happy to just be in the moment and live his true self. It's taught me a lot more self assurance.
How is the industry towards disabled actors at the moment – do you think things are getting more progressive?
It's definitely turning for the better. We've come so far in the past five years. There's been so much more representation, not just for disability but for people of colour and women too. We've realised there are so many stories that haven't been told because of past under-representation.
The best way we're going to get authentic stories that don't come across as ingenuine is by having people with the right experiences playing the right roles.
Do you have any acting icons? – if so, are any of them disabled?
I am a massive fan of Ryan Gosling. I like his ability to say a lot without any words. As for disabled actors, I really like Liz Carr. She's also a wheelchair user, and a real inspiration for me. When she's in Silent Witness it's almost totally irrelevant to the plot that she is disabled. The fact that she's a wheelchair user is nearly incidental. It's not a defining characteristic of her part. That's real, that's what people are. People aren't defined by if they can walk or not.
I think this comes across with how Isaac is written in Sex Education. It shows Isaac as a person with a spinal cord injury, but the other aspects of him are just as nuanced as any other character.
Finally, what would you say to another young disabled person hoping to become an actor?
Just do it! Put yourself out there. Once you do that, then people will see you and respect you. There's nothing holding you back once you take that plunge. As I said earlier, throw yourself into it.
We were absolutely delighted to chat with George. You can see him in Sex Education now on Netflix.
Do you want to help us to support more young people affected by spinal cord injury like George? Find out how you can get involved.