Amanda's Story: My journey with Ben
7 December 2016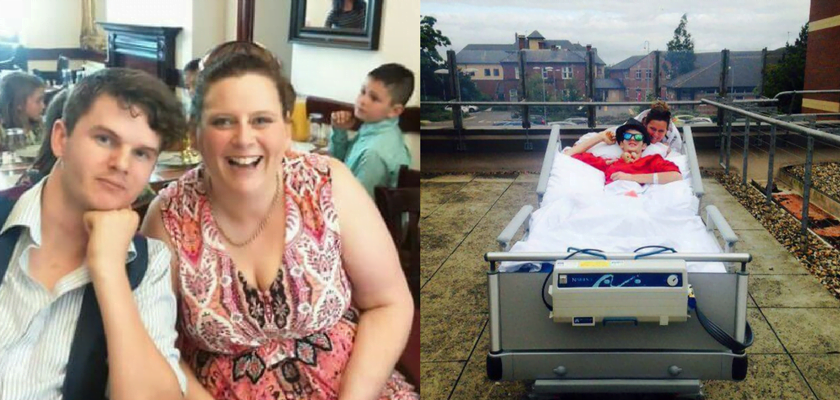 'The first time I rang all I did was cry. I guess that was me accepting that I can't do this on my own and I need help from people who've been through this too.'
In August 2015, Amanda's son, Ben, was climbing a tree when a branch broke and he fell twenty feet landing on a concrete slab head first. Both their lives changed in an instant. Amanda, who was living in Southern Ireland at the time, moved back to the UK with her partner for Ben's rehabilitation at the James Cook spinal injury unit in Middlesborough.
On the ward, Amanda was given leaflets and books about life with spinal cord injury but what she needed was time to process what had happened to her son.
'You have to be ready to read the literature and I wasn't able to do it at first. Ben had been in the hospital for 6 weeks when I got that pack. And it still took me a few weeks to read it. I did it in stages. I was afraid to ask anything. I thought I would cope. I thought I'd be ok.'
Amanda tried to handle things on her own but she was overwhelmed by her new responsibilities when she brought Ben home.
'I had to learn about his medications, what he could and couldn't do. And I was so worried about making mistakes. I couldn't really plan ahead much and I felt like I was forgetting things all the time.'
There were carers coming in and out of their home all the time and it took a toll on them both. Some days, Amanda would just breakdown.
'At times I just couldn't do it. I just sat there and cried. You're supposed to be able to fix things. You know that's a parent's job. You're supposed to make things better, but I just couldn't fix this.'
Amanda was also under a lot of pressure from Ben's father and grandfather. They told her that she should push Ben to be more independent, but Ben felt like he was doing his best.
'I felt pressured to push and push and push Ben. It was awful because I just wanted to know I was doing right by my son.'
Amanda got in touch with Back Up and they connected her with their mentoring team. They matched her with another parent who'd been in a similar situation to her own. Talking to her mentor made a huge difference because she could finally speak to someone who just got it, someone who'd had those same conversations and worries swimming around their head.
'It was absolutely fantastic. Talking to my mentor, Ian, made me see that I was doing a fabulous job, that my son had achieved so much in such a short time, and that the pressure his family were putting on us was misguided.'
Everything she had been worrying about previously didn't burden her so much anymore. She felt like a weight had been lifted.
'My mentor said it's a journey, not a destination. That's always stuck with me and I know Ben and I can get through anything together. And I had guidance for every step of the way. Whatever was happening, I could ask him about it. I can't thank him enough.'
Amanda struggled to reach out for help at first, mostly because she wanted to be strong for her son during the early stages of his injury. But she now realises that all those people on the ward were there to help her come to terms with her new situation.
'I didn't appreciate it at the time, but I eventually realised that I can't do everything on my own and that I can ask for help too.'
We know that spinal cord injury affects the whole family. Early next year we will have a family outreach and support coordinator joining our growing team. Being a family member of a loved one with a spinal cord injury, they will be able to offer support and guidance to other family members when they need it most. To learn more about this role, email Andy Masters (andym@backuptrust.org.uk) or call us on 020 8875 6729.