Climbing Kilimanjaro with a spinal cord injury
2 March 2020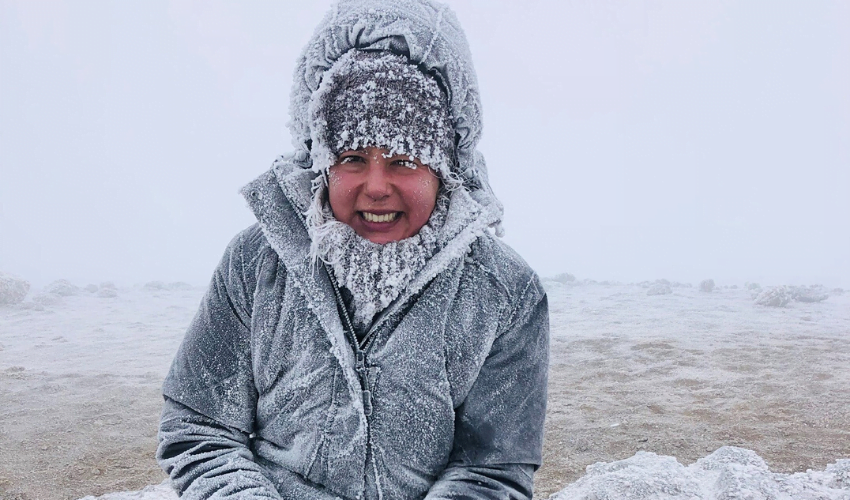 A trip of a lifetime ended with a sudden accident for Sophie. Back in 2009 she was working at a summer camp in America, and was fixing a problem on a high rope course as she had been trained to do. In a split second, her life was changed.
"I don't know exactly – either the person supporting me dropped me or my climbing kit failed – but I ended up being dropped 20 feet. When I hit the ground I bounced, and that bounce caused my injury."
After she hit the floor, Sophie says she had no idea what happened. She was winded and in pain, but she still felt like she could get up and walk. Thankfully the camp's nurse stopped her from getting up and called her an ambulance. If she had stood up, her spinal cord would have likely been completely severed.
Sophie's incomplete injury still affects her on a day-to-day basis. She deals with fatigue regularly, and can't sit in the same position for too long due to pain. She can also walk without aids, but she needs to cautiously pace herself on long distances.
"I always have some pain, but I know how to manage it. It doesn't affect me as badly as it did in the early days – I had a lot of pain during the first few years."
Because Sophie went through most of her rehab in the United States, she did not know about Back Up's services until over a decade after her injury. She only learned about what we do when she did her own research into spinal cord injury charities in the UK. She was planning on tackling a personal challenge, and decided that she wanted to fundraise for a cause close to her heart.
"I was googling spinal cord injury charities and I came across Back Up. My spinal cord injury hugely impacted my life. I dealt with anxiety and post-traumatic stress disorder (PTSD) in the aftermath. I viewed taking on a fundraising challenge ten years after my injury as something that proved I can do anything.
"I saw that Back Up give a lot of support to people affected by spinal cord injury, including family members. I soon got in touch and offered to raise money while completing my challenge."
Sophie chose climbing Kilimanjaro as her challenge. She wanted to see how much she could push herself to walk, and prove to herself that her injury couldn't stop her from living her life. After training hard with practice attempts up Scafell Pike and Snowdon, she felt ready for this challenge.
Getting to the summit was tough. Sophie felt totally drained, physically and emotionally. Four people out of her team of 12 had dropped out and she found herself struggling through blizzard conditions. But, once she reached the summit, the challenge was all worth it.
"It was amazing. Standing at the summit knowing that I had done it, even with a spinal cord injury, felt great. It made me feel like I could do anything.
"I just kept putting one foot in front of the other. I didn't see quitting as an option!"
By completing this challenge, Sophie managed to raise nearly £2000. This money went towards supporting our life-changing services for everyone affected by spinal cord injury. Sophie says that taking on this challenge felt very rewarding, and it helped her discover what she could really do after spinal cord injury.
"I felt at a crossroad with my life after my injury. It could have either ruined my life or become a part of me. I chose to embrace it and live my life."
We're so pleased that Sophie took on this amazing challenge. Do you have an idea for a DIY challenge? Get in touch with Sophie C.