Clair's story: Becoming a mum after spinal cord injury
7 August 2019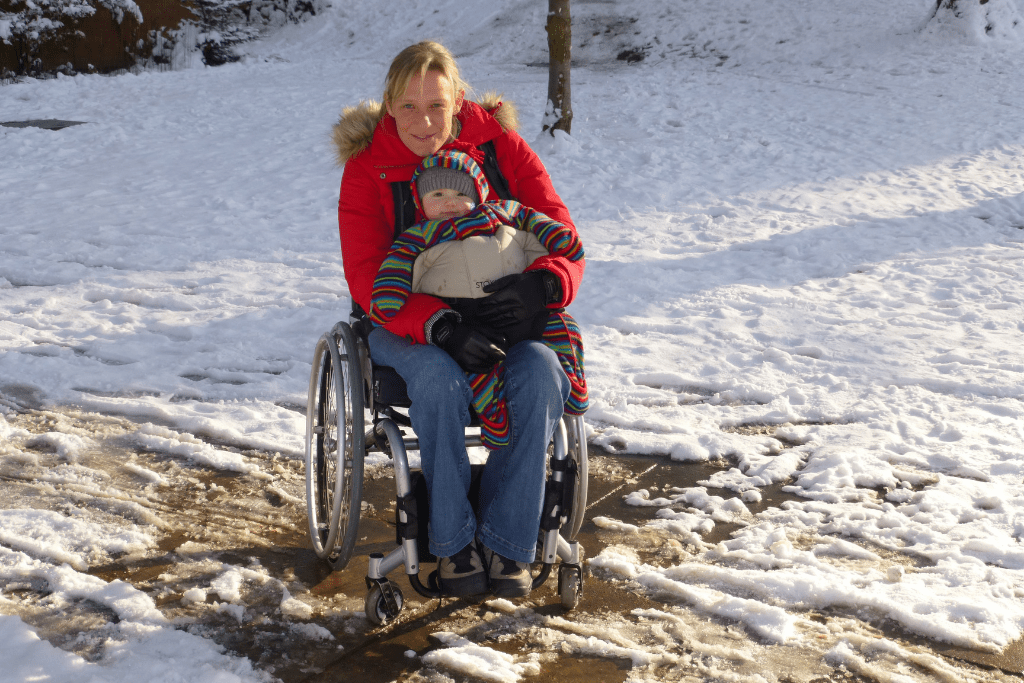 Being a mother is never easy. Sleepless nights and anxieties are very common, but a new mother with a spinal cord injury may face additional challenges. Clair, a clinical psychologist and one of our trustees, had her daughter Isla seven years ago – right in the middle of the London Olympics.
20 years ago, Clair sustained her injury while she was travelling around Africa with a friend.
"We were driving through the desert and we rolled off the road. I'm fortunate to be here to tell the tale. It was a lucky escape."
Immediately after her injury, Clair was worried about being able to become a mother. Although she was only 24, she always knew that she wanted to have a baby.
"One of the first things I asked the doctor after my injury was if I could get pregnant. The doctor's response at the time was 'I don't know,' which was really worrying. I was scared I would never be in another relationship, let alone have a baby."
When she returned to England, Clair had a friend who helped her search for spinal cord injury charities. Their searches led them to Back Up.
"Being a keen skier, I signed up for the sit skiing course in Colorado, and I also went on a multi-activity course.
"These courses were essential to my rehabilitation. They were experiences that showed me what was possible at a time where everything felt impossible. I met a fantastic bunch of people who helped me learn vital skills for living with a spinal cord injury."
This new group of friends was a vital support network for Clair, particularly during her pregnancy when she faced some negative misconceptions from non-disabled people. One person even called Clair selfish for having a child.
"When you're pregnant, people feel like they can make comments and have opinions about you – almost as if you're their property. This is even worse with a disability."
Fortunately, these kinds of comments were a minority compared to the outpouring of support Clair received from other mums she met through Back Up.
"Having that community was so important. Talking to other spinal cord injured mums gave me plenty of emotional support. It helped me to realise that – even though this is hard – you are not alone."
Clair picked up lots of tips from her network of mums on how to take care of herself while pregnant. Understanding the physical changes her body would go through was incredibly useful.
"I had to take extra care with my bladder. Pregnant women need to go to the toilet a lot, which resulted in me using more catheters. In the later stages of my pregnancy, I began using an indwelling catheter for convenience. It meant I didn't have to transfer in the bathroom.
"I knew that my centre of gravity would change. I didn't use a sliding board for transfers before, but I started using one as I got bigger, so I didn't fall while transferring.
"It was also important to know that – because of my level of injury – I wouldn't feel my baby kicking until later. This was worrying at first, but I was able to feel her kicking by using my hand."
Talking to other mums also gave Clair practical tips for caring for the new arrival.
"We would put a changing mat on the dining room table when Isla was little, so I could change her at my height. I used a car seat strapped to my chair when carrying her around to keep hands-free while pushing. I was nervous about her falling out of my lap, so this helped keep her secure.
"We also had a baby bay – a cot you attach to your bed. This meant I didn't have to transfer into my chair to check on her in the night."
Raising a child with a spinal cord injury can be occasionally challenging, but Clair is keen to say that motherhood is tough for non-disabled mums too.
"I'm not inspirational – I'm just doing what millions of other women do as well!"
Do you need support after spinal cord injury? Register for our services and our team will be in touch.