Claire's story: Family fundraising for Back Up
22 December 2021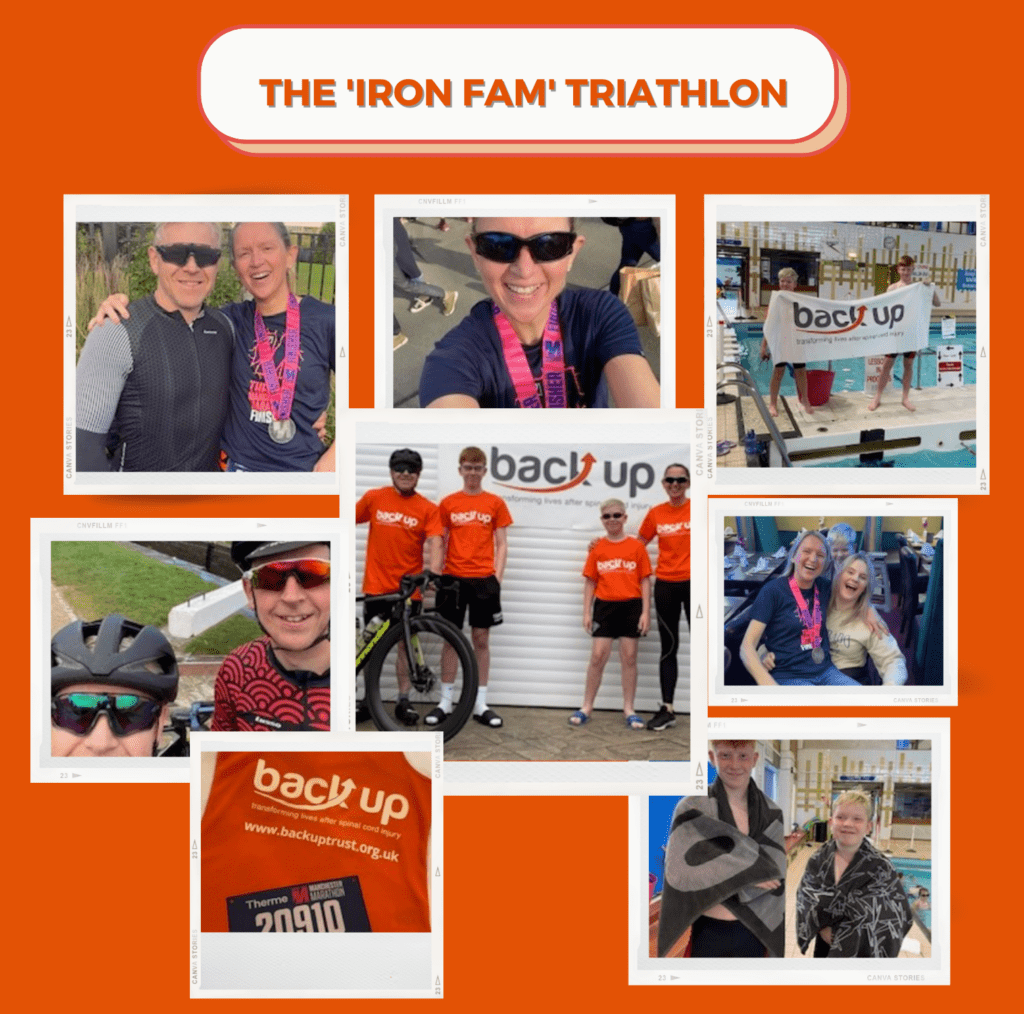 We spoke to Claire about taking on a family fundraising challenge to help raise awareness of spinal cord injury.
Spinal cord injury can affect everyone around the injured individual. In Claire's case, she was shocked when a close family friend's daughter sustained a life-changing spinal cord injury last summer. Jodie, 17 at the time, fractured her spine in the middle of the coronavirus pandemic. Prior to this Claire knew nothing about spinal cord injury, but all of a sudden the lives of close friends were turned upside down.
"It was a terrible shock, contemplating what Jodie and her family were going through."
"Jodie is – and was, prior to her injury – an amazing young woman. Her experiences really opened my eyes to what spinal cord injury is."
Claire learned that spinal cord injury truly affects every aspect of the injured individual's life. From physical challenges like pain management, to the additional planning required for what were previously straight forward trips out.
"Things that used to be simple became challenging. There has to be a lot of preparation ahead – but they've blown us away with how they grasped these challenges as a family."
Claire says that it felt frustrating that they were unable to offer support in the early days, due to coronavirus restrictions. The challenges of spinal cord injury were exacerbated by the pandemic – they weren't even able to visit Jodie in the hospital. Because of this, Claire and her family decided to use lockdown to make a difference. They hosted a family Ironman to raise vital funds for Back Up.
"We spoke to Jodie and her family first, and they suggested we should do this challenge for Back Up. They said that, out of everyone who supported them after spinal cord injury, it was Back Up who helped them the most."
After that, the "Iron Fam" triathlon was in motion! They divided the components of an Ironman – swimming, cycling, and running – between the family, and set out to raise funds for Back Up's life-changing services. Claire's eldest son Tommy swam 3.8 kilometres, her youngest Mac swam a mile, and Claire's husband Tony cycled 180 kilometres accompanied by Jodie's father, Greg. For the running leg of the challenge, Claire took on the Manchester Marathon.
"It was the most physically and mentally challenging thing I've ever done in my life! The training was tough, but Jodie was on my mind when I was doing it."
Claire was blown away by the support they received for this challenge. She set up a JustGiving page to raise funds. The original target was £400, but in total they managed to raise an amazing £3000 thanks to some very generous donors. Not only that, but the whole family had a great time tackling a challenge for a great cause.
"It was a big collective achievement for the four of us – our sons really enjoyed it, and they felt very proud."
"You get a huge boost from taking on a challenge like this. You can't underestimate the value it has for people affected by spinal cord injury."

Are you looking to take on a challenge in 2022? Then check out our Spinal Circuit Challenge. Run, walk or wheel a virtual circuit of all the spinal centres in the UK to help us transform even more lives affected by spinal cord injury.