Merryn's Story: Building your confidence on our courses
21 December 2018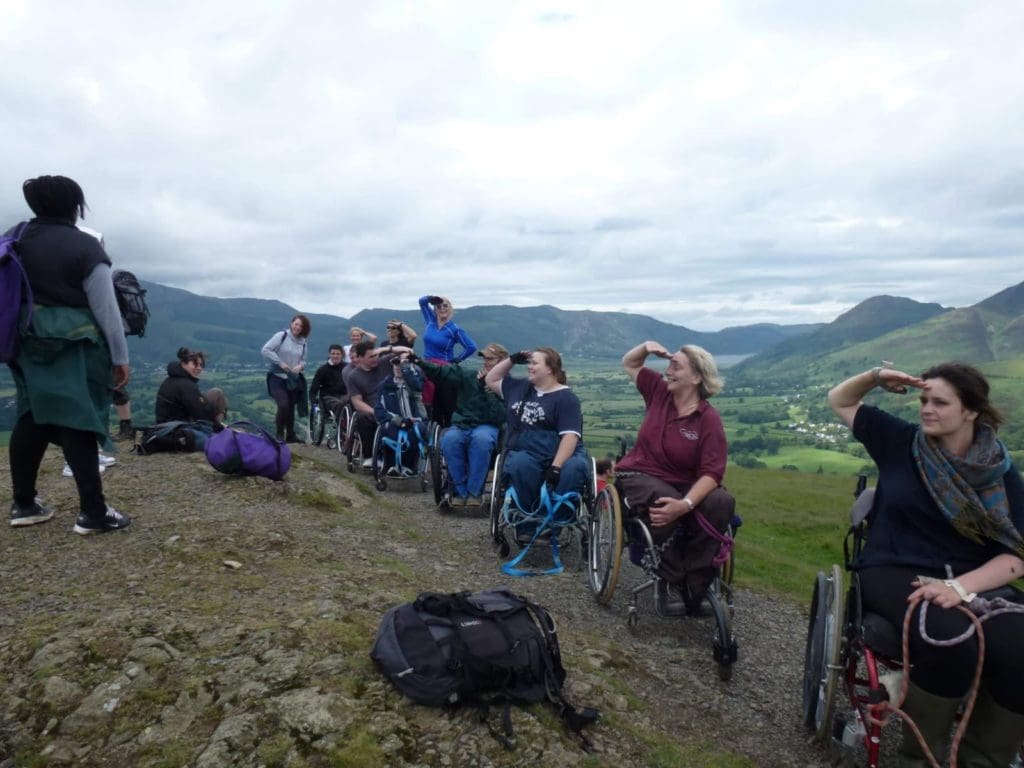 We caught up with our Interim Courses Manager, Merryn, to talk about our residential courses. Our courses programme covers everything from skiing and kayaking to navigating cities and learning skills to become more independent.
As our interim courses manager, Merryn works closely with a team of fantastic volunteers to run 11 courses for people of all ages and injury levels. She ensures that our courses are well organised so that all our course participants achieve their personal goals and have the best experience possible.
"Getting feedback from course participants and volunteers who have learned new things and had a fantastic time is so rewarding. I might be biased but courses are my favourite thing about Back Up. It's a special service and there's nothing else like it."
Even before she started working at Back Up, Merryn had plenty of first-hand experience with our courses. She sustained a spinal cord injury in 2009 and attended a Multi Activity course in the Lake District after meeting Back Up while in hospital.
"I remember feeling nervous to try something so new but the whole experience really changed my outlook on life with a spinal cord injury. I was encouraged to start doing some things for myself and, by the end of the course, I realised I was still able to do so much."
Our courses provide a fun, friendly and supportive environment for participants to develop confidence and independence. We do this by teaching key skills and giving people the chance to share and learn from others with a spinal cord injury. We constantly take feedback on board too, so we can shape and develop our courses to meet the needs of our participants.
"Traditionally, we've run lots of outdoor-activity courses, but we've recently brought in new ones with more of a focus on daily living skills. Our Moving Forwards 18-25s course, for example, was created because some of the young people we support wanted a course to bridge the gap between our u18s and adult services. At Back Up, we always listen to our volunteers and course participants to shape everything we do."
As life-changing as our courses can be, we know that it can be quite a big step staying away from home for the first-time after sustaining a spinal cord injury. Trying something new if you've been living with an injury for some time can also be overwhelming. Merryn says it is completely normal to feel nervous about attending a course.
"It's really important to us that courses offer a level of challenge. This can mean different things to different people – it could be anything from getting dressed independently to skiing down a mountain! We tailor our support to allow individual goals to be reached, and we keep in touch with participants before and after the course to answers any questions and offer advice."
If you decide to go on a course you will never be alone. Everyone will be in a similar situation, and we want everyone to go home with fantastic memories and newfound confidence. Merryn remembers leaving her first course with friendships that have lasted to this day.
"I met some amazing people. I even went to the wedding of one of my course buddies recently! We met in 2011 and we're still close friends. The course broadened my horizons and created a network of people with a spinal cord injury I could turn to for advice."
The new courses calendar for 2019 is now online, and it has something for every age and injury level. If you have a spinal cord injury and want to do something different and become more independent, there's a course for you. You'll leave with life skills, new friends who've been through similar experiences, and the confidence to take on challenges in daily life.
We also have lots of volunteer opportunities on our courses that are open to everyone. So whether you have a spinal cord injury or not, you can certainly get involved in our residential courses this year.
If you'd like to apply for a place on Back Up's courses or enquire about our volunteer roles, please get in touch with our courses team or call us on 020 8875 1805.