Michelle's story: Volunteering for my son
4 January 2018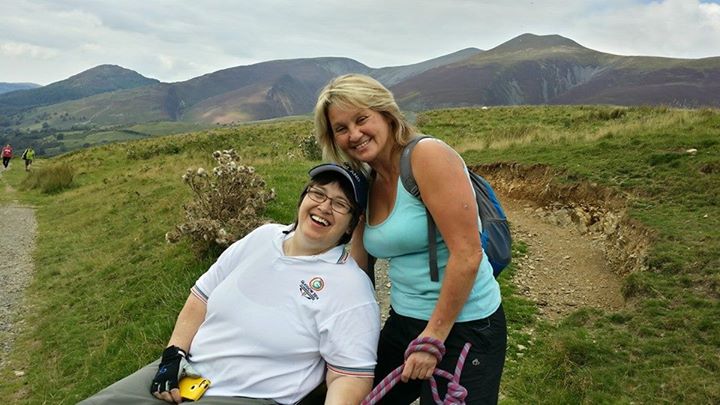 At the age of two, Michelle's son, James, was involved in a road traffic accident which left him with an injury at C1/2. He spent a year in the Intensive Therapy Unit (ITU) at The Royal London Hospital in Whitechapel where he underwent a tracheostomy and had to learn to talk – which took over a year to do.
"It was very much just trying to find ways of communicating and keeping him occupied while making life fun. We used to go on trips with the ITU nurses. He was always very positive, right the way through. We were always laughing and joking – he had a really wicked sense of humour as he was growing up," Michelle adds. As the mother of a child on long-term ventilation, Michelle found herself navigating a completely new world with very little guidance.
"I felt lost and isolated. It was very difficult to find any information to give us any guidelines on what was ahead. We didn't know what was available to us or even what to expect. It was a really difficult time of having no direction and not knowing what help was out there."
Michelle struggled to stay positive for James while trying to plan a future for them. "We didn't know where we were heading medically and whether there'd be improvements. We didn't know where we'd live because we were living in a house that we couldn't adapt so we had to get planning permission to build a bungalow that was purpose-built to fit all his medical needs. Just trying to find a way ahead was probably the hardest part as we were just always trying to think about what was best for him."
While James was in ITU, Michelle took him to a rehabilitation centre and later he came under the care and supervision of Stoke Mandeville, National Spinal Injuries Centre.
James was first discharged as an outpatient five years after his accident. By this point, his family had managed to get the accessible bungalow built so that he could return home – while remaining under the supervision of the staff at Stoke Mandeville. During a visit back to the spinal unit, Michelle and her family met Back Up. James attended his first Multi Activity course shortly after, trying out things he'd never thought were possible. Michelle felt that it had a profound impact on him, particularly around how he managed his care.
"He would often do as he was asked by his carers and nurses and it was a 'yes sir, no sir' scenario. When he came back from the course, he seemed more confident. For example, if he was told it was time to have a drink, he would say, 'No, I don't actually fancy one now, I know I have to drink x amount by lunchtime and I'll have it in a little bit, thank you.' He had more control over his life."
Michelle was struck by how empowering the experience was for James and found that it made a huge difference to how she felt too. She believes that Back Up's support helped her family to positively adjust to life with a spinal cord injury. James sadly passed away after contracting an aggressive type of pneumonia at the age of 17. Michelle decided that she wanted to help Back Up where she could in memory of her son.
"Because his needs had been so grave, our lives had basically focused on keeping everything together. After he passed away, it didn't seem like I fitted in anywhere. It felt like I needed to do something."
Michelle adds: "I knew that I just really wanted to help anybody else in making that transition to see that there are so many options out there once you're provided with the knowledge to go forwards with everything."
Michelle became a volunteer buddy and has buddied on numerous courses, including City Skills, Over 50s Multi Activity and Skills for Independence. In her role, she assists, support and encourages all course participants.
Michelle says:
"As a course buddy, you're there if someone has concerns, or even if it's just to chat about your lives, what you've encountered and your personal experiences. Friendships that you can build from it are amazing – you gain so much knowledge from other people's experiences that you can take away with you."
The thing Michelle has enjoyed the most about buddying at Back Up is the friendships she's gained. "I feel like I'm part of a big family where everyone is there for everyone else which is amazing. To witness someone's confidence grow, to watch people grow within themselves and move forwards is incredible," she adds.
With a new year ahead of her, Michelle plans to continue to work closely with Back Up and keep in contact with all the people she's met through her time with us. She also plans to take on new challenges.
"We're looking to move house which is quite a major thing for me. I also want to travel more. We've managed to convert my son's old van into a campervan and I just want to go travelling, experience new things and just live life as much as I can."
If you're considering becoming a buddy, please email Merryn, our Courses Coordinator, or call her on 020 8875 1805 for an informal chat. You can also find the buddy role description and application form on our website.