Catherine's story: Confidence, work, and spinal cord injury
6 October 2021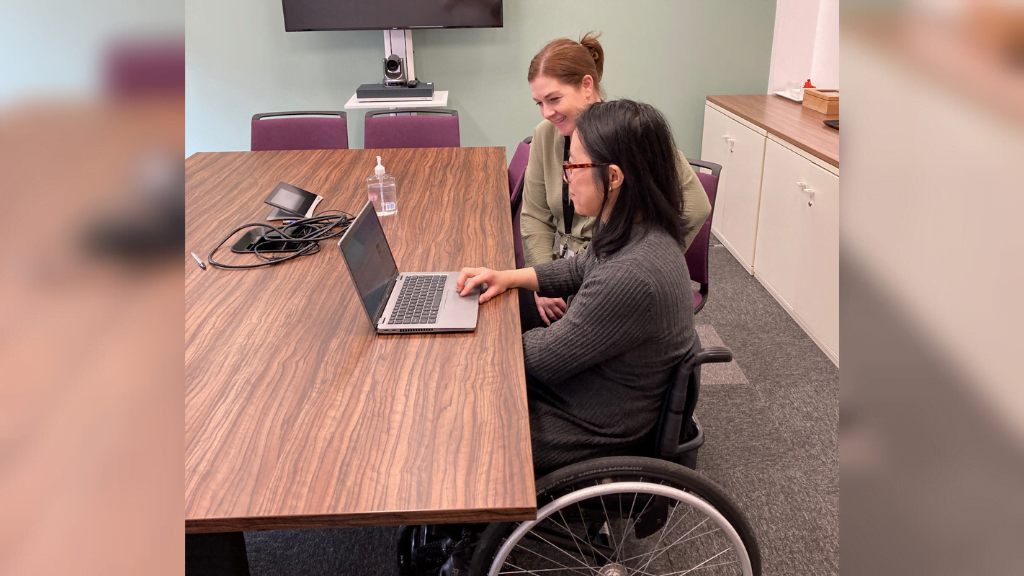 No matter your employment goals, Back Up can give you the confidence boost needed to reach them. We spoke to Catherine about confidence, work, and spinal cord injury.
Catherine lives in Glasgow where she works as a solicitor. She sustained her spinal cord injury in the '90s following an illness which damaged her spinal cord over time.
"I had meningitis while at university. I recovered, but there were complications. My mobility started to decline and, eventually, I was unable to walk. I have used a manual wheelchair for the past ten years."
In the early days, work was a worry for Catherine. Her injury means that she can get tired more easily, which can be hard to explain to employers. Catherine needed to get the confidence to seek help. Back Up was there to support her with this.
"I got in touch with Back Up after hearing about the charity through an online peer group – but I was put off from asking about their services as I didn't feel confident enough at the time. Then, a few years later, I decided to go for it! I went on the Edinburgh City Skills course."
On this course, Catherine had the chance to challenge herself. Edinburgh has a lot of cobbles and hills, so Catherine was able to practice navigating tricky terrain as a wheelchair user. With support from Back Up staff and volunteers, Catherine discovered what was possible after spinal cord injury.
"The Back Up team was brilliant. I learned loads of tips for getting around a city as a wheelchair user. This course turned things around for me. It gave me the confidence to get out more, and not worry about inaccessibility. I was also able to meet others in a similar situation and hear their stories."
Following this course, Catherine says she felt much more confident and independent. Having been able to navigate Edinburgh with a spinal cord injury, travelling for work seemed like a much smaller obstacle.
"In my role, I find myself travelling all over Scotland. Back Up's services certainly helped with this. I have even been able to travel by plane. I initially didn't feel so confident flying for work after my injury, but the course helped me do it."
We asked Catherine what advice she would give to someone who is struggling with employment after spinal cord injury. She told us that it is a good idea to reach out to Back Up and learn about what we offer.
"There's fantastic support on offer from Back Up – especially peer support, which is vital. You can meet others who have been through the same challenges, receiving practical advice for real-life situations."
Our confidence-boosting courses can help you meet your employment targets after spinal cord injury. Visit our website to learn more about confidence, work, and spinal cord injury.