Brian's story: Ageing with a spinal cord injury, independence, and Grandad Wheels
2 September 2020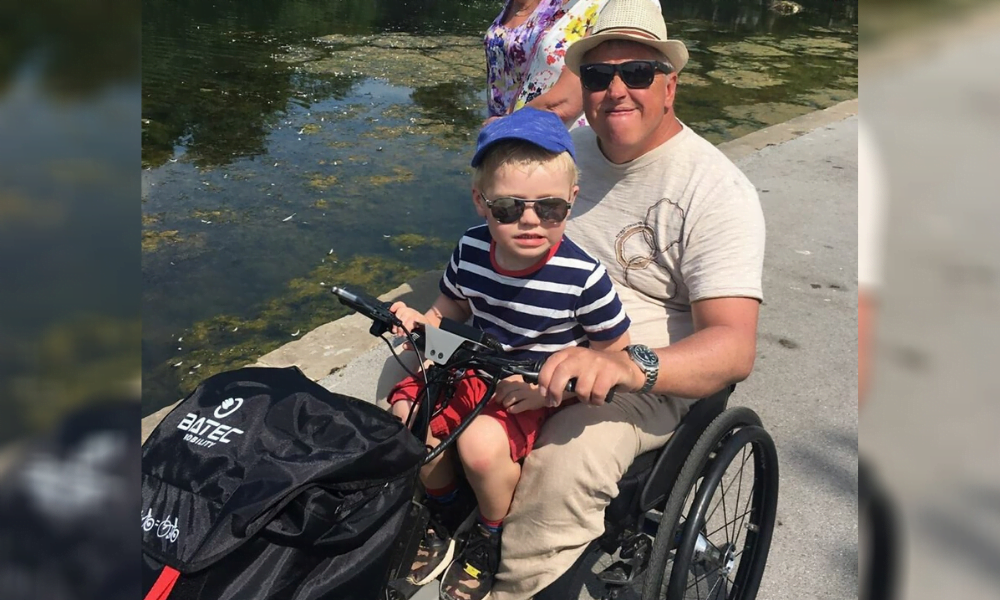 Read on for a personal blog from Brian, author of the Grandad Wheels books, who sustained a life-changing spinal cord injury aged 56. Now in his 60s, Brian told us about the adaptations he has made to live an active life whilst getting older.
I was 56 when I had my cycling accident in 2013. Out being a 'MAMIL' (A middle aged man in lycra), I was training for a charity bike ride to Spain. I hit a tree, fell into a river and sustained massive injuries including a T9 complete break. I probably should have died, but somehow I survived and after a year in hospital, I came home. My rehab was a poor experience as I had a big, sacral pressure sore so I wasn't really ready for my new life in a chair when I was discharged. Being older, I had weakened a lot in hospital so it took quite a while to get my strength back.
We had to move to a bungalow, so I took the opportunity to 'future-proof' it, understanding that I wasn't going to be getting any younger. Installing a ceiling hoist was a good decision and this has helped enormously on days when I'm feeling weak or have recurring skin problems – a real issue with ageing. It also means I rarely need any help from my wife as I don't want her to become my carer before it maybe becomes a necessity.
I was working up to the accident but was thinking of retirement, so this was the perfect 'opportunity' to stop. But how do you fill the void when you're used to being very busy? I'd always been quite sporty and of course many folks with a spinal cord injury get into wheelchair based sports. But I felt I'd been there and done that, and didn't feel inclined to learn a new sport now. So, I threw myself into creative stuff like writing and recording music, which had always been a passion.
I'm 63 now and looking forward to a very different decade than the one I planned. Travel plans have become less ambitious but there is still plenty to do and see.
I'm not going to let my spinal cord injury limit me any more than is strictly necessary.
My Grandson, Charles was just 6 months old at the time of the accident, so thankfully he provided a great source of comfort with all the free time I now had. I saw much more of him than I ever would have if I was still working. so that's brilliant. He loved riding on my bike attachment when he was little and he still tries to climb aboard even though he's now 7 and way too big! As he's got older, I've not been able to play football with him like I always planned to. Instead we've invented all sorts of games where I am allowed to cheat and use my hands – our hallway has become a kind of murderball (wheelchair rugby) court.
The best thing of all is that he inspired me to write my children's books "The Adventures of Grandad Wheels!" The first story came out of my fear that he might see me as less fun to be around than a grandad should be, because I was in a wheelchair. I needn't have worried of course and I think it helps that he's only really known me this way.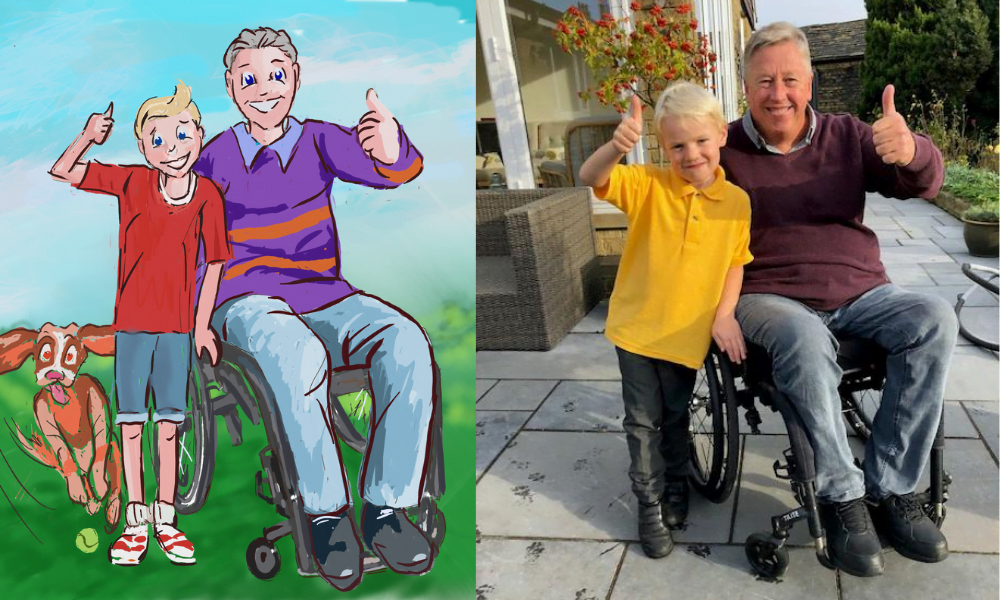 I self-published my first book last November and it is selling well, with every penny made going to Back Up and The Spinal Injuries Association. Thanks to some school visits, Charles is secretly proud when we are out in town and some little kid waves and shouts "Hey, Grandad Wheels!"
My second book will be published in the Autumn and you can read all about the Grandad Wheels project and buy books in support of Back Up here.
Do you need support living well after spinal cord injury? Learn more about our services.