Ben's story: Getting Back Up to Work
6 October 2020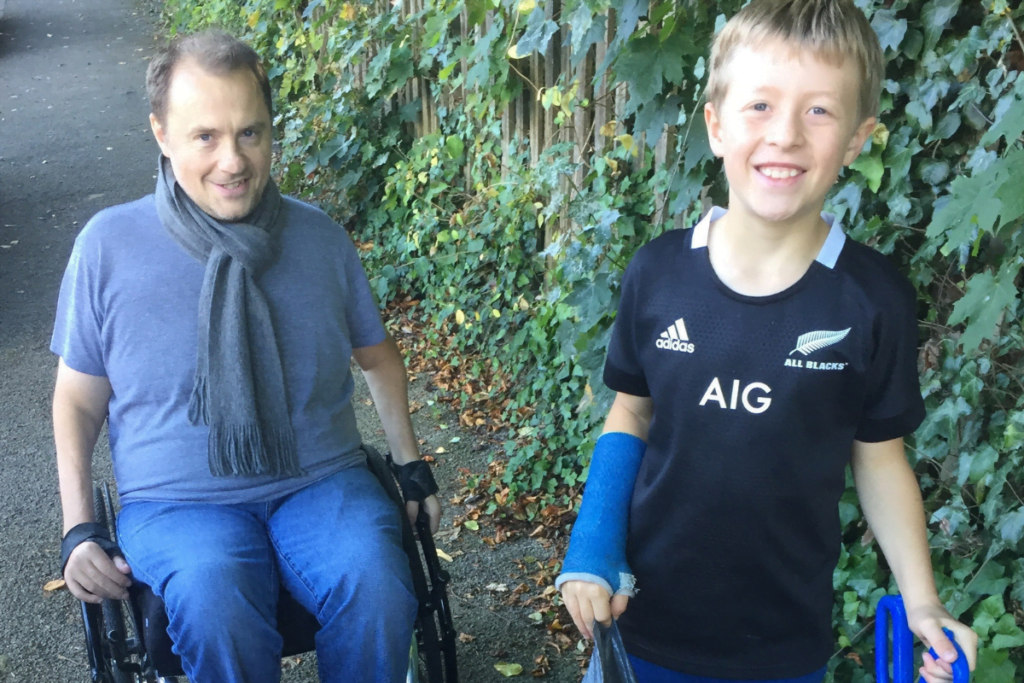 Our Back Up to Work course was there to show Ben his full potential when he felt his confidence dipping during a period of unemployment. Now, Ben is an active volunteer in his local community, and he is planning a new career path once his twin boys start secondary school. Read on to hear his story.
Ben's life changed forever while playing rugby in 1991. Aged just 17, he was playing for the Sutton Coldfield team when a scrum collapsed on him. He broke his neck at the c5/c6 level, sustaining a complete spinal cord injury. For Ben, the effects of his injury were hard-hitting.
"In the ambulance all I could think was 'how long am I going to be out of rugby for?'. At that age you think you're invincible – I didn't know the full extent of my injury until 12 hours later.
"Naturally I was devastated. I found myself feeling awful for my parents instantly. I'm the youngest of three, and all I could think about was all the things I'd never be able to do with them."
When he was in the spinal centre, Ben discovered that living a full life would still be possible with a spinal cord injury. One of his occupational therapists suggested he sign up for one of our courses. He attended our water skiing course, which we previously ran in the '90s. This course showed him what he could do after spinal cord injury.
"I went on this course 10 months after my injury. At the time I couldn't move my arms, but I was still able to camp and waterski – but when I say waterski, I mean I was strapped into an inflatable doughnut and pulled on the lake behind a boat! That was enough though, it showed me there are still possibilities.
"If you can't do something in a conventional way, there are alternatives."
Ben went on to get a degree in Leisure Management, and a postgraduate certificate in education (PGCE) teaching qualification. From this he went on to get a job as a school learning assistant, then as a mentor for 11-18 year olds. After working for nearly five years, he experienced a period of unemployment. He had to spend some time off work due to pressure sores, and his confidence was shaken. Looking for support, he decided to come along to our Back Up to Work course.
On this course, Ben was able to be equipped with the knowledge needed to work towards his employment goals. Ben was able to brush up on his interview skills, learn essential CV tips, and meet other jobhunters with a spinal cord injury. Most importantly – just like he experienced on our waterski course – Ben was able to realise his true potential.
"Having been out of work for so long, I had forgotten what I was capable of. I wasn't being developed or challenged, and I allowed myself to drift.
This course gave me the confidence to seek a new challenge."
Since the course, Ben has been dedicating his time between volunteering and looking after his twin ten year old boys. He is a governor of the school he went to, and he manages his kid's cricket team. Once his twins are settled in secondary school, Ben says he plans to get back to work.
"I want to develop my mentoring and counselling skills so I can work to support young people. The skills I gained from Back Up to Work helped me with that. The course was a catalyst in giving me the confidence I needed."
Although we have been unable to run our Back Up to Work course this year due to the ongoing coronavirus pandemic, we are hoping to run a course in the new year. Get in touch with Lucy to register your interest.