Amelia's story: 'My crutches have been my lifeline and enabled me to live my best life!'
17 February 2022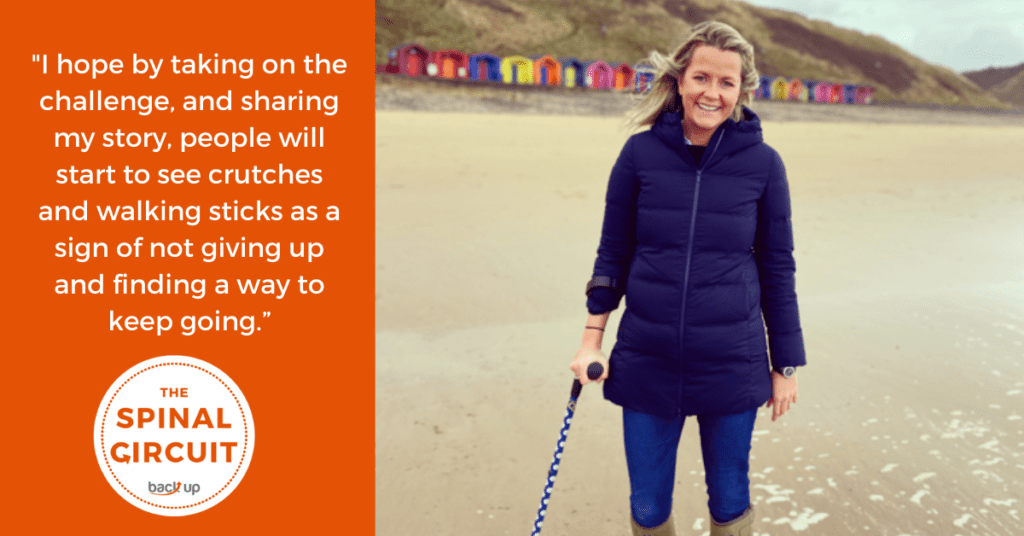 Taking on the Spinal Circuit challenge in March 2022 came just at the right time for Amelia. Read on to discover why.
Throughout the winter months, Amelia was unable to walk as much as she'd like. By December Amelia had noticed her stamina and strength was at an all-time low. Attending any Christmas event was exhausting. So when New Year's Eve rolled around, she welcomed in 2022 with a new resolution – walking more regularly.
After finding out about Back Up through social media, Amelia became passionate about our vision of creating a world where people with a spinal cord injury can reach their full potential. The opportunity to raise money for Back Up, and encourage herself to walk more regularly by setting an ambitious but realistic target, was one she couldn't pass up.
Amelia sustained her spinal cord injury in a quad bike accident, during her second year at The University of Edinburgh in 2005.
"I was driving the quad bike down a track. Next thing I know, I hit a pot hole and the bike flipped. I knew something was wrong when I asked my friend to see if she could remove my wellies, she replied saying I wasn't wearing any wellies. It was then I realised I had no feeling or movement from my waist down."
An air ambulance initially took Amelia to a hospital in Dumfries. She was then transferred to a specialist spinal unit in the Southern General Hospital in Glasgow. Before being airlifted to Stoke Mandeville for further rehabilitation.
"I didn't realise what was going on – I'd never heard of anyone damaging their spinal cord before. I can remember being more worried about the impact of my injury on everyone else – I didn't know how to tell my parents about the accident."
"When the consultant told me I'd be able to walk, but not without a walking aid I was in complete shock. I hadn't even entertained the idea that I wouldn't be able to walk unaided again."
Amelia knew that in order to regain movement in the long term she had to safely move as much as possible to give her nerves the best chance of regenerating. So she started pushing herself during her physiotherapy sessions.
"After a few weeks, feeling and movement started to come back in my right leg but it was months before my left leg was able to move at all. After numerous operations, the final stage of recovery became about strength and more crucially, stamina. I threw myself into physiotherapy and was constantly up for any physical challenge!"
When Amelia started using crutches, she was full weight bearing onto them and as a result. After battling with blisters and frequent slips, her confidence plummeted. It was then the idea behind Cool Crutches & Walking Sticks was born.
"Along with my mum, we designed and sourced the first Cool Crutch in 2005 and when we took them into hospital, the response was incredible. Friends, family and most importantly patients and doctors were all so excited. With a quick tweak to allow us to have a range of different designs as well as the option to print your own design, we had the final product. It was then we knew we should start the business and help give people like me an option to choose mobility aids which were safe, comfortable and didn't compromise on style!"
"Next we created a website and started selling crutches to people across the UK. What makes these crutches unique, is that they are comfortable – they are moulded to a left and right hand with a removable and washable grip (also means they don't smell). They're silent so no one can hear you coming, and they have a rotating and removable cuff so they won't fall when you open a door."
"We also wanted to make sure they were fun. Offering a range of colours and personalised designs means you can reflect personality and style before an injury or disability. Having a disability shouldn't mean you have to choose between style and comfort. We want to show people you can have both!"
"When you have a spinal cord injury, so much of life becomes about confidence. Mentally it's an ongoing battle, as your condition starts to change as you get older. Having mobility aids that are fashionable, comfortable, silent, and safe helps improve confidence."
Amelia walks with one crutch at all times. Following her New Year's resolution to walk more regularly, she's been preparing for the Spinal Circuit challenge by walking outside three times a week.
"Physically moving is brilliant. But doing it outside is a different ball game. It helps me both mentally and physically. And it's great to see how far I've come. In early January, when I went for a walk I'd only manage a few minutes and often need to lie down afterwards. As I've kept regularly walking outside, I've seen both my strength and stamina build – it feels great."
"If I complete my challenge of walking 50Km in March I'm just going to be so proud. I'm currently doing about 30km a month so it will be the furthest I've ever walked. I hope by taking on the challenge, and sharing my story, people will start to see crutches and walking sticks as a sign of not giving up and finding a way to keep going. My crutches have been my lifeline and enabled me to live my best life!"
Are you looking to take on a challenge in 2022? Then check out our Spinal Circuit challenge. Run, walk or wheel a distance you decide and help us complete a virtual circuit of all the spinal centres in the UK. All whilst helping us transform even more lives affected by spinal cord injury.