Lynne's story: Family mentoring after spinal cord injury
5 May 2021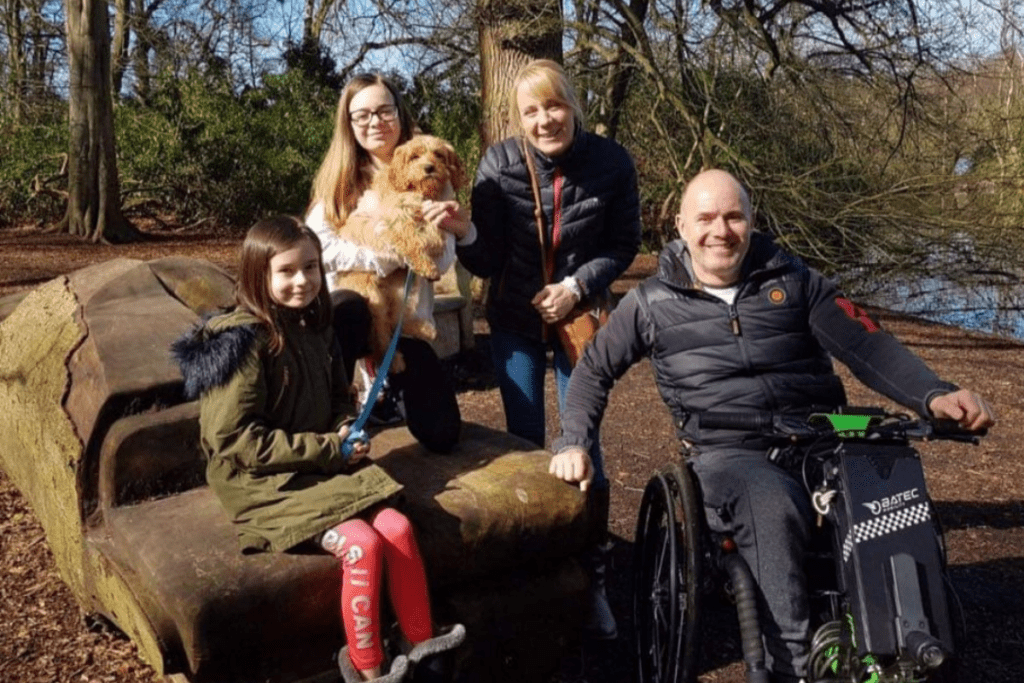 At Back Up, we are here for everyone affected by spinal cord injury. This includes family members of injured individuals. When a loved one sustains a spinal cord injury it can be overwhelming, but Back Up is here to help. We provide vital family mentoring after spinal cord injury, something that Lynne benefited from.
Lynne has been with her husband Sean for 20 years, and they have been married since 2003. Ten years ago, Sean sustained a life-changing spinal cord injury. A keen and experienced motorcyclist, Sean was injured after a traffic accident. He hit a stone wall, breaking his back in several places. His spinal cord was severed completely at the T11 level and the impact on his life was huge – he had to come to terms with being permanently paralysed and becoming a wheelchair user.
Sean wasn't alone in his struggling. Lynne and the rest of the family also felt the sudden impact of his spinal cord injury.
"Coming to terms with Sean being paralysed was hard. It was like our whole world had completely changed, and we didn't know what life would be like."
In those early days, Lynne struggled with keeping positive for Sean while also holding everything else together. She juggled logistics – ensuring the family home was accessible for Sean's return – while making sure their three children were not struggling because of the disruption.
"It was exhausting feeling like the person who was holding things together. A lot of the other partners I've spoken to have felt the same way."
In order for everyone to adapt to this new chapter in their lives, the whole family needed support. That's where Back Up came in. We met Sean and his family on the ward, and introduced them to our vital services. Sean boosted his confidence in using a wheelchair at our wheelchair skills training sessions. Lynne says that this training session was a turning point for Sean.
"The Back Up volunteer teaching the wheelchair skills training session was very similar to Sean. He showed Sean what he could do post-injury. Having that while in hospital was positive."
We weren't just there to help Sean in the hospital – we also provided Lynne with support. Back Up paired Lynne with a mentor who helped her answer the questions she had about Sean's injury, and helped her talk about her feelings.
"There's a lot of unfamiliarity after spinal cord injury. Things like adapting the house, learning about bladder and bowel routines, and other things that would help Sean live well. My mentor helped me understand the reality of Sean's life after spinal cord injury.
"Friends and family can listen to you talk about spinal cord injury but they don't know what it's really like. It's good to talk to a Back Up mentor, they understand what you're going through.
Over the past ten years, Lynne and her family have been involved with Back Up. Lynne took on the Great North Run to raise funds for our vital services. The family also got involved with our Snowdon Push fundraising challenge – a team wheelchair race up Mount Snowdon. Lynne says that the family love being able to give something back, while also setting themselves a challenge.
"Sean likes to push himself. The Snowdon Push was brilliant – it was good to be out with the family while doing something to support Back Up. Sean never thought he'd get up a mountain before this event."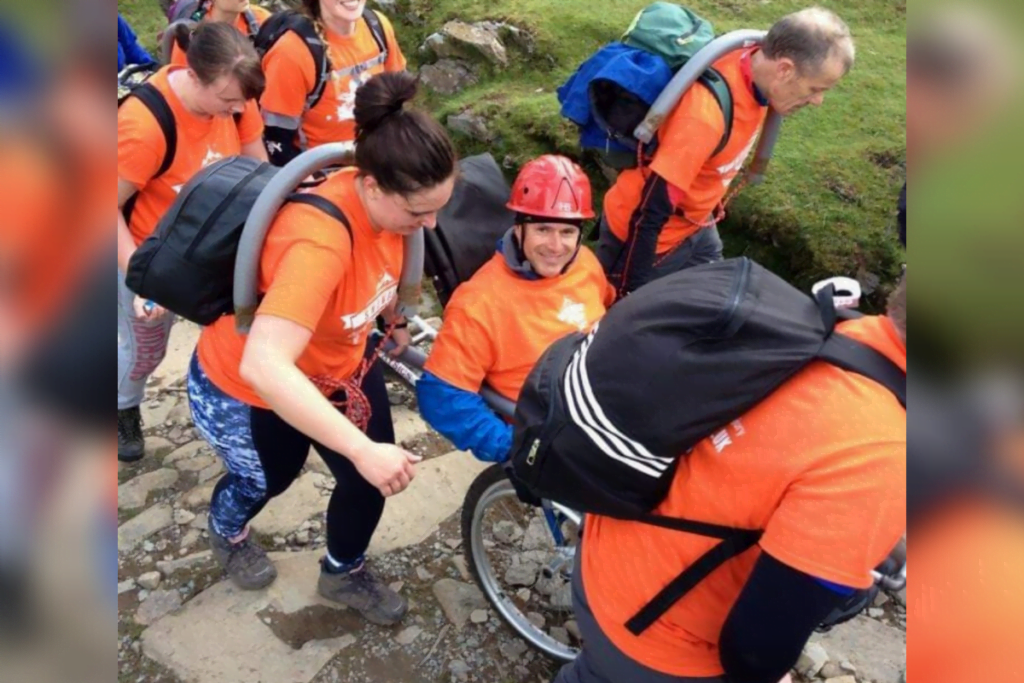 Since Sean has been injured for a decade, Lynne and her family have learned a lot about spinal cord injury. Lynne feels happy and positive about the future, but she also says that she is realistic. She understands that spinal cord injury is ongoing, and there will be obstacles ahead but with the support she received from Back Up, she feels confident going forwards.
"You need to remember that spinal cord injury is an ongoing thing. It's ever changing, and no two injuries are the same. Each individual is different, so it's good to talk to others to understand your own situation.
"Ten years post spinal cord injury we now know what to expect. We've always managed any health or practical problems. The future looks fine."
Lynne is now a volunteer family mentor at Back Up. She helps others in a similar situation live life to the full again after their loved ones sustain a spinal cord injury.
Do you think you would benefit from talking to a mentor? Get in touch with our team and we will help you with family mentoring after spinal cord injury.