Christopher's story: The "What Next?" course
10 June 2021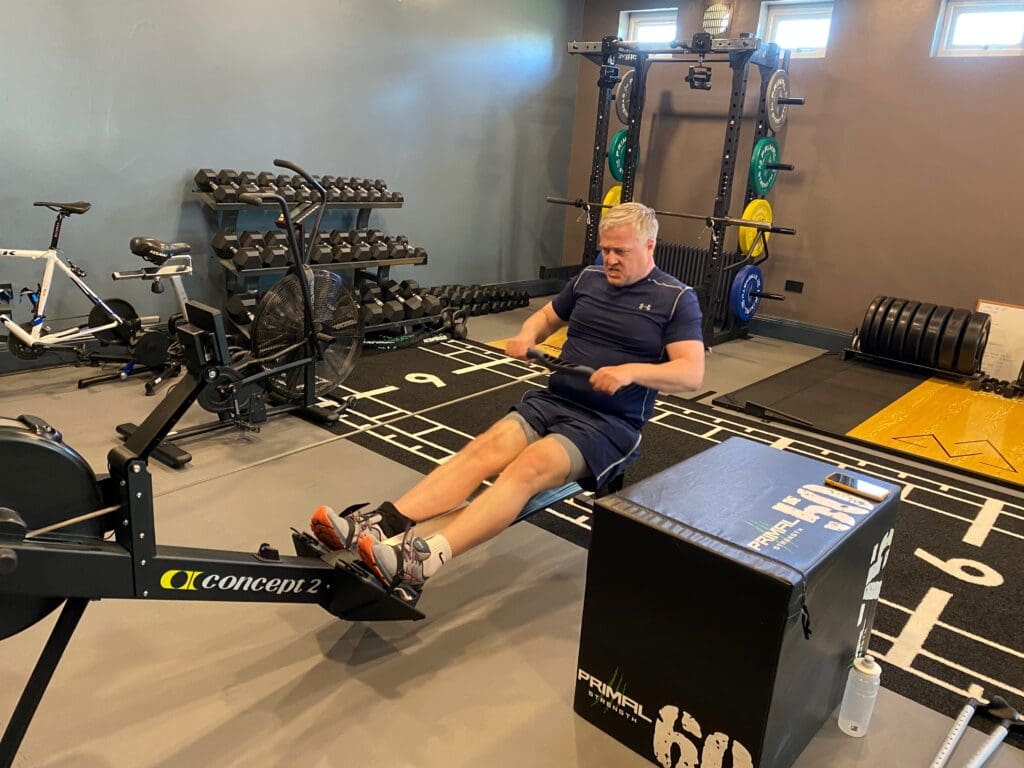 After sustaining a spinal cord injury, it can feel like every part of your life has changed. It can be difficult to adapt to using mobility aids, taking care of your bladder and bowels, and managing pain. Learning to live well after spinal cord injury can be overwhelming, but Back Up is here to help.
Through our life-changing services, we're here to create a world where everyone with a spinal cord injury can realise their full potential. This year, we delivered our first ever virtual course – "What Next?". Since we couldn't reach people in hospital during the coronavirus pandemic, What Next? has allowed us to provide newly injured people with vital information, wherever they are. We spoke to Christopher Morgan, a solicitor and one of our new trustees, about how this course helped him.
Christopher sustained his spinal cord injury in November 2019 following a spinal stroke.
"Spinal cord injury changes every aspect of your life, physically and emotionally. There are the obvious changes people can see, like using a wheelchair, but there are also less obvious changes – like having to manage a bladder and bowel routine or dealing with pain.
"It is without a doubt a life-changing situation."
Christopher was discharged from hospital ten days before the coronavirus lockdown began. This made his situation much more challenging. Like many others in a similar position, a lot of Christopher's support networks were suddenly made unavailable.
"All of my physio, orthotics and podiatry help, and even easy access to my GP disappeared or became more difficult.
"Everything had changed, and my rehab progress became much slower."
Christopher decided he needed some extra support to bridge the gap between home and hospital during the pandemic, and Back Up was there to help. After meeting the Back Up Outreach and Support team in hospital, Christopher decided to keep in touch. When he heard about the What Next? Course he decided to get involved.
"What Next? supported me adjusting with the transition from hospital to home. The two day course provided me with practical advice from spinal cord injury specialists and people in similar situations, and allowed me the opportunity to ask questions about my spinal cord injury in a safe and supportive environment."
The course has two main components; an e-learning platform where users can access a wide array of information and resources about living well with a spinal cord injury, and a weekend of live Q and A sessions. The E-Learning platform covers vital topics including wellbeing, mobility, and relationships. Participants can also have access to this platform after the course, so they can learn more in the future. The Q&A sessions allow participants to discuss any questions they may have in an interactive setting. These sessions are hosted by spinal cord injury professionals, as well as individuals who have lived with a spinal cord injury for a long time.
Christopher says that speaking to others in a similar situation was useful, and the course being entirely virtual was a big help during the pandemic.
"It was helpful being around and talking to others facing similar challenges to me. It helped me work through my goals and set achievable targets for the future.
"Having the option to join a virtual course was a real benefit. Online courses mean that people can engage with Back Up in a meaningful way in the comfort of home and it increases the accessibility of Back Up, which is a great advantage."
Following on from the course, Christopher has set a lot of goals for the future. He is continuing his rehab, and also wants to take on our #NoLimits cycling challenge this September. By supporting us as a trustee and fundraiser, Christopher also wants to give something back.
"For me, it's incredibly important that I keep pushing forward and continue to support the great work Back Up does, both physically and virtually.
Learn more about What Next? Here, and follow this link to register for support if you need it.