Over 50s
Date: Monday 7 - Friday 11 Sep 2020
Location: Lake District
"The course had a brilliant, positive impact on my life. It was brilliant, I am absolutely elated. I would recommend it to anyone. If it can help me it can help anyone. You're never too old to learn. Never too long in a wheelchair to learn new things."

Mary (59), Lake District participant
Our Over 50s Multi Activity courses are for people that want to participate with others of a similar age to themselves.
The courses includes a number of tailored wheelchair skills sessions to help you build in confidence and work on individual skills with the aim of achieving personal goals and aspirations. Our wheelchair skills trainers will be there with you for the whole course to assist you in your development.
Multi Activity courses take place at the Calvert Trust centres in Exmoor and the Lake District. The Calvert Trust instructors are experts at being able to adapt a whole range of outdoor activities so that people can participate as independently as possible, regardless of the extent of their disability.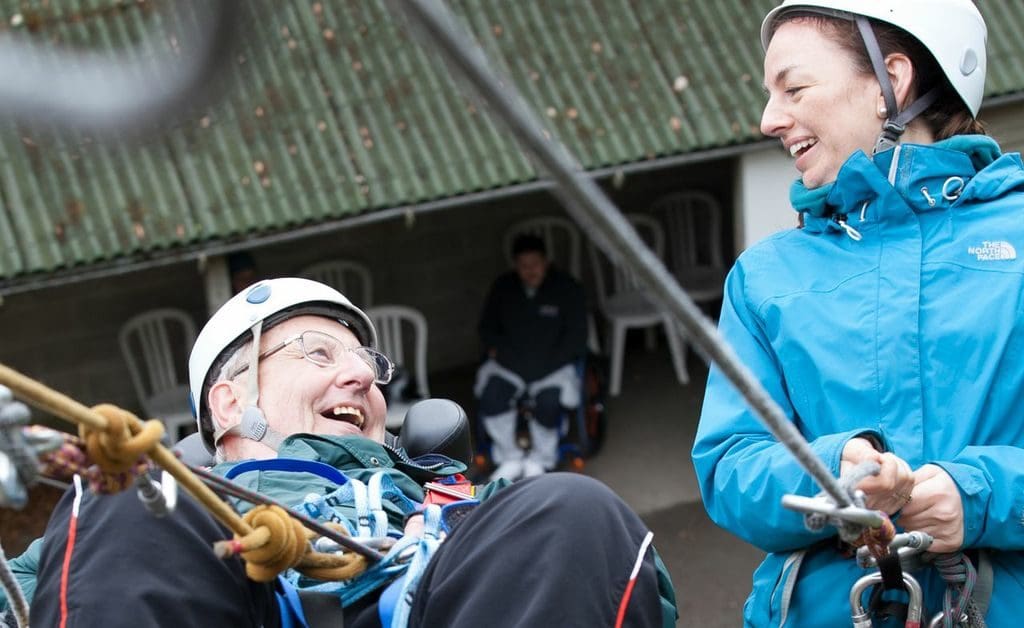 Course content at both centres includes:
Rock and rope activities such as climbing and abseiling
Water activities such as kayaking, canoeing and sailing
Other activities such as archery, blow darts, and hand cycling
Wheelchair skills training
A coastal push in Exmoor or a push up a hill in the Lake District
The Exmoor courses sometimes include horse riding or carriage driving.
"I didn't think that I'd be doing much this year but now I think this year will be the greatest since leaving hospital. The course is something I'd recommend to anyone and everyone with a spinal cord injury, it's unbelievable how much you learn in 5 days. It's not just about the activities, it's all about what you learn from other people."

Jackie (54), Over 50s course participant
Supported by