Paralympian Sophie Carrigill becomes a Back Up patron
3 December 2020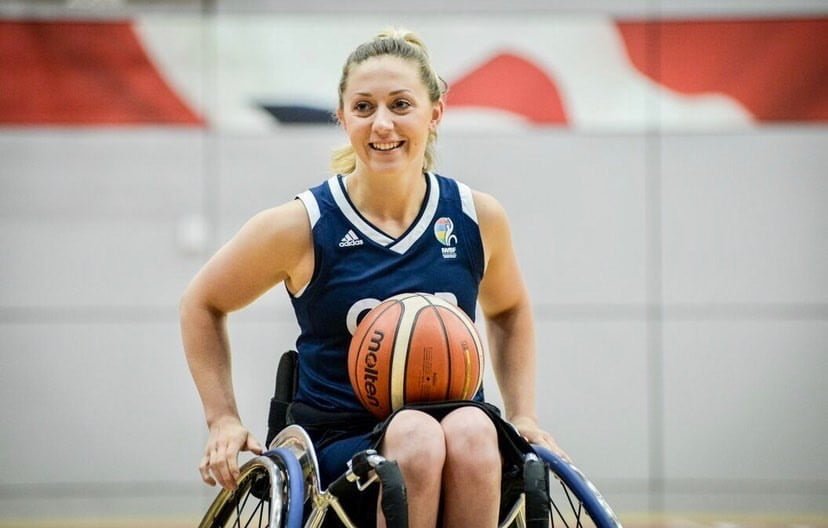 Sophie Carrigill, the Great Britain wheelchair basketball co-captain at the 2016 Rio Paralympics, has today, on the UN International Day of Persons with Disabilities, become a Back Up patron.
Sophie joins the team having been a regular service-user herself after sustaining a spinal cord injury ten years ago.
"I'm thrilled to join the Back Up team as their newest patron on today of all days" Sophie says
"Before I was injured I hadn't considered living life with a disability, and I didn't think I would be able to continue playing sport, let alone at the Paralympic level."
"I know first hand how important Back Up's services are to rebuilding one's confidence and independence. With their support, I was able to try new things I hadn't thought possible with a disability, like abseiling and canoeing. They helped me regain my competitive nature and understand I could still live an active life."
"I am so happy to play a role in raising awareness of such a valued and inclusive charity that supports people of all ages, injury levels and family members too."
A passionate advocate for inclusivity, in November Sophie recounted as part of the our first virtual festival her own journey into elite sport and the barriers she overcame to get to where she is today.
On the announcement of her patronage Abigail Lock, Back Up's, CEO says
"Sophie has been part of the Back Up community for over 10 years now. She's joined us on a number of courses, has taken part in several fundraising challenges for us, including the John O'Groats challenge in 2018, and recently shared her injury journey with others in our online forum, the Back Up Lounge."
"Sophie was also one of our first youth advisors and this early role has played a part in how our services for children and young people with spinal cord injury have since been developed."
"We are so excited to have Sophie Carrigill on board as a patron. Her passion and enthusiasm for sport and inclusivity knows no bounds.
"Sophie confirms that it is possible to life a full life after spinal cord injury. She is incredibly approachable and demonstrates our core values of fun and challenge down to a tee."