Sue's story: Holiday after spinal cord injury
6 July 2021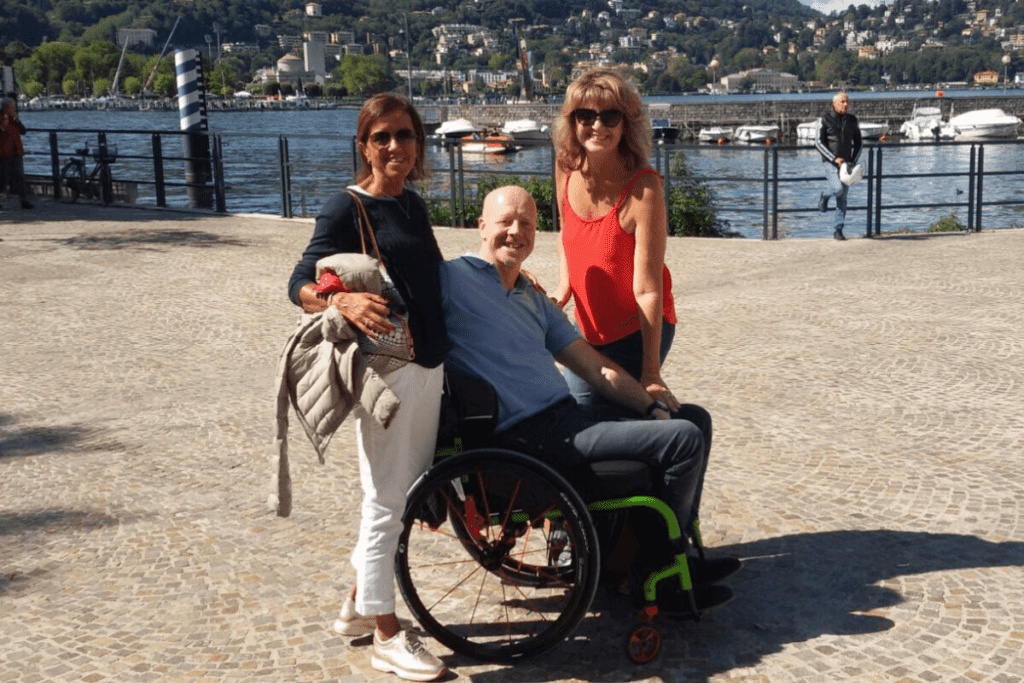 After spinal cord injury, you may be keen to travel once again. It may take a bit more planning and preparation, but travelling is not impossible. Whether you want to see the world or plan a staycation, Back Up is here to help with top tips and real-life advice.
We spoke to Sue, whose husband sustained a spinal cord injury in 2016. Read on to hear what she has learned from going on family holidays after spinal cord injury.
How are you personally affected by spinal cord injury?
My husband John sustained a spinal cord injury in 2016, after being knocked off his motorbike. We had been together for 11 years, and we were due to be married later that year. He sustained a T3 level spinal cord injury, and is paralysed from the chest down.
Suddenly our whole life was turned upside down. The wedding was postponed, and we faced seven and a half months in hospital. We had to learn how living with a spinal cord injury would affect both of us.
How did you meet Back Up?
A mutual friend of ours had a spinal cord injury too. I'll always remember seeing a photo of him hand cycling in France. It made us think "wow, if you can do that then we can too".
We got in touch with him, and he pointed us towards Back Up. After John got out of hospital, he signed up for a Multi Activity Course. It was fantastic for him. He got such a confidence boost from talking to people in a similar situation.
When was the first time you went on holiday after spinal cord injury?
John wanted to go back to work ASAP and one month after leaving hospital, his work took him to Germany, so we flew out there together. It was quite scary because it was so new, but we just went for it. With spinal cord injury and using a wheelchair, travel is very different. It takes a bit of adjusting to.
Our first holiday after spinal cord injury was our honeymoon after the rescheduled wedding. John and I drove through Germany, Italy, and France, which was amazing.
What do you need to know before flying with a spinal cord injury?
You need to be very organised, and carefully consider what to bring with you. Make sure to bring spare catheters and medication, and be sure to keep some in your hand luggage just in case. You should also keep a list of your medication, just for reference if needed.
We use assistance when we travel to help us get on board the plane. Make it your responsibility to tell the people helping you exactly what they need to do. They won't know your exact needs, so be vocal and explain what support you need.
Remember to be patient too. When flying as a wheelchair user you will often be first on and last off. Just remember that you'll need to take your time. It's also a good idea to take the removable parts of your wheelchair – things like the seat or handles – off before it goes into the hold. Keep those parts with you in the overhead so they don't get knocked off. We also like to leave a note on the chair urging people to be careful with it. This gives us some peace of mind.
What are some essential items to make travel easier?
Be sure to do your research before booking a hotel. It's good to check what the hotel bathrooms are like. We always use a wet room that John can push into using a travel shower chair without transferring, which is safer. A good thing to bring as well as a shower chair is a standard shower curtain. You can use this to cover your usual wheelchair and make it waterproof, just in case something happens to the shower chair.
We also bring a medical sheepskin rug with us, which we use as a mattress topper. This ensures that John's skin is taken care of if the mattress isn't brilliant. Whenever we go out to a restaurant, I make sure to take along some 3-inch-high foam discs with us. This way if our table is too low for John to push under, we can put them beneath the table legs and raise it. These simple ideas really help.
What are some of the most common obstacles you may encounter when travelling with a spinal cord injury?
Remember that you'll be carrying more kit with you after spinal cord injury. John has a suitcase which attaches to his wheelchair. This makes things easier.
Punctures can also be a pain. We always take a puncture repair kit and an inner tube with us when we're out. On one occasion in Majorca we had a puncture, but we managed to fix it at a bicycle repair shop that we found on Google.
Speaking of Google, it's good to use Google maps to see how accessible places are. We once booked a hotel, but didn't realise it was on the top of a steep hill. Now we make sure to check for steep hills and stairs before we book.
Don't be afraid to ask your hotel to send pictures and dimensions of your room. Make sure you know the size of your wheelchair so you can make sure you fit through their doors.
What advice would you give to someone in a similar situation to yourself?
Travelling after spinal cord injury can be scary. All firsts are scary, and when you have a spinal cord injury everything you do is a first again. The only way it gets easier is by doing it and learning from it. Wherever you go, do your research beforehand and think carefully. The more you travel, the more confident you'll get.
We're thankful that Sue was able to share her experiences with us. Check out our main guide to travel after spinal cord injury, and our top tips for staycations too.