Ian's story: Travel after spinal cord injury
6 July 2021
Spinal cord injury can affect every part of your life. Some things may feel more difficult, such as travel after spinal cord injury – but Back Up is here to give you the confidence to live life to the full again.
Ian sustained his spinal cord injury in a road traffic accident. Prior to his injury, Ian lived an active life. He was an avid mountain biker, who also enjoyed camping and snowboarding. His injury caused a drastic change to his lifestyle.
"The realisation that I couldn't travel like I did before was very hard. Since a very young age my interests were always outdoors, and it felt like they disappeared over night."
Back Up was there to show Ian what was achievable after spinal cord injury. Our Outreach and Support team visited Ian's ward to deliver wheelchair skills training, helping him boost his confidence in using a wheelchair.
"It was interesting to meet people through Back Up who had used a wheelchair for a long time. I found it useful to learn from others, and discover how they navigated life.
"The first time I ever went out and about in my wheelchair was during Back Up's Wheelchair Skills Extra course. It was very helpful."
After learning wheelchair skills with Back Up, Ian kept in touch with us. Eventually, he learned more about our life-changing courses. As he was a keen skier and a lover of the mountains prior to his injury, Ian decided to join our sit skiing course in Colorado.
"I was keen to try something adaptive, and the Back Up ski course looked like a good opportunity. I hadn't flown since my injury. It's all very well watching videos about flying with a spinal cord injury, but I hadn't contemplated going on a plane myself!"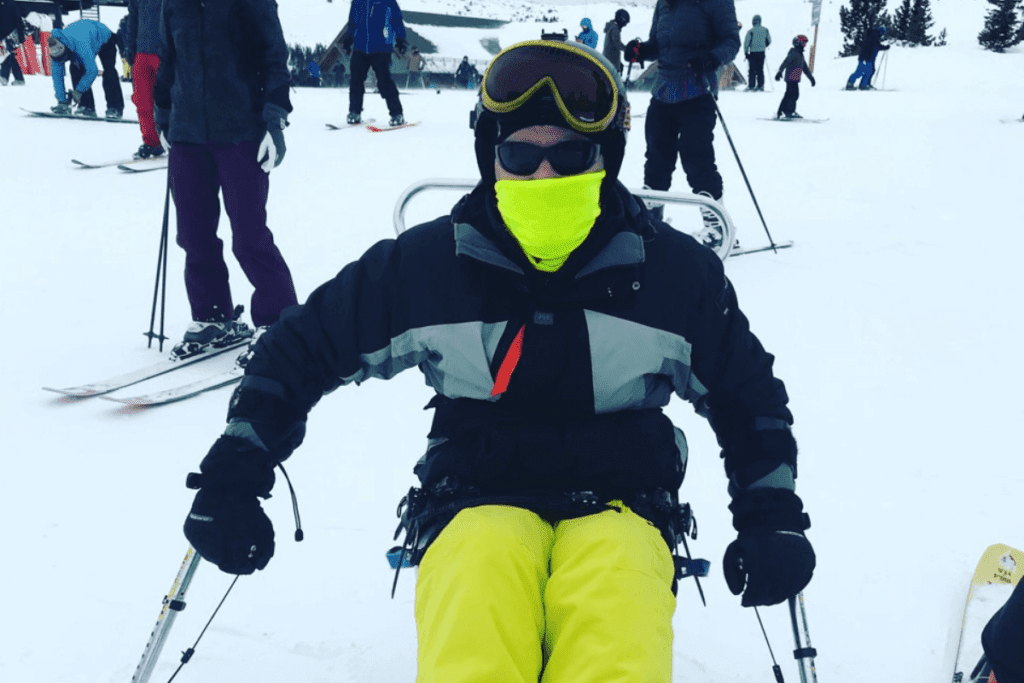 At Back Up, embracing challenge is one of our values. We believe that challenge is central to our learning and growth – it helps us gain knowledge and skills. Ian admits that he found learning how to sit ski challenging, but it also showed him how to overcome obstacles with his spinal cord injury.
"Learning to sit ski was a lot harder than I thought, but the experience helped show me that everyone's spinal cord injury is different.
"I saw people with higher level injuries than me doing things I couldn't do. It proved to me that my injury didn't prevent me from doing what I wanted.
"The comradery was good, and the shared experience was excellent. It was good to connect with others in a similar situation."
By challenging himself on our sit skiing course, Ian discovered what was possible. Following the course, he booked a family holiday for the first time since his injury. He now knew it was possible to fly long haul and stay in hotels that hadn't been adapted for wheelchair users.
"Before the course, I didn't think it would be possible to travel with a spinal cord injury. I wouldn't have been able to do that previously."
We are hoping to run our next skiing course in February 2022 – but we can still help you get the confidence needed to travel after spinal cord injury. Check out our other life-changing courses.
Our website also has dedicated resources about travel, packed full of vital information. Check out our travel and staycation guides.