Back Up Champion – Alice Tweddell
4 January 2019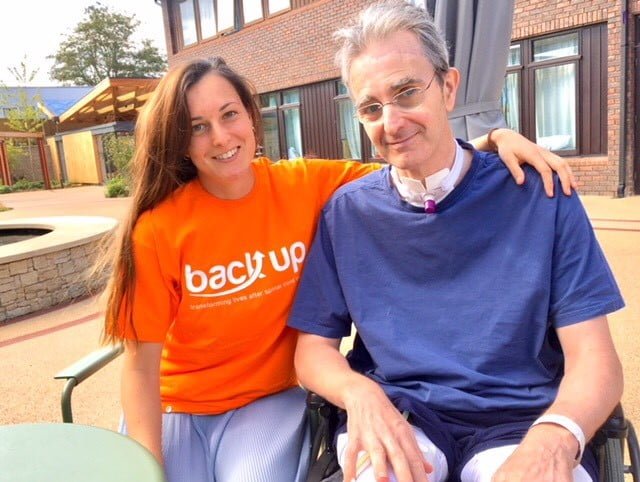 This month's Back Up champion is the fabulous fundraiser Alice Tweddell. She first heard of us after her Dad sustained a spinal cord injury in September 2017 following a cycling accident. He spent time at the Princess Royal Spinal Unit and was supported there by Back Up's outreach coordinators. Following his move to the National Spinal Injuries Centre, Stoke Mandeville, he participated in some of our wheelchair skills sessions. Alice's Dad is still in hospital, but he's getting stronger and making progress every day.
"I have spent a lot of time in the hospital with him where you often feel a bit helpless as everything is out of your control. Fundraising is one way I hope to give support."
Alice's Dad was extremely fit and always challenging himself before his accident. This mentality has been adopted by Alice as she challenged herself to run the Royal Parks Half Marathon to help raise money for our vital services. She did an amazing job of fundraising, with an absolutely phenomenal £800 raised along with her boyfriend Henry.
This was the first long distance race that Alice had taken part in, so training for it was tough. She had to be very disciplined about going out to practice – especially when she didn't fancy it! Prior to the race Alice's longest run had been 16km, but the cheering and adrenaline on the day helped her finish the half marathon. Her Dad was even able to send his support by video from the hospital, which motivated her even more.
Alice now has her eye on completing another challenge for Back Up. Both the Snowdon Push and Kayaking the Great Glen have caught her attention. But Alice's overall goal is to one day complete a challenge with her dad once he's discharged from hospital.
If you'd like to take on a challenge for Back Up then see our fundraising pages to get some ideas. To discuss taking on a challenge or holding an event to support Back Up, email Reece or call him on 020 8875 1805.