Back Up awarded 'most deserving snowsport charity' by SIGB
31 January 2017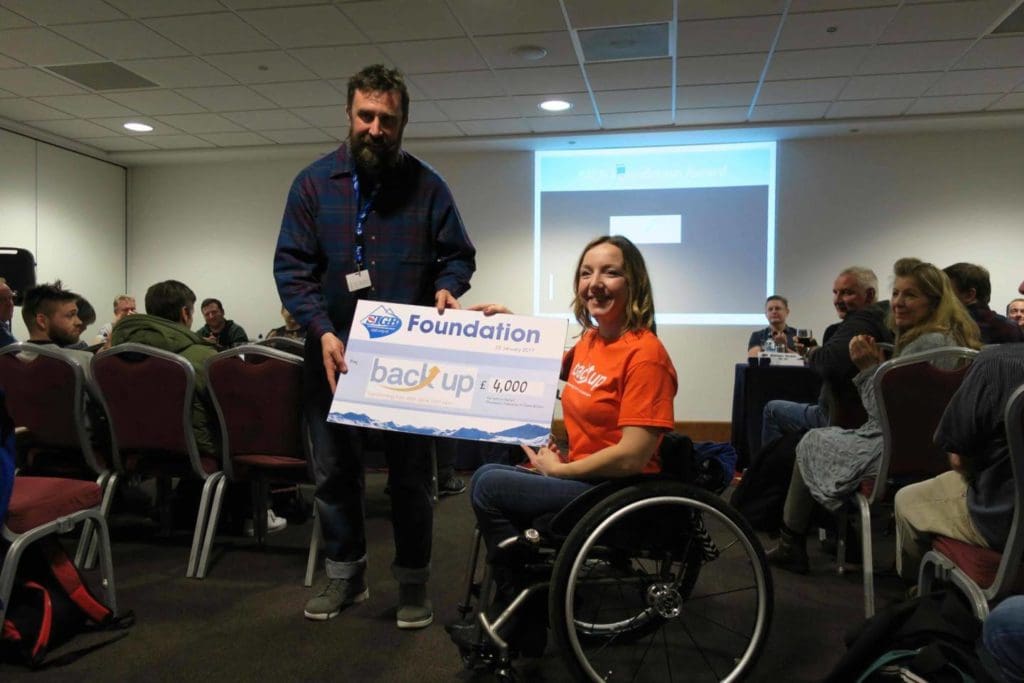 Back Up has won the Snow Sport Industries of Great Britain (SIGB) Foundation's award for 'most deserving snowsport charity'. The accolade comes with a grant of £4,000 which will be used exclusively to help fund the charity's ski courses in 2017.
The funding for the £4,000 grant is courtesy of The Slide Industry Trade Show – owned and organised by SIGB. The 3-day tradeshow is specifically for snowsport retailers.
Back Up was founded in 1986 to provide ski courses for people affected by spinal cord injury. 30 years on, the charity's services have greatly diversified but Back Up continues to offer two ever popular skiing courses.
This year, 14 people will have the opportunity to learn to ski with Back Up in Sweden and Colorado. The participants will be able to push themselves outside of their comfort zone in an exciting and supportive environment.
The award was presented at a ceremony at The International Centre in Telford. Anna Turney, former GB Paralympic skier and Back Up ski course participant, was Back Up's ambassador on the night. The tradeshow preceded SIGB's AGM where the award was presented. Damon Street, President of SIGB said:
"Giving people who have sustained a life changing injury the chance to use skiing as a way to build confidence is fantastic. Back Up are a truly worthy recipient of the SIGB Foundation Award, and we are delighted we are able to contribute to their ski courses."
Anna delivered a 'passionate' speech about the importance of Back Up's work and the support it had given to her. Although the course isn't for potential athletes, in the last 10 years alone 7 members of the GB Paralympic ski squad have been on Back Up's skiing courses. After accepting the award, Anna said:
"Coming back home after the huge challenge of learning how to ski on a Back Up course makes the everyday challenges faced by the spinally injured seem much more manageable. This opportunity is truly life-changing, so support from the UK snowsport industry is massively appreciated."
To find out more about Back Up's Sit Ski and Ski Karting courses click here, or contact our courses team on courses@backuptrust.org.uk or by telephone on 020 8875 6741.