Leading charities to collaborate to fight for spinal cord injured people
5 September 2019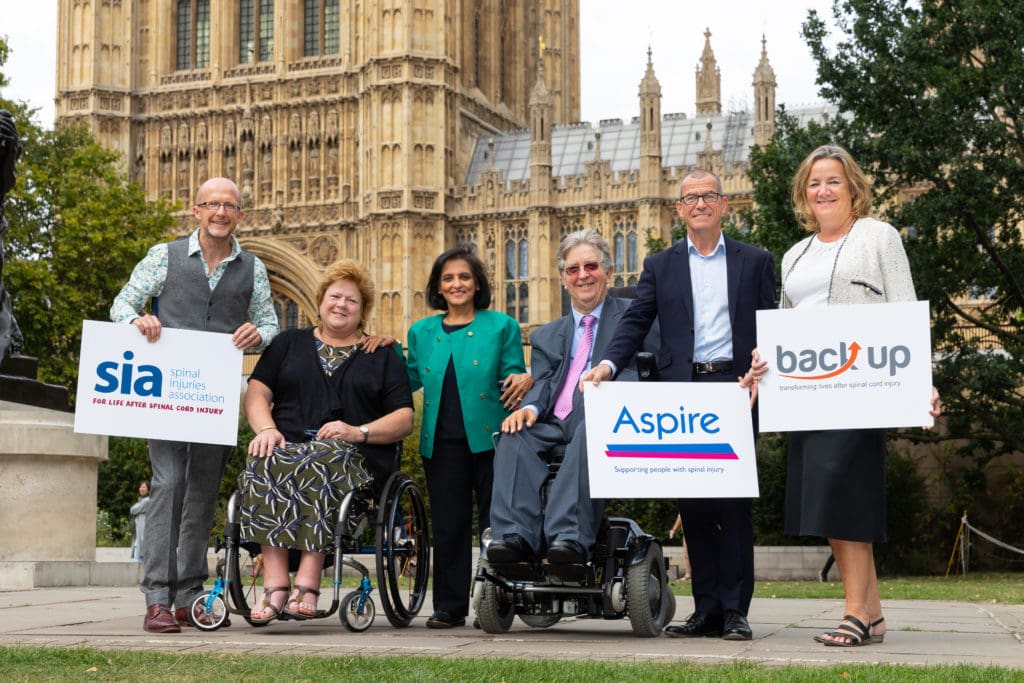 Spinal cord injury charities the Spinal Injuries Association (SIA), Back Up and Aspire have today signed a joint commitment to work more closely together to improve the lives of spinal cord injured (SCI) people across the UK.
The move is in response to both an increasing number of spinal cord injured people living in the UK as well as unprecedented pressure on essential health, social care provision and other services such as housing, that spinal cord injured people rely on to lead an independent, healthy and fulfilled life.
Under the agreement announced in Westminster today, the three charities have committed to coordinate their efforts to better meet the needs of spinal cord injured people. Together, they will build a powerful and unified voice that will deliver better outcomes for SCI people across the UK.
There are more than 50,000 people living with a spinal cord injury in the UK.  Every four hours, through accident or illness, someone is paralysed by a spinal cord injury. Yet only one in three newly injured people will be able to access specialist care, and one in five will be forced to live in nursing home care, even as young people.
The three charities will be launching a nationwide conversation throughout the autumn involving all people living with spinal cord injuries, as well as their immediate families, carers, specialist centres, the NHS and anyone involved in their care and rehabilitation. The findings will be used by the charities to establish how they can combine their individual strengths and resources to deliver services and champion the rights of spinal cord injured people in the UK.
Jo Wright, Chair of Back Up, said, "Today is World Spinal Cord Injury Day – a very appropriate time to announce our partnership. Charities that work together operate more efficiently, deliver better services and save money. Our stakeholders are keen for us to collaborate to ensure that we respond more effectively to the needs of people affected by spinal cord injury, and today starts our shared journey towards that end.''
Dr Rupert Earl, Chair of SIA said, "The opportunity for an independent life for every person paralysed by a spinal cord injury is under threat. As someone who has also lived with tetraplegia most of my adult working life, I am appalled that our rehabilitation and care services are increasingly failing to provide adequately for the very reasonable needs of SCI people. SIA's commitment to work together with Back Up and Aspire, and campaign for all people affected by a spinal cord injury is absolutely the right thing to do."
Dr Saroj Patel, Chair of Aspire, said, "I am delighted that Aspire is committing to working with SIA and Back Up to deliver joined up support for spinal cord injured people in their quest to live independent lives. Together we can maximise the individual strengths of each organisation to develop and grow vital services for our stakeholders. Spinal Cord Injury is changing. At least 2,500 people are injured each year – that's many more than previously thought and injured people are increasingly of an older age, often with more complex needs."