Spinal Circuit Case Studies
9 June 2021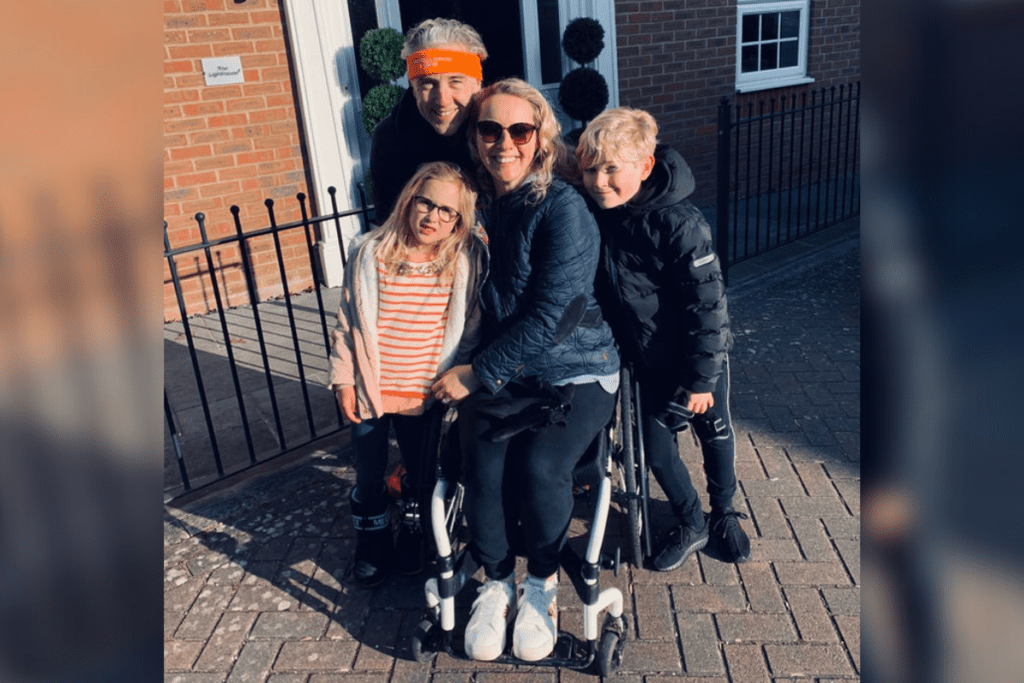 Charlotte – Individual Participant
We caught up with Charlotte who took part in the Spinal Circuit 2021. She completed over 110km (far surpassing her original 50km target) and raised a staggering £3,299 to support Back Up's services. Here's what she had to say:
I've known about Back Up since my spinal cord injury in February 2020. However, I was in acute hospital until the end of March 2020 and then rehab (Stanmore) and obviously COVID-19 happened so I was unable to fully engage with their services. I chose to do the Spinal Circuit in March 2021 as I think Back Up is an amazing charity.
Lockdown Life
During the first lockdown, I was in hospital and rehab. Lockdown two was easy as the kids were at school, but during the most recent lockdown I struggled as it was winter, and the kids were home schooling. Although I kept up with my stretches and physiotherapy, I found that last lockdown hard work. I do not function well without some winter sun (I blame it on the fact that I have Australian parents!).
I signed up for the Spinal Circuit to get me out and about during March and to focus on some cardio and general fitness. The challenge was incredible. Every day of March I had a different friend booked to accompany me for my wheel. It was wonderful to see people again and to be exercising, not to mention raising money. It was a win, win, win. I have realised that I can do a whole lot more than I ever imagined physically. I love getting out and about and now know some great "wheeling" routes.
Since the first lockdown and being in hospital I've lost 66kg – almost 4 stone, and almost two stone since getting moving with the Spinal Circuit. I put a lot of weight on in hospital with steroids and being hugely inactive. I have focused on healthy eating and as much cardio as possible and am amazed at the outcome.
Spinal Circuit Reaction
I was blown away by the support from all of my friends. I received donations from so many people, it's been truly humbling and I'm so happy (and more than a little surprised) that my little challenge has resonated with so many people.
The Spinal Circuit, with my added twist of wheeling with a different friend every day, has been a wonderful focus for me. It has lifted me out of the doldrums of spinal cord injury, winter and lockdown and has genuinely warmed my soul.
I think that the fact that a spinal cord injury can affect anyone at any time at any age makes it a cause we should all be aware of. Nobody ever expects it to impact their life, whether to themselves or a close family member or friend. When it does, the fallout can be huge; I've experienced it myself. It's good to know that Back Up offers a mentoring support service as well as support for the family. Aside from this there are also the skills workshops that are invaluable to a newly injured patient. I look forward to doing some wheelchair skills training soon and maybe a residential course as soon as they are up and running again.
PageGroup – Corporate Team
PageGroup managed to raise over £37,000 and covered a total distance of 43,419km – that's more than once around the Earth.
Sheri, who is the Diversity and Inclusion Director at PageGroup, talks about how the Spinal Circuit helped with the wellbeing of their 304 employees that got involved.
Interested in taking on a challenge yourself? Get in touch with our events team, or learn more here.