Jenna's story – using a Sirus Drive from Wheelchair vehicle
3 March 2021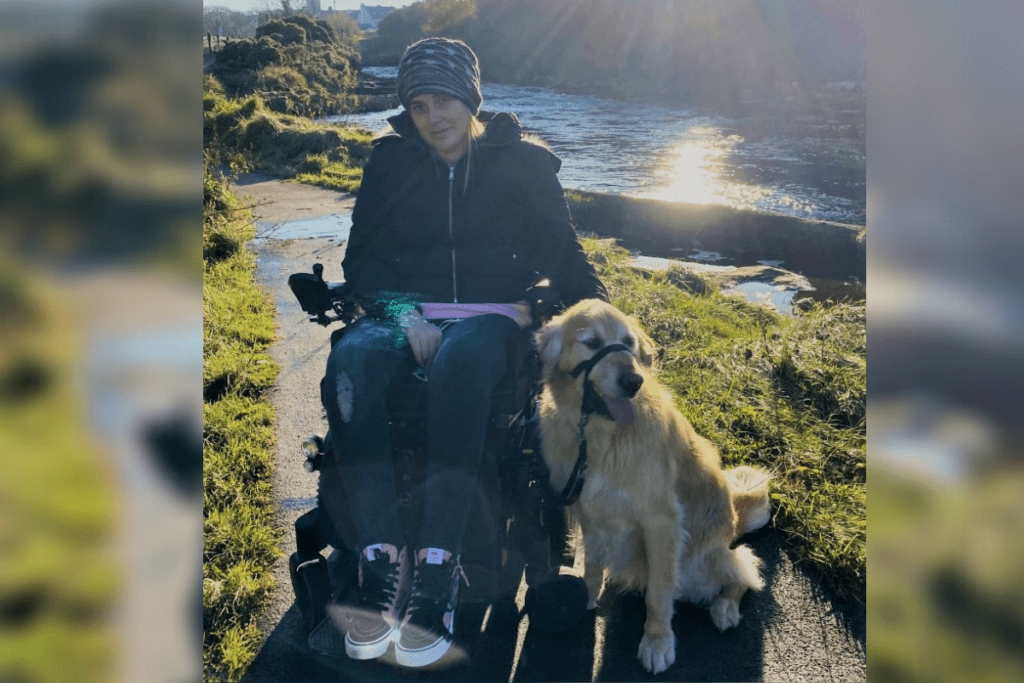 Jenna, 33, from Sligo sustained a C5/6 spinal cord injury in 2014 whilst on holiday in Spain. After weeks in an induced coma followed by 9 months in hospital, Jenna has worked tirelessly to get her life back on track. She set out a five-year plan. This included returning to college to continue her studies and getting back behind the wheel. Jenna tells us what it's like to drive again, the positive effect it has on her mental health, and how her Drive From Wheelchair vehicle designed by Sirus Automotive has helped her rebuild her life after spinal cord injury.
"I have had my Sirus Drive From Wheelchair vehicle since last July. Being able to drive again has had a huge impact on my life. It has massively benefitted my mental health and wellbeing because I now have my independence back! I can go out on my own without relying on others, if ever I feel down, I can jump in the car and go for a drive, and I can start to repay the favours to all of those people who helped me during the last five years. Driving really has been a massive factor in rebuilding my life.
"Now I have my independence I have the ability to drive to and from college to continue my studies. I've had so much help since my accident, I decided to study to become a counsellor. The plan is to complete my course and begin my career, with the ability to drive to work independently."
Life before Sirus
Before I was able to drive again, I had a wheelchair accessible vehicle where I sat in the back. It was so difficult to chat with anyone in the front as it was so noisy. It was extremely uncomfortable and any bumps in the road caused excruciating pain. I found that sitting in the back messes with your head – I actually felt like a child again.
Ford Tourneo Connect
My wheelchair accessible vehicle is based on Ford's Grand Tourneo Connect. There are so many amazing functions on the Ford, I'm still learning about them. The Pre-Collision Assist is great, it warns you and automatically brakes if there is a car or pedestrian in front of you, and the Ford SYNC3 handsfree is great to make calls safely.
Operating the Sirus Ford is so easy
The conversion is designed with side entry, which can be great for on-street parking. The ramp is also really short, so I can easily park in a Blue Badge parking bay. I can open the ramp and side sliding door from inside the house at the click of a button. This really is ideal when the weather is bad, I can open up the car and go straight in.
Lowering suspension
My Sirus Ford feels so different to other wheelchair accessible vehicles due to the lowering suspension. I can hardly feel the bumps in the road, and even going over speed bumps feels completely different. I'm a massive advocate of this feature, it makes such a difference to someone with a spinal injury. My parent can't believe how smooth the ride is!
Back behind the wheel
After driving for just three months I drove three and a half hours to Dublin for my neurology appointment. It felt great! I wasn't tired or nervous, even on the bumpy roads it was such a smooth ride because of the adapted suspension. I had several driving adaptations fitted to the steering wheel which means I can easily reach and operate all of the driving controls. I have push/pull hand controls fitted which brake and accelerate.
Rear Passengers & boot space
I have space for two people to travel in the back and there is minimal road noise so we can easily chat away whilst I'm driving. The other advantage to the side entry design is I have a boot for equipment such as a hoist.
Travelling upfront as a passenger
When I don't feel like driving, I can sit in the front in my wheelchair which is absolutely amazing and totally different from sitting in the back. Occasionally my dad drives, we couldn't believe how easy it was to swap the seats around, this man can't change a lightbulb and he did it in seconds!
Fighting the good fight
I am proud of what I have achieved and overcome since my injury despite every single barrier that was thrown at me, and the constant battle to progress to a level of independence I could live with. I kept fighting the good fight the right way and it has paid off. I am glad to be here and excited for what my future holds.
Follow Jenna on Instagram – @jenfitzi
To find out more about driving, contact Sirus Automotive on 0121 505 7777 or visit their website to book a free home demonstration. Sirus also specialise in Internal Transfer vehicles for wheelchair users who prefer to drive from a standard driver's seat, and Wheelchair Passenger Upfront conversions designed to enable wheelchair users to enjoy sitting in the front next to the driver.