Sarah's Story: Living confidently after a spinal cord injury
24 December 2021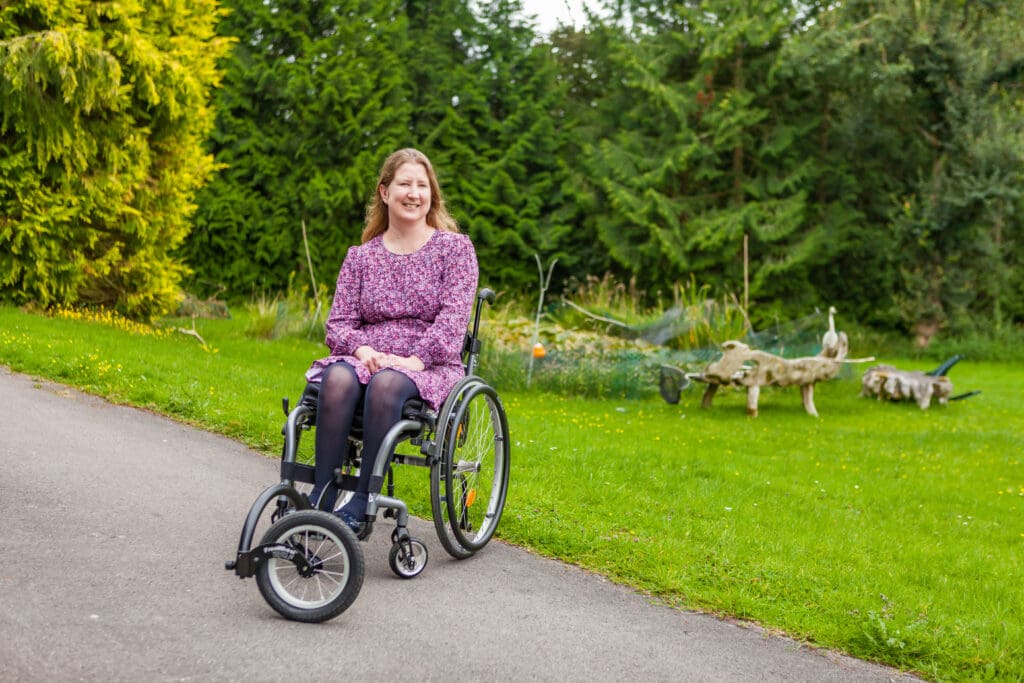 Read on for Sarah's story, featured in our 2021 impact report. After a T6 level spinal cord injury, Sarah needed to connect with who understood what she was going through. Our services helped her develop a positive mental attitude, and she now knows there's nothing she can't do.
I've had Lupus for 20 years. It's an autoimmune disease where your body can attack healthy cells. In June 2020 my husband took me to A & E with a painful suspected UTI. Three hours later, my legs went from under me. My Lupus caused Transverse Myelitis, damaging my spinal cord and causing a T6 complete spinal cord injury.
Being in hospital during lockdown was honestly difficult. I was grieving over what happened to me, and I had no physical contact with friends and family. FaceTime is good, but it doesn't give you a hug when you need it. After a few weeks bawling my eyes out, I started wanting to get on with it. Following my initial treatment I moved to a spinal injuries unit, where I found out about Back Up. I spoke to Michael virtually. He was so helpful, and he recommended I get a mentor through Back Up. I did, and she was fantastic!
Then, I signed up to the virtual two day What Next? course to learn more about living with a spinal cord injury. We were split into different groups, so we could hear from people in a similar situation and how they found solutions to problems. When you leave hospital after spinal cord injury, it can be hard as you aren't surrounded by people who understand. What Next? reminds you that there is still support outside of the hospital.
One module was all about travel. It covered things like going away on holiday and going to the cinema for an evening. It showed me that if I plan ahead, ask for help and laugh at myself, I can live life after spinal cord injury. It won't always be smooth sailing, but I know support is out there.
I wasn't 100% clear on what I needed before going on this course, but I knew I needed to hear from people who understood. This course helped me develop a positive mental attitude and I'm now back in employment, working at Harrods to ensure their supply chain is sustainable.
I now know that there's nothing I can't do – I just need to plan ahead.
Check out our full impact report and discover how we transform lives affected by spinal cord injury.