Poppy's story: A Q + A about care and spinal cord injury
8 November 2023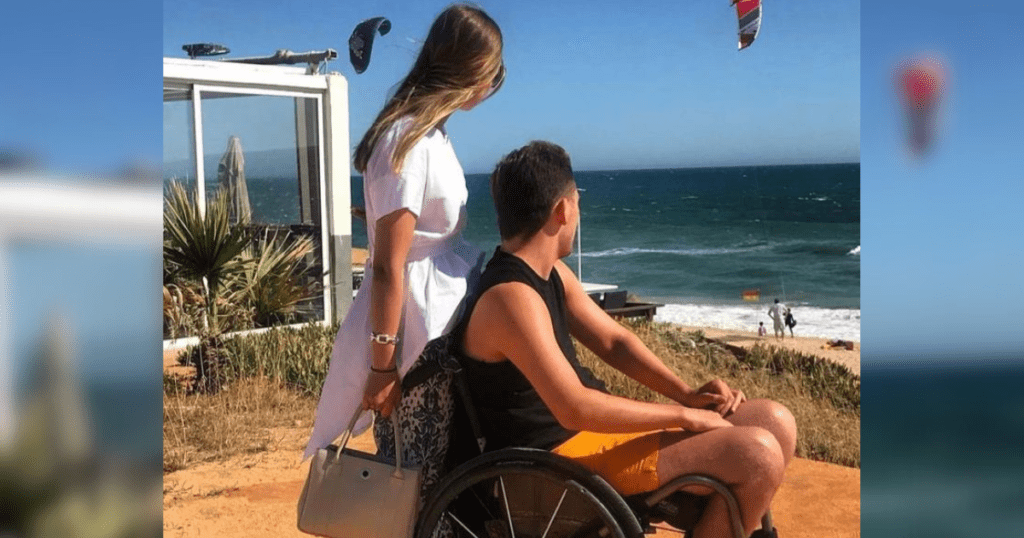 At Back Up we understand what it's like to adapt to big changes as a newly injured individual. This is because many of our staff have personal experiences with spinal cord injury.
We spoke to Poppy, our Family Support Coordinator, about some of her top tips for living independently with a carer or personal assistant. Read on to discover what she has learned over the years!
Can you tell us about your personal experience with spinal cord injury?
My husband sustained a C5/6 complete injury back in 2015 while playing rugby. Due to the nature of his injury, we have a live-in care team to help us live life to the full.
Can care and personal assistants (PAs) be a worry for newly injured people and their loved ones?
It can take a little while adjusting to life with a PA around, especially live-in.
We have learned over the years that the ideal carer or PA not only has to suitably fit the job role but also fit into your family home life. Finding the balance between living with someone and a working relationship is hugely important. The newly injured person may find it hard to direct their own care at first, as it's a totally new thing to them, but over time this gets easier. It also helps for family members to remember that the PA is there to help when needed – and is a crucial part of living independently after spinal cord injury.
How can having the right care package help people with a spinal cord injury and their families get the most out of life?
Having the correct care package in place is really important to us. It means we have someone to help with my husband's personal care, which means that we can focus on living our lives.
My top tips for living well with a live-in carer or PA is to set ground rules from the beginning. Outline what is expected of them in their role, and make sure you keep up good communications with them at all times.
Can travel be a worry for newly injured people – especially when planning a trip with a carer/PA?
For us, travelling for the first time was a bit unnerving as we weren't sure what to expect in the airport, plane, and our holiday destination. Having a carer with us made life a lot easier. An extra pair of hands was a massive help!
Now, we have travelled all around the UK, as well as travelling abroad to Portugal and Dubai.
What are your tips for travelling with a carer or PA?
It's really important to set clear boundaries before travelling with your PA. It's good to set up a schedule for them, so they know when they are working and when they can have some free time. Having a schedule agreed in advance also means you can spend family time together, separate from your care team.
When travelling after spinal cord injury, the key is to plan ahead as much as you can. You'll need to be mindful of what medical supplies to bring to suit your needs, including shower chairs. It's also best to contact where you are staying prior to booking. This way you can ask for photos of their facilities for disabled guests and discuss accommodation for your PA.
Overall, make sure you try not to get frustrated if something does go wrong. No two holidays look the same, try to relax and remember why you are going away!
Finally, what support can Back Up provide around this topic?
At Back Up, we're here to support everyone affected by spinal cord injury. If you want to discuss care, travel, or any other topic about living well with a spinal cord injury, get in touch with our team.