Back Up welcomes new members to our senior management team
6 June 2018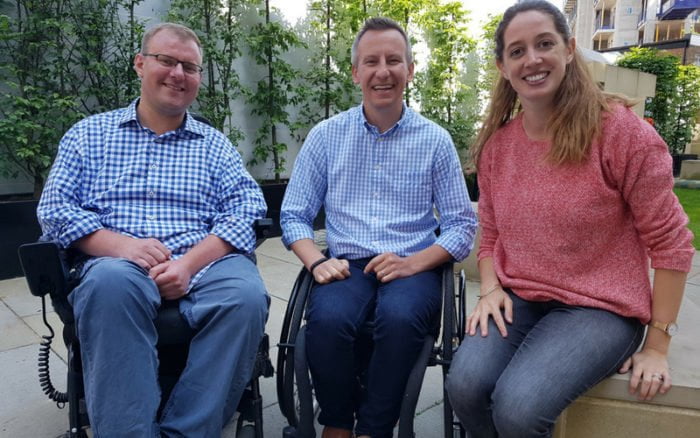 Back Up's senior management team work with our trustees to build our strategy and develop the plans for how to implement it. We are delighted to announce some changes to the team and introduce you to our newest members.
We've decided to split the role of Head of Services into two new roles. Andy Masters is our newly created Head of Outreach and Courses, while Polly Nabarro has taken on the position of Head of Mentoring and Families.
Andy started volunteering at Back Up back in 2011 before joining us as a full-time member of the team. On his new role and time at Back Up, Andy says:
''After volunteering at Back Up, I joined the team as an outreach and support coordinator. This was a great opportunity to learn more about the different spinal centres and how they work. I eventually went on to become the manager of the outreach team, and coordinate our presence at spinal centres and general hospitals across the UK.
"I'm really excited to take on my new role as Head of Outreach and Courses and look forward to working more closely with our courses team, and helping to shape the direction of Back Up's services alongside Polly.''
Our new Head of Mentoring and Families joined Back Up in 2013. Polly's remit now includes the family support service which was launched in 2017. Polly adds:
''I started at Back Up in September 2013 as a mentoring coordinator, then became the manager of the team. In my new role as Head of Mentoring and Families, I'm excited to support our mentoring and family support services, both of which are in high demand. I'm also delighted to be assisting our under 18s team with their great work. Moving forwards, I really want to continue our legacy of valuing our immensely talented volunteers, and creating a work environment where we support each other, celebrate our successes, speak openly about challenges, and communicate freely.
"People are our greatest asset here at Back Up, so this is really key.''
Sean McCallion was recently appointed as our new Head of Fundraising. Sean has worked at Back Up for over 14 years across many different teams before taking on this exciting new role. He says:
''One of the first things I did when I came out of hospital was go on a Back Up multi-activity course. So, right from the start, Back Up had a hugely positive impact on me. I started volunteering in the office and within a few years I was working in the services team. Five years ago, I made the move over to fundraising to head up Back Up's corporate partnerships.
"In my new role as Head of Fundraising, I'm excited to lead our brilliant team of fundraisers who all make our vital work possible. I'm also looking forward to helping Back Up grow and reach more people in the future.''