Anna Davies Q&A: New CBBC drama Katy
15 March 2018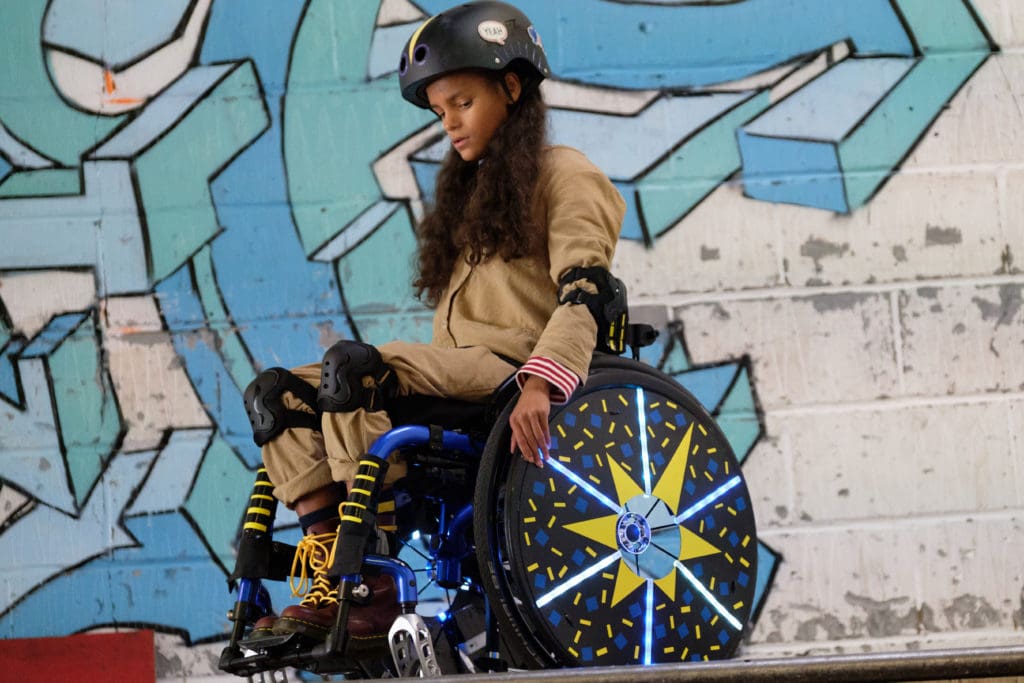 CBBC recently aired the first episode of Katy, a new adaptation of a Dame Jacqueline Wilson novel. The story follows the adventures of Katy, a lively, strong-willed and impulsive heroine struggling to adjust to life in a new blended family, before an accident leaves her in hospital with a spinal cord injury. We spoke to the CBBC's Head of Script Development, Anna Davies, about the new show and Back Up's involvement in the process.
---
Where did the idea come from to turn Katy into a TV series? And what inspired you to tell this particular story?
KATY by Jacqueline Wilson is a great read.  We quickly fell in love with the irrepressible central character, KATY, who acts first and thinks later, often landing her in trouble.  An accident leaves Katy with a spinal cord injury and the book becomes an exploration of how this affects her life and friendships; it's based on the classic story WHAT KATY DID but unlike the classic, Katy doesn't walk again but has to learn to adjust to life with a disability, ultimately leading her towards a clearer, more determined sense of herself. We felt it was an important story to see on screen and wanted it to feel truthful, engaging, moving and funny, as it does in the book.
Why did you consult Back Up during the script development process? And what did our contribution add to the show?
We wanted KATY to feel truthful so were keen to research it thoroughly.  Back Up were very helpful, with research contacts for medical questions and also organised phone calls for us to talk to young people who had experienced spinal cord injury.  It was really enlightening to hear about their experiences – about what was funny and unexpected as well as what was difficult – and we were able to use some of the details in the show.
How did Chloe find the experience of portraying a character with a spinal cord injury?
She spent a few days with Jordanna Bartlett in advance of the shoot and had medical advisors on set for some of the hospital scenes. At the BAFTA screening on the show she talked about the fact that she found it incredibly hard to work without her legs. Whilst on set she also remained in character and would lift herself from her chair without using her legs.
What's the reaction been to the show so far?
We're still waiting for KATY to be shown on the channel, but we've held some children's screenings and the show has had a great reaction.
How do you think this show might challenge people's perceptions of disability?
We hope the story will help the audience understand that Katy's experience could happen to anyone. Katy doesn't expect the accident to happen, but she has to learn to adjust and we follow her through that process.   Katy is the same girl, but people sometimes treat her differently.  She hates it when people stare at her or think of her as "poor Katy".  She's even happy at the end when her nemesis from school starts being mean to her again!
Seeing the highs and lows that the character of Katy goes through, why do you think organisations that supported people affected by spinal cord injury, like Back Up, are important?  
Back Up clearly offers valuable and unique support, helping people affected by spinal cord injury to move on with their lives and introducing them to others who've gone through similar experiences.
Katy airs every Tuesday evening at 5pm on CBBC. If you'd like to find out more about Back Up's services for children and young people with a spinal cord injury, please email our U18s Services Manager, Ella, or give her a call on 020 8875 1805.