Andy Masters attends the ISCoS Conference in Sydney
25 October 2018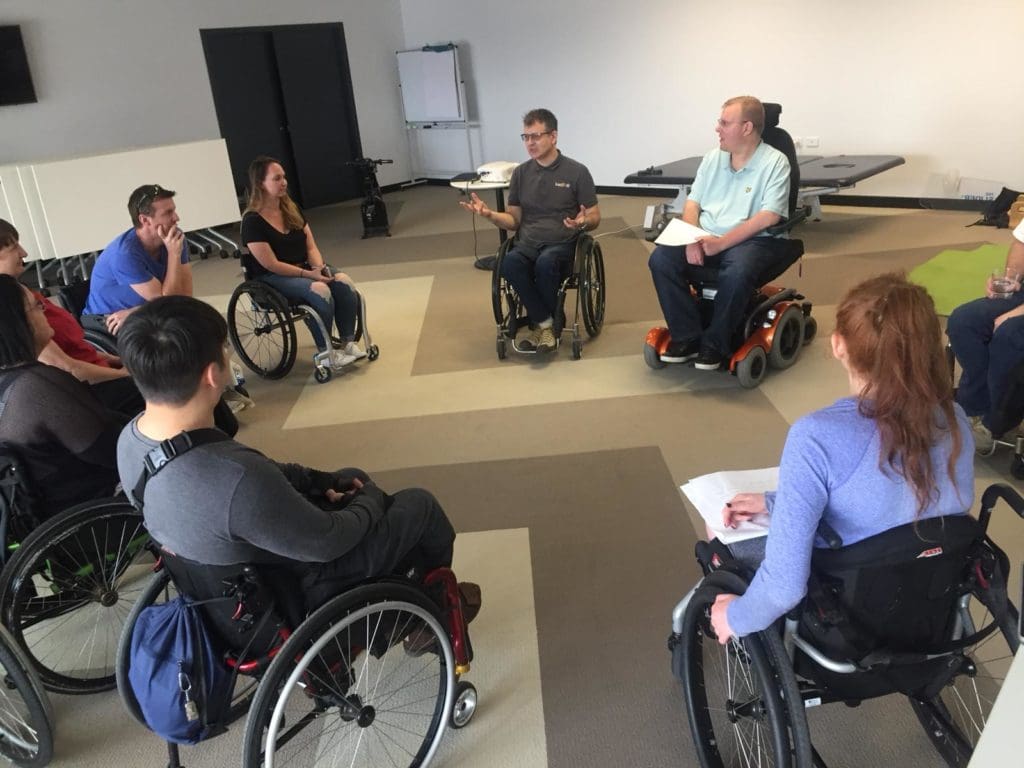 Our Head of Outreach and Courses, Andy Masters, was delighted to attend the 57th International Spinal Cord Society (ISCoS) conference in Sydney, Australia – an annual meeting of healthcare professionals and organisations from across the world.
Andy made the trip – which was kindly sponsored by Wellspect Healthcare – to help facilitate a course, contribute to a workshop, and attend presentations at the conference.
''It's a great opportunity to hear about the latest innovations and happenings in the world of spinal cord injury. It's really good for networking, and a chance to see what other organisations are doing,'' Andy says.
As well as learning from others, Andy was approached by many healthcare professionals to find out more about what Back Up do.
''We're seen as leaders in the peer-support field. That's what makes Back Up unique.
"All our services are driven by the needs of the people we support. We listen to what people tell us, run focus groups, and consult with lots of different stakeholders when we develop our services,'' Andy adds.
Andy also participated in the Paul Kennedy ensemble – a workshop organised by a group of psychologists to improve psychological care for people with a spinal cord injury. Andy was asked to attend by James Middleton, director of the State Spinal Cord Injury Service in New South Wales, and Jane Duff, Consultant Clinical Psychologist and Clinical Psychology Lead of psychology services at the National Spinal Injuries Centre in Stoke Mandeville. He spoke about our mentoring service and the benefits of psychological support being offered by peers.
''At Back Up, we always ensure that the voice of people affected by spinal cord injury is heard and that it informs our decision-making. To have the opportunity to advocate for this approach and know that it might benefit people affected by spinal cord injury across the world, is incredibly rewarding,'' Andy explains.
More people are beginning to recognise how important it is for support services to be designed and delivered by people affected by spinal cord injury. To this end, Andy met with several Australian organisations to discuss Back Up's residential courses which are led by group leaders who are either directly affected, or have knowledge and experience of, spinal cord injury.
Following the meeting, Andy helped to facilitate a mini Skills for Independence course at Sargood on Collaroy, a fully accessible activity centre with on-site accommodation.
Four participants took part in the course, which ran over a day and a half. They covered wheelchair skills, sessions on pain and fatigue, and how to plan and set goals. The course was run by Tim, Dave and Larnie – three experienced Back Up volunteers who all have experience of spinal cord injury and now live in Australia.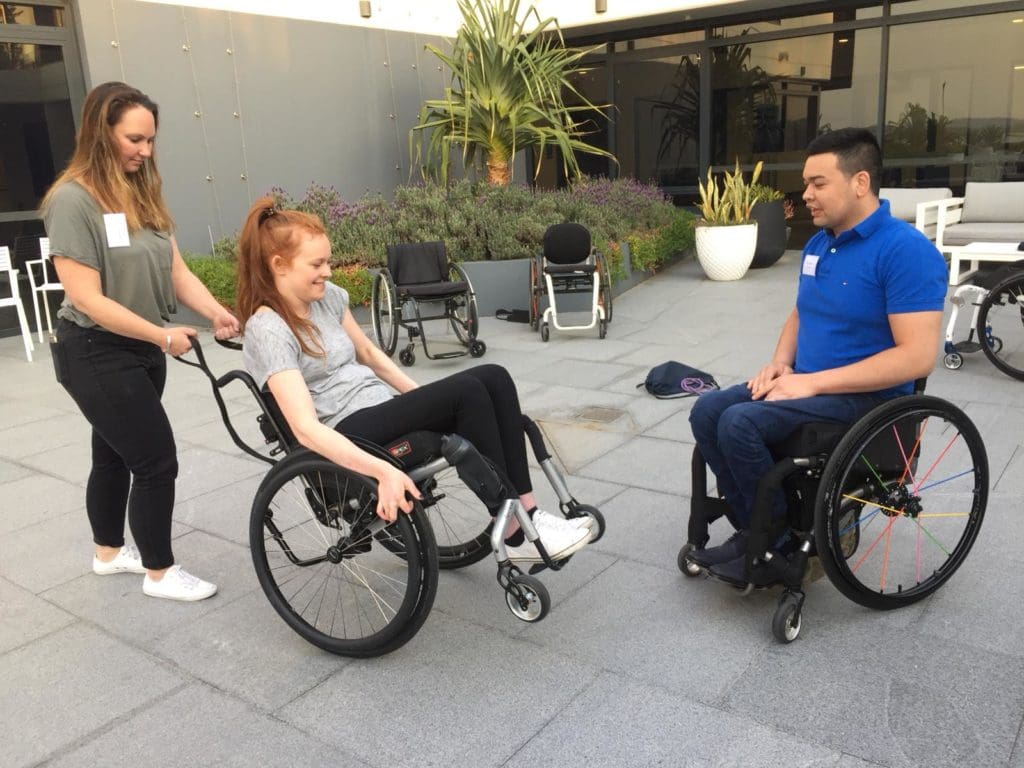 The course participants really enjoyed the experience, particularly the chance to speak to others in a similar situation.
''I've been in a chair for 37 years and managed to pick up some new techniques. I enjoyed meeting a great bunch of people, participants and organisers. Thanks heaps!'' (Course participant)
Andy adds: ''It can often be the little 'sideways conversations' that make the real difference – those little chats where you ask people about their experiences and how they cope with different challenges. These conversations can only happen in a peer-led environment.''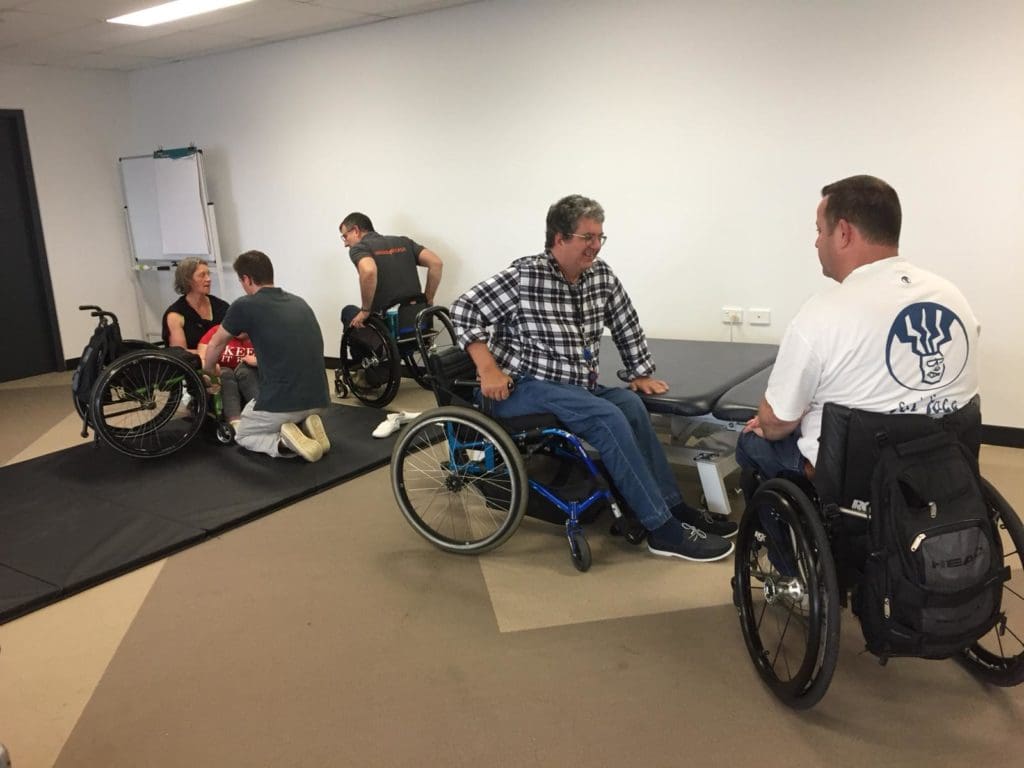 Since running the course, there's been a lot of positive conversations with the Australian organisations about the possibility of developing their own residential courses which follow the Back Up model.
If you'd like to find out more about Back Up's influencing work, please contact our Head of Outreach and Courses, Andy Masters, via email or call him on 020 8875 6723.