#NoLimits London to Paris Challenge: Meet our handcycling team!
19 July 2022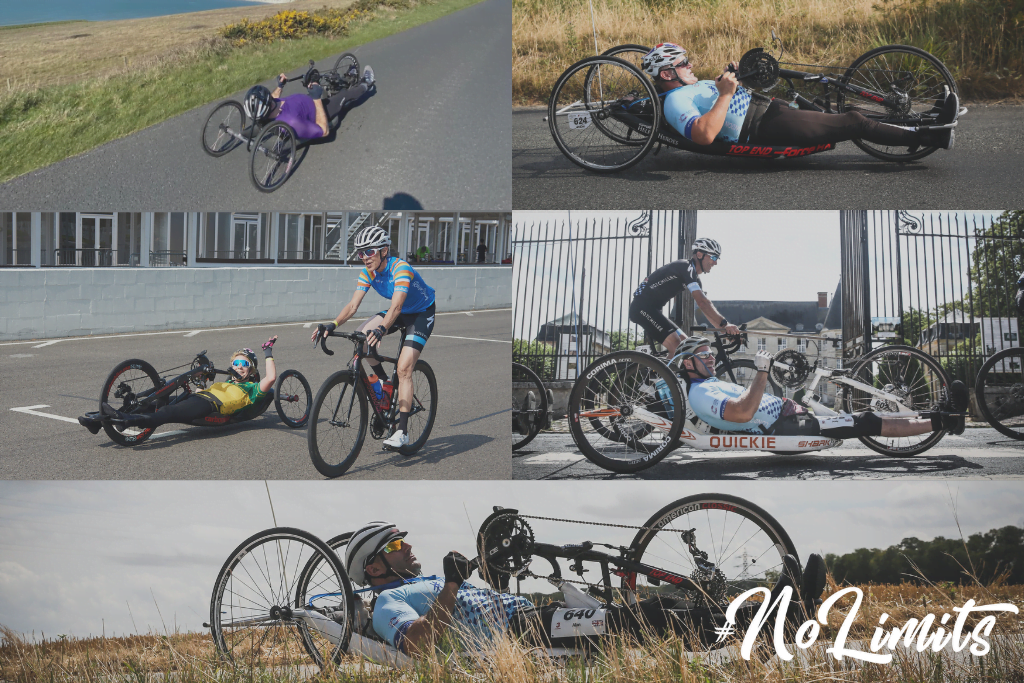 From 21st to 23rd July 2022, 36 cyclists, including five handcyclists, will ride over 300 miles between London and Paris, to raise vital funds for Back Up. Starting near Hampton Court and ending at the Eiffel Tower, this fantastic team will climb a total of 15,000 feet over three days.
This year marks the tenth anniversary of the first handcycling team – made up of Danny Turnbull, Alan Cook and Luke Delahunty – to complete the #NoLimits London to Paris ride. Two of the handcyclists who took part in the original team, Alan Cook and Luke Delahunty, will ride again this year.
The team this year have the same aim as the original team in back in 2012 – to show what is possible after becoming paralysed following a spinal cord injury.
Sadly, Danny passed away in 2017. So, this year, all 36 riders will be riding in memory of Danny Turnbull and his legacy of challenging perceptions around what is possible.
Meet the fantastic handcyclists taking part this year:
Andy Adamson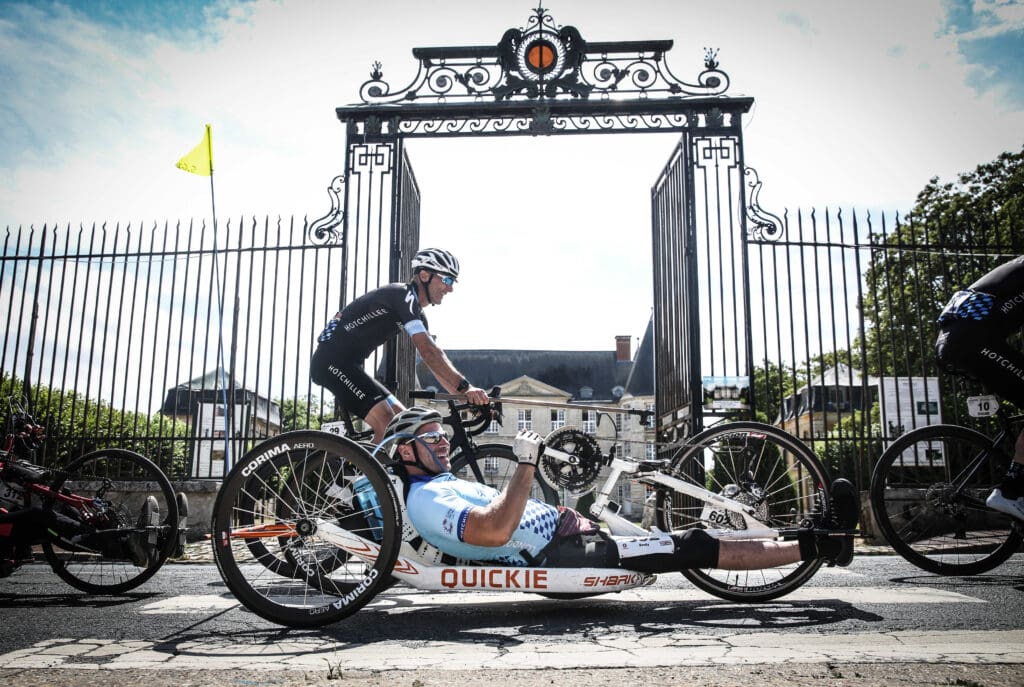 Andy met Back Up at one of our Wheelchair Skills training session, after sustaining a spinal cord injury in a mountain bike crash. Once he left the spinal unit, he stayed in contact with Back Up and attended our Skills for Work course. Andy was drawn to Back Up's positive outlook and values.
"I am taking on the London to Paris challenge because Back Up is very close to my heart – I personally knew Danny Turnbull and had a fantastic experience on the #NoLimits London to Paris 2018 ride. I want to prove to myself that my fitness has continued to improve and hopefully I'll be able to smash it!"
Handcycling is a big part of Andy's life. However, he's nervous about keeping up with the group, but excited to feel the buzz of completing the challenge!
Alan Cook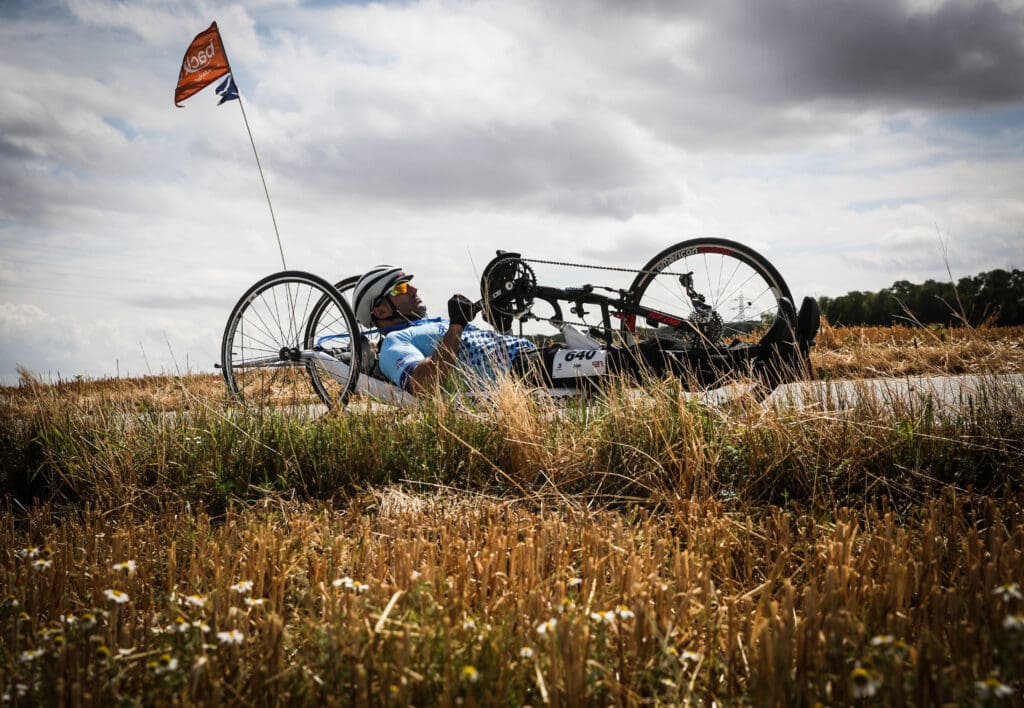 Alan met Back Up after sustaining his spinal cord injury in 2005 and attended one of our Multi Activity courses in the Lake District.
He's cycling in memory of his friend Danny Turnbull and to support others affected by spinal cord injury. This will be his fifth time completing the challenge – a massive achievement!
"At 45 you don't recover as quickly as you did when you were 35, a few extra kilos makes a lot of difference so I've given up alcohol… and pudding! Supporting Back Up, who first got me into handcycling and supported me when I first had my injury, is a dream and to ride in Danny's memory is an honour."
Claire Danson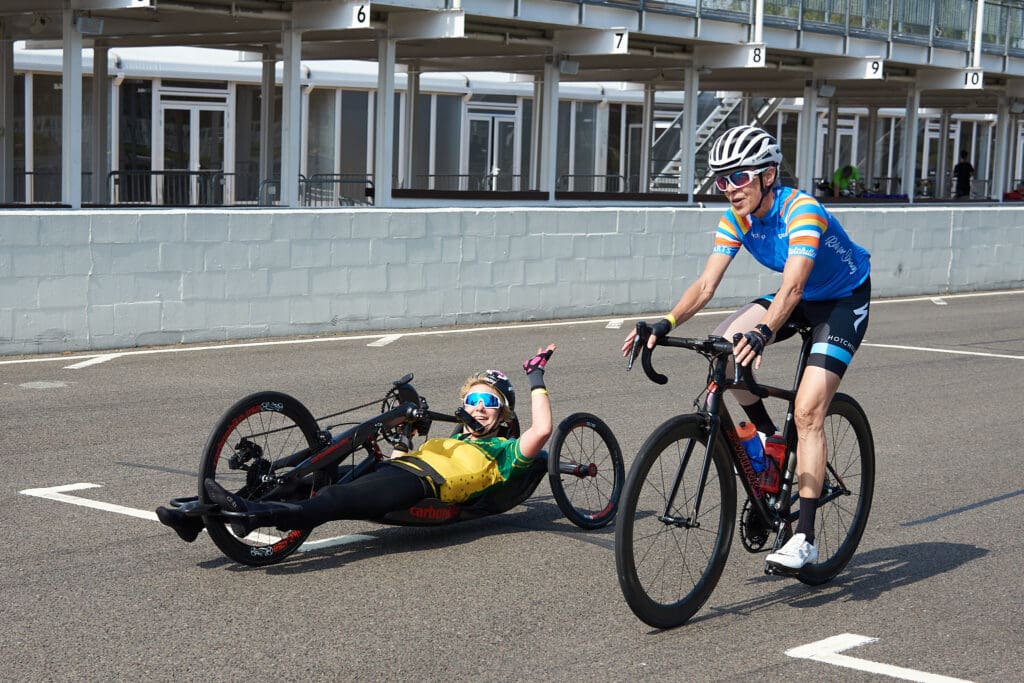 Claire met Back Up at Salisbury Spinal Centre, after sustaining a spinal cord injury in a cycling accident. She first attended one of our Wheelchair Skills training sessions, and more recently participated in Back Up's Colorado Sit-Ski course. Her experience of Back Up's services not only changed her life but is spurring her on to complete the #NoLimits London to Paris ride.
"I think the work that Back Up does literally changes people's lives – for example, the ski trip for me has opened so many more doors and made me realise my spinal cord injury doesn't stop me doing anything. There are no limits to what I can do. The perfect example is going on the Colorado Sit-Ski course and then, when I was offered a trip to Geneva not long afterwards, I could say yes straight away. I wasn't worried about getting there or how I would manage. Back Up gives people a chance to see what they can do after a spinal cord injury."
Claire first heard about the #NoLimits London to Paris ride through friends, only one year after her injury. She immediately decided she wanted to take part. Claire is looking forward to the challenge, especially the team aspect of it, but is also a bit nervous about making it up the hills!
Luke Delahunty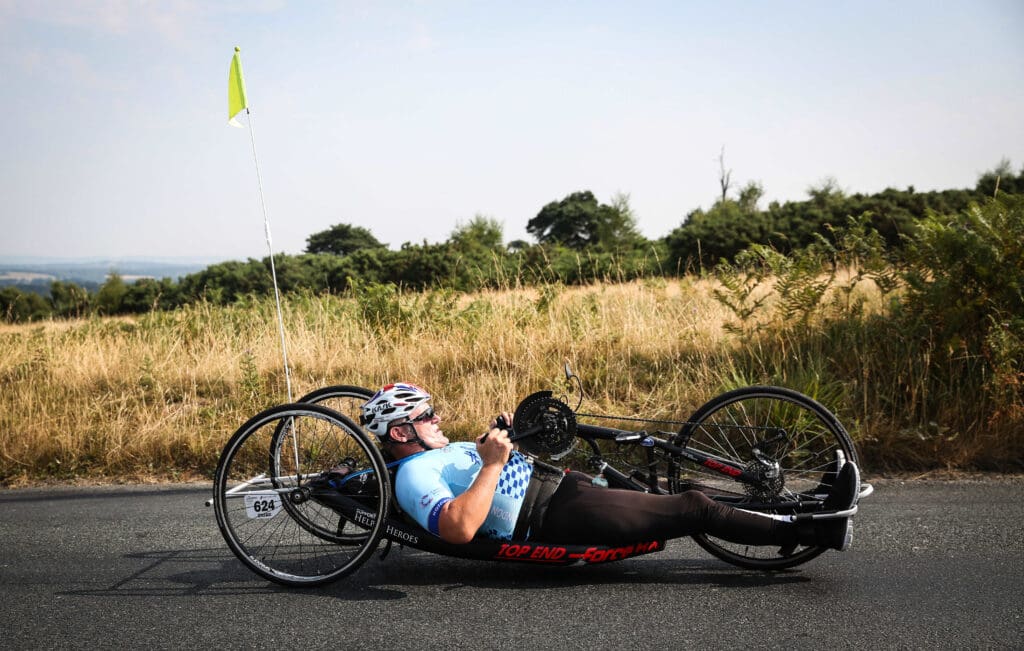 Luke sustained his spinal cord injury following a motorcycle crash in 1996. Back Up helped him adjust to life with a spinal cord injury and he has volunteered with us for over 20 years. Luke rode in the first handcycling team with Danny and Alan in 2012 and is nostalgic about the ride.
"First time we did it, it was Danny's idea. It's a trip down memory lane and it will be great to ride with Alan again. The experience will be with new people, but we will be remembering the old people as well. I didn't know what life was going to be like after my injury. But now, life just keeps getting better and better."
As part of a wider fundraising challenge, Luke has also cycled Ride London, the Flat 200 and The Race Across America this year and will be cycling Essex to the Menin Gate and Land's End to John O'Groats in 2022 as well.
Ollie Thorn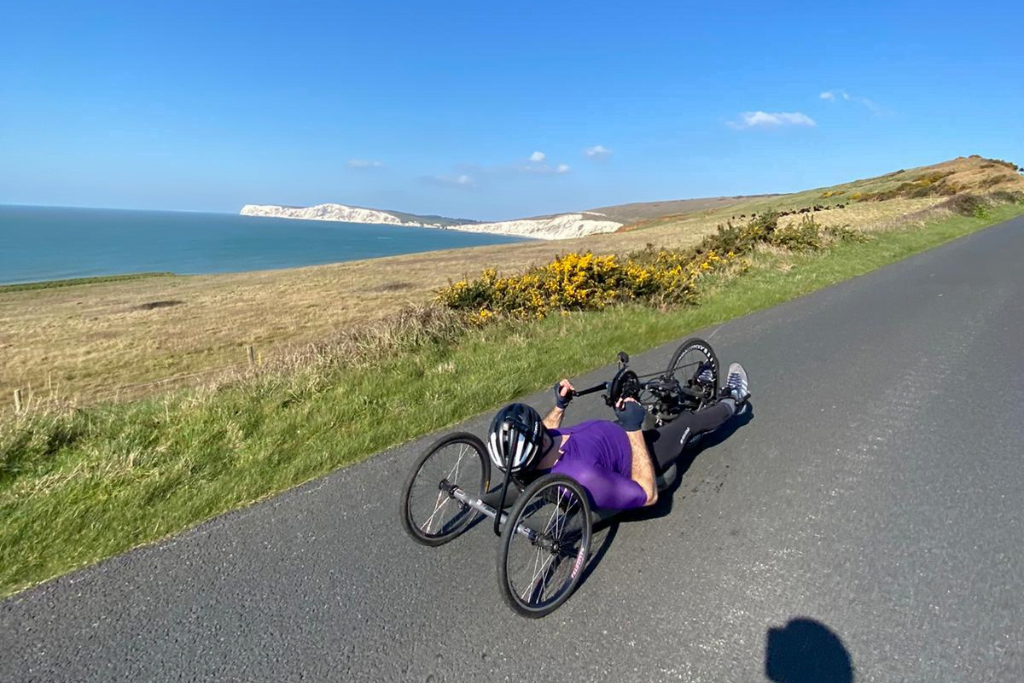 Ollie first came into contact with Back Up after sustaining a spinal cord injury in 2012, following a motorcycle accident. After five months of bed rest, Ollie was struggling with his self-identity and how he viewed himself; until his physio took him to a Back Up Wheelchair Skills training sessions.
"I'd been told by the doctors I would have to wear shoes that were two sizes too big for me, and I wasn't allowed to wear jeans anymore. However, I remember seeing a guy in the wheelchair skills session wearing jeans and nice shoes. However small it seems, that was massive to me in realising I could do it, and I had a role model to work towards. Since then, I've continued to be empowered by Back Up, and I look forward to coming together on the 21st July and uniting behind one goal – to support everyone affected by spinal cord injury."
Ollie is taking on this year's #NoLimits London to Paris ride to support others who have also been affected by spinal cord injury – particularly those who have sustained a spinal cord injury during the pandemic. He enjoys the physical challenge, and also the camaraderie of riding within a group of other handcyclists, all working towards a common goal.
All of these handcyclists are fundraising to support Back Up. Check out the team's fundraising page.
Huge thank you to Wellspect for sponsoring the #NoLimits London to Paris ride.