Michael's story: Gaining confidence and staying fit
4 May 2022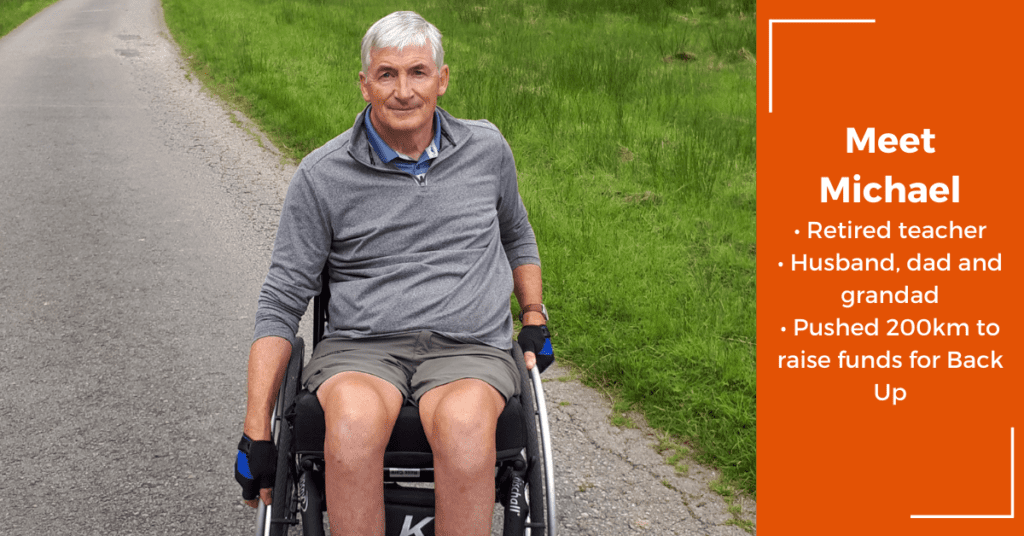 Michael and Pauline retired in 2009, having been teachers all their working lives.
"We were enjoying the good life – in terms of retirement. We enjoyed cycling, golf, skiing and ballroom dancing two or three times a week. Then I had a cycling accident on 28th March 2019."
"My injury has had a huge impact on all our lives."
Michael spent six months in a rehabilitation unit at the North West Regional Spinal Injuries Centre, and it was there that he came across Back Up.
Connecting with a trained mentor who had a spinal cord injury
"When I went home, I spoke to Jacques from Back Up's mentoring team about my health and how things were going."
Michael joined our mentoring scheme, and Jacques matched him with a mentor to offer him support and advice.
"I needed to speak to someone who had been in a similar situation to myself. I have to have something in common with the person to connect. That's what I needed and got."
"I picked my mentor's brains dry over seven or eight sessions – it was really useful."
Michael also joined our Back Up Lounge, an online support group for people affected by spinal cord injury.
"Just talking to people of a similar level of injury – I was so impressed when I heard what others were doing!"
Michael gradually learned that his spinal cord injury didn't need to hold him back – in fact, he can still take part in many activities he enjoys.
Staying active – life after spinal cord injury
"I was really interested in Back Up's Multi-Activity course in the Lake District, and applied as soon as I could after Covid restrictions ended."
The course includes outdoor activities such as abseiling, canoeing, and sailing. The instructors adapt all activities so that everyone can take part, whatever their level of injury.
Michael uses a manual wheelchair, and he was initially worried about the logistics – especially transfers.
"Things like getting into and out of a canoe. So I approached the course thinking I'll do what I can, and there will be things I can't do, but that's okay. That wasn't my experience at all. The instructors were brilliant. I had so much confidence in their ability the question of 'Could I do this?' never came up."
Another thing Michael valued about the course was the sense of community within the Back Up group.
"There is a sense of loneliness, and being different, when you use a wheelchair so it is good to be with other people who have a spinal cord injury. On the first night, the Group Leader, Julie, got us all to push the tables together in the dining room so we were one big group. There were no cliques. No worries about who you were going to sit with. It's a small thing but it strengthened the bond between us all. The activities were fantastic – busy, fun, demanding and I would recommend that people try it."
Michael grew so close to the group that they stayed in touch and signed up for our Spinal Circuit fundraising challenge.
"I signed up to push 100km in March. As March approached, I started panicking, thinking I'm not going to be able to do this. Then I did 100km in two weeks! So, I then decided to up my distance to 200km."
Michael raised a huge £2,100 for us, helping to support hundreds of people across the UK affected by spinal cord injury.
"I'm delighted for Back Up, but having that focus and target has been positive for me over the past month. I'm a target-driven person, so the challenge was good for me."
"I'd encourage other people to ask for help from Back Up. Talking to other people and picking their brains was so beneficial. People gave me a lot of their time and expertise – they were brilliant."
"The confidence I've gained has led me to become more independent in every aspect."
"My wife and I recently flew for a short break in Amsterdam – our first flight since my accident. Everything went well so thank you to people from Back Up for their encouragement."
Register for free support from our mentoring service where you'll be matched to a trained volunteer to share your experiences with.
We also offer a range of courses so you can thrive and live confidently – check out our 2022 courses calendar.