Liz's story: Independence with an incomplete spinal cord injury
4 August 2021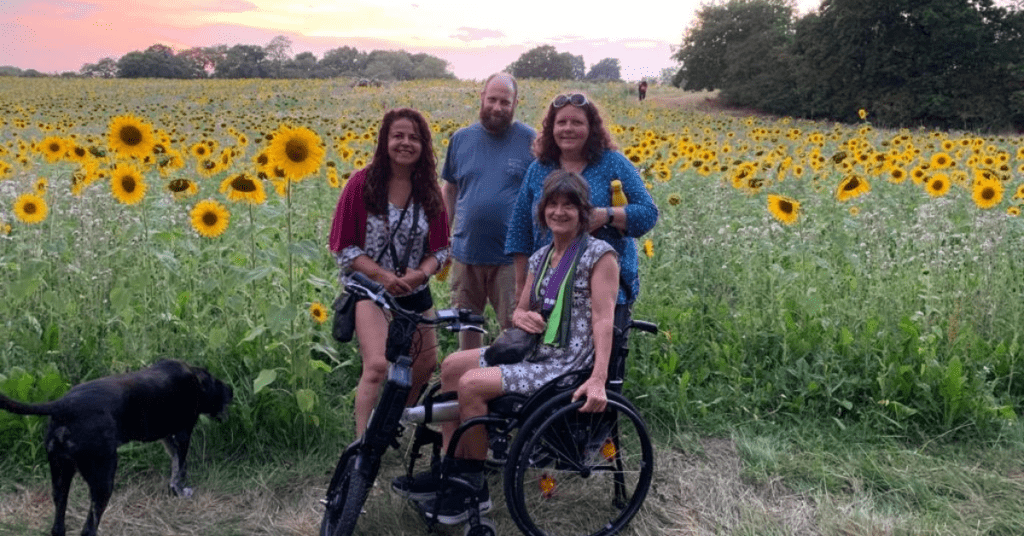 Not everyone with a spinal cord injury uses a manual wheelchair. Some people can walk with or without aids, and some may use a wheelchair for long journeys. In Liz's case, she uses both in order to live an independent life. This is because she has an incomplete spinal cord injury.
In 2017, Liz sustained her spinal cord injury while swimming in the sea. After bodysurfing a wave, she hit her head on the sand. This caused an incomplete spinal cord injury at the C5 level. This injury transformed Liz's life completely – it changed everything, from her career to where she was living.
"When I sustained my injury, it became apparent that I needed to move out of my terraced house at the top of a hill. Although I could climb stairs independently, I couldn't carry anything up and down them or get my wheelchair in and out of the house. This was very sad, because I loved where I lived. I put a lot of emotional and financial investment into it."
For Liz, one of the major challenges she faced was with finding her independence with an incomplete spinal cord injury. She says that she had to come to terms with not being able to be able to get around like she did before.
"For a while, I couldn't leave home independently. I didn't have a bus stop I could access, so I was reliant on taxis and other people's support.
"Gradually, through moving home and getting the right kind of mobility equipment, I was able to overcome that."
Liz discovered that she could still be adventurous, she just needed to learn to have adventures in different ways. She started viewing her wheelchair as a positive thing. Although she can walk with aids, her wheelchair with a power attachment helps her cover greater distances without fatigue.
"My wheelchair keeps me grounded. It's a tool for independence – it helps me carry things and save my strength."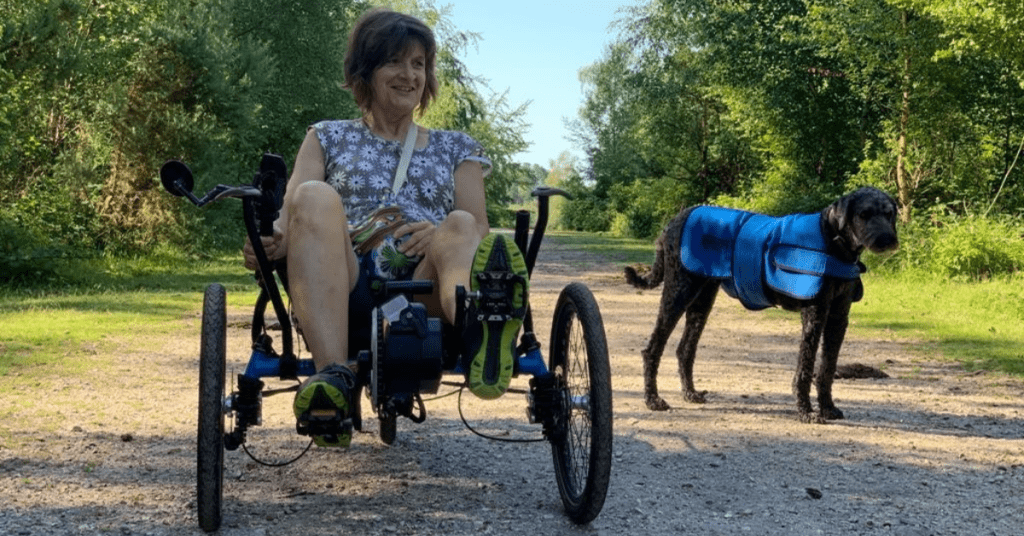 Keen for a new adventure, Liz signed up for one of our Multi Activity Courses. She wanted to discover what she could do with an incomplete spinal cord injury, and test her limits. On this course she was able to try canoeing, swimming, climbing, and recumbent triking – all while surrounded by other people with a spinal cord injury.
"For me, the best part of this course was learning to challenge myself beyond my perceived limitations. It also showed me that there are plenty of ways to do the things I love, and the confidence to seek out those opportunities going forwards.
"The swimming was significant to me. I hadn't had the confidence to swim independently since my injury, but I discovered that I could still do it on this course! Recently I went for a swim in the sea for the first time since 2017. That was a real milestone, the course helped give me the confidence to do it."
Although Liz had to retire from her job in the NHS after her injury, she has since gone on to branch out in different ways. She took a creative writing course, which showed her the value of creativity in processing a life-changing injury like spinal cord injury.
"Creative writing was very helpful with my emotional journey after my accident. It is very cathartic, and it was good to see in those early days that I could still excel at something.
"I got a distinction in my course – which was great!"
We're glad to hear that Liz is rediscovered her independence with an incomplete spinal cord injury. If you need support, Back Up is here for you too. You can register for support here.