Linda's story: Staying optimistic and supporting others
31 May 2022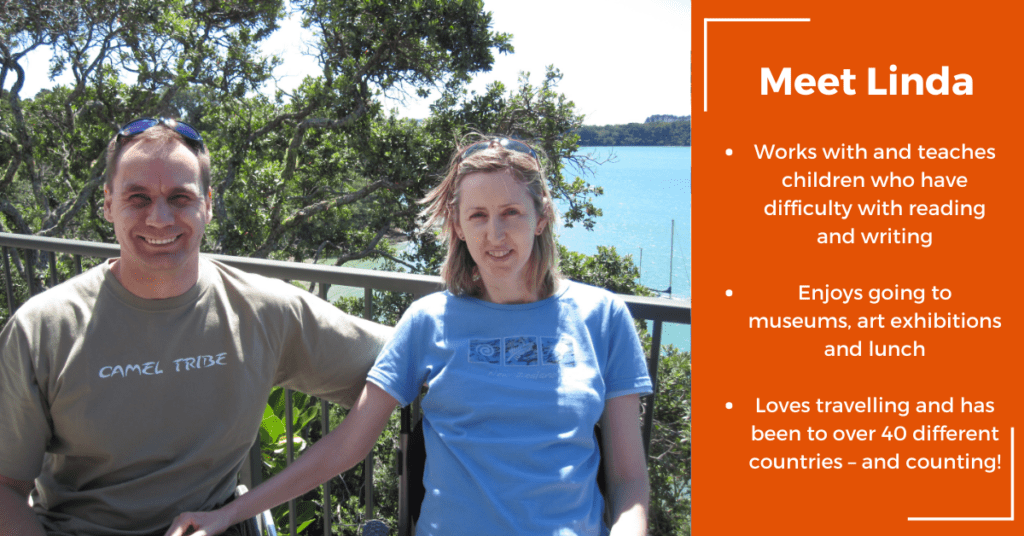 After sustaining a spinal cord injury that reduced her arm function and paralysed her legs, Linda spends her time travelling regularly, working with children, and helping others through volunteering at Back Up.
"I've always been a positive person and see myself as very lucky. My injury just pointed my life in a different direction. I'm still doing most of the things I love, just in different ways."
Primary school teacher Linda lives in London with her husband and cat.
"I'm from New Zealand and came to the UK in 1999. I'd always wanted to travel and teach while abroad. New Zealand is so far away from anywhere, and it's so much easier to travel to other countries from the UK. Before my injury, I went to South America, Fiji, South Africa, and lots of different countries in Europe."
"In 2004, I was injured in a nightclub," says Linda. "An extremely drunk man attempted to slide down the handrail of the stairs and fell off the side. He landed on me and broke my neck."
"I am tetraplegic, which means I have limited arm function, no hand function and my legs are paralysed," she says.
"I heard about Back Up while I was in hospital following my injury. They were doing a wheelchair skills training session, supporting patients to use a wheelchair and gain confidence."
Living confidently and having a can-do attitude
"I signed up for one of Back Up's Multi Activity courses in the Lake District," Linda says.
The Multi Activity courses include indoor and outdoor activities that are all adapted so you can take part as independently as possible. As well as being great fun, you also get the chance to meet and learn from other people with spinal cord injuries.
"On the course, Back Up connected me to a really experienced personal assistant(PA), which was so helpful."
"I wanted to work on transferring in and out of a car, so we practiced that. I didn't have a wheelchair accessible vehicle yet, so was often getting in and out of non-adapted vehicles. And I wanted to try sailing. The Back Up team helped me with both–the focus was on what I wanted to get out of the course. It was brilliant."
"I won't let being in a wheelchair stop me from travelling, so I used Back Up as a stepping stone towards travelling again."
"I went on the Back Up sit-ski trip to Sweden. It was fantastic–I felt like I was safe in the hands of Back Up and I was travelling in a group with others who have spinal injuries. It was such a great way to learn how to get on and off the plane."
"I loved it! I hadn't skied pre-injury, but I had the best time. The breakfasts were amazing, and I loved going to the nightclub."
"It's the little things that you pick up from other participants, like seeing how they hold cutlery or use equipment in a way that could work for you."
Linda adds: "The trip gave me the confidence to fly places by myself. The first time I flew post-injury was with Back Up and it was so reassuring knowing they knew how things worked and had everything organised. I could just watch and learn."
Volunteering to support others adjusting to life after spinal cord injury
"I love volunteering as a mentor for Back Up. I wanted to give something back and share what I've gained through experience to help make other people's lives easier."
"I also volunteer as an education advocate helping schools or universities get people back into education after their injury. The role can involve speaking to the staff, talking about adaptations, or ways of promoting inclusion. If you have a physical disability, you are more than capable of doing the work–you just need access."
"I've become part of the Back Up community, too. Volunteering has helped me to stay in touch with other people with spinal cord injuries. We continue to learn from and support each other."
"Volunteering is an incredibly rewarding experience. I enjoy helping other people–and I love seeing the impact on their life, whether it's big or small."
Interested in volunteering for Back Up? Find out all the different ways you can volunteer and help transform the lives of those affected by spinal cord injury