Katy's story: Combining her passion with her spinal cord injury
4 May 2022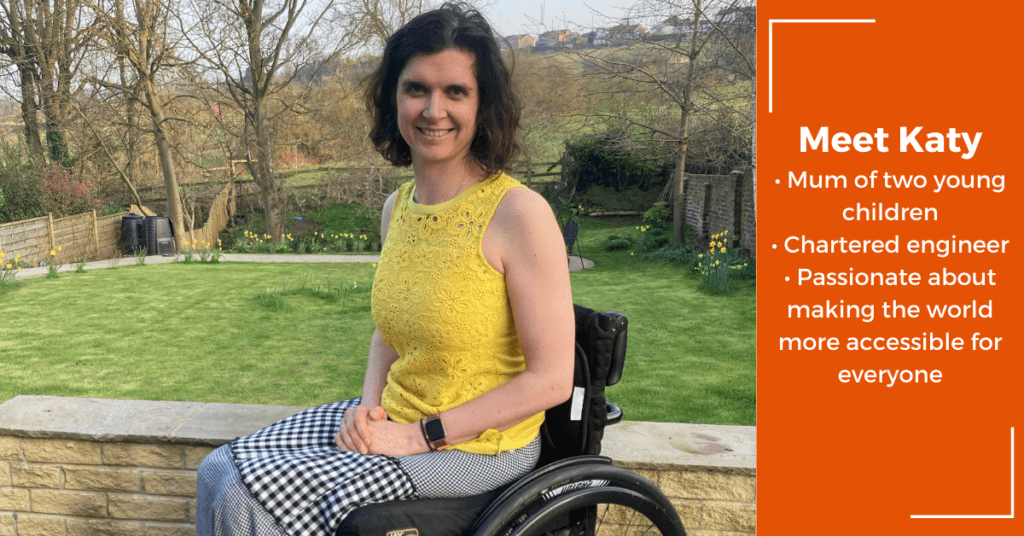 Katy, a chartered engineer and mum of two young children, was diagnosed with multiple sclerosis (MS) a few years ago.
MS is a lifelong condition that affects your brain and spinal cord, causing various symptoms such as fatigue, difficulty walking, and blurred vision.
"When I was diagnosed, it knocked me sideways. I had all these questions. How was I going to cope? How was I going to keep going?"
Katy's MS causes a gradual deterioration of random areas of her central nervous system. She first noticed symptoms like bladder and bowel incontinence but now she's lost all control of her legs, bladder, bowel, and left hand. MS has damaged her spinal cord, causing a C2-6 and T8 and T9 level incomplete spinal cord injury. The gradual deterioration was very difficult, and she felt a tremendous loss of control over her situation.
"Everything in my life was kicking off and going wrong. Not only was I living with constant reminders of how my body wasn't working, but there was one point where my catheters and other equipment weren't being delivered. When I did get a delivery, the catheters they sent me I couldn't use. So my husband had to help me. While he's happy to do so, it took something away from me."
"I felt like less of a person. I was in a bad place."
Taking back control
Katy's neurologist helped her change how she looked at her condition.
"My wonderful neurologist said I should start considering myself as someone with a spinal cord injury, rather than someone with MS. She said that there is a really positive community out there which will be able to support me."
"She pointed me in the direction of Back Up. After reading about the services Back Up offers, I decided to sign up to the mentoring service. But, I was worried that because my MS had caused my spinal cord injury I might be turned away."
"Before I had my first session I was really nervous – I felt like a fraud due to my MS."
But her mentor, Lucy, reassured her and welcomed her into the spinal cord injury community.
"Lucy explained to me that 'you have a spinal injury, and it's caused by MS. But you still have a spinal cord injury. You are a part of this community just as much as anyone else. You're going to get the best support we can offer.'"
The support was invaluable to Katy.
"Lucy has helped me sort loads of things out. With mentoring, it's not about someone coming in and telling you what to do. It's about getting guidance and support from someone with lived experience."
The mentoring service gave Katy the confidence and motivation to think about work again.
"I used to design and install renewable energy systems. But I stopped that as you can't really go on-site in a wheelchair. I totally changed my career focus but that was just when my legs were going. When my hands started going, I was signed off work and I didn't know if I was going to have a job again."
Katy joined our Skills for Work course to help her feel more confident about work after her spinal cord injury. "The course was fantastic, the people were amazing. Everyone I've met at Back Up has made my life lighter."
Now Katy has combined her world of spinal cord injury with her enthusiasm for engineering.
"I sit on the Board of Trustees and the Equality, Diversity and Inclusion board for the Institute of Engineering and Technology (IET). It's opened up my world of spinal cord injury and combined it with my passion for engineering and technology."
"I love going to careers fairs and talking to schoolchildren about the opportunities within engineering and technology too. But I'm also happy to talk about my wheelchair with the children, if they want to know more. I tell them that engineering gives us the skills and knowledge to help improve the environment around us. I used my engineering skills to help redesign my split-level house so it's easier for me to get around in my wheelchair."
Looking to the future
Spurred on by the Skills for Work course, Katy signed up for our What Next? course and the Back Up Lounge, our online support group.
"All that was ahead of me was a black wall. Now there's doors with handles, and there's all these possibilities."
"I've been inspired to do things and not be so fearful of the monsters inside my head. Now I know I have value, I have the confidence to go out and about and I'm no longer apologising for myself!"
"Through Back Up I've met so many people who have experienced the same challenges, and they are more than happy to share their learnings."
Katy now has the confidence to set herself goals for the future.
"In the What Next? course, we focused on our 12-month plan. Mine was to go to Washington DC with my family. So I have made a plan about how to get there."
"Before, I felt small. Now, I feel like a giant – I can take on the world."
Register for free support from Back Up today. You can get a listening ear from someone who understands when you sign up for our mentoring service, or regain your independence in a supportive environment in one of our 2022 courses.