Karen's story: How family mentoring helped Karen care for herself and her partner after his spinal cord injury
5 April 2022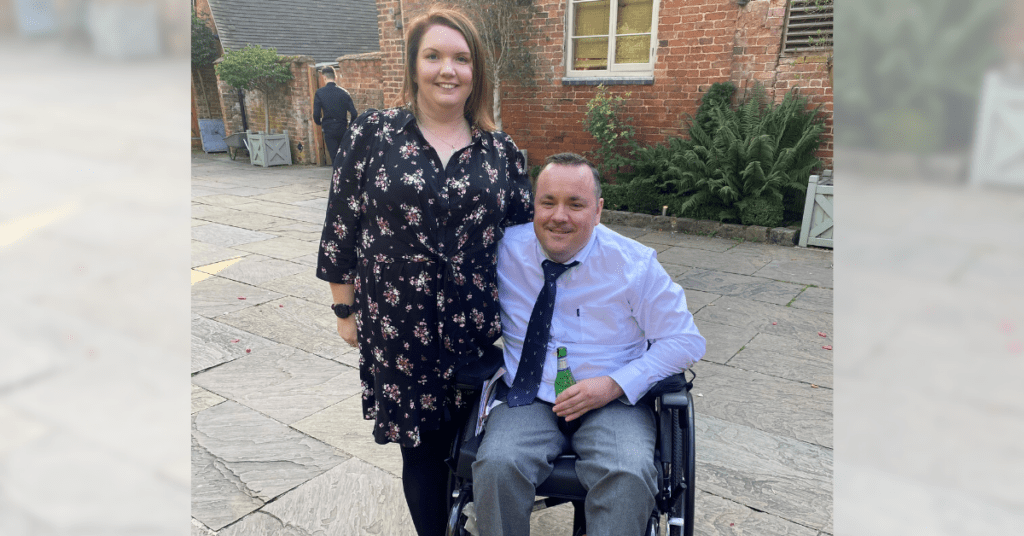 Read on to learn how Karen, who's partner sustained a spinal cord injury 12 months ago, adjusted after their "world was turned upside down" through accessing our family mentoring service.
Karen's a keen runner – always looking to the next race or running event. And, as a mother of two, she loves spending as much time with her kids as she can.
"I also love reading – any activity that's quiet is such a bonus when you've got two children!"
After her partner sustained a T2-level incomplete spinal cord injury, running has continued to be an important release for Karen.
"My partner had a staph infection, which led to a blood clot on his spine. After about a week of suffering with a bad back, he woke up one morning and couldn't feel his legs. He was then rushed to hospital for spinal surgery. That's when we were told the blood clot had caused a spinal cord injury."
"My whole world was instantly turned upside down. I was in disbelief. How could something so simple cause someone's life to change so dramatically. Because it all happened so quickly, it was really hard to come to terms with. I can remember experiencing so many different emotions in such a short space of time."
"After about four weeks, my partner started to regain movement in his hands and arms. I can remember being overjoyed when he was first able to feed himself. You never expect to feel that level of excitement about someone feeding themselves – but I was over the moon."
Karen was keen to understand what support her and her partner could access.
"Once the initial shock had started to wear off, I began researching what support was out there. It felt like there was a lot we needed to work out. I had all my family around me, and my sister is a nurse, but the situation we were in was so different to anything anyone I knew had ever experienced. I needed to find support that worked for us in our situation."
After researching what support was out there, Karen discovered our Family Mentoring service.
"I really wanted the opportunity to speak to someone who could understand what we were going through and relate to our situation. Work had offered me a counselling service, but I really wanted to connect with someone that could understand our unique position."
"Before my first mentoring session, I really wasn't sure what to expect. But after that first session I just felt so much more positive about the future. For the first time, I was able to see a way forward."
"I made a list of questions to ask my mentor before each session. I was able to ask anything and I felt I wouldn't be judged. No question was too 'silly'. I really like that I was able to get practical advice as well as support through mentoring. Hearing what works for others who are in a similar position empowers me and my partner to find what works for us."
"Accessing the Back Up family mentoring service is the best experience I've had throughout this whole process. It's helped me manage my feelings, as well as helping me care for myself and my partner in the best way for us."
"For anyone going through a similar situation, I'd say definitely do your research and see what support is out there. But also, take what other people say with a pinch of salt. My partner and I were told he wouldn't be able to do so much of what he is able to do today. So taking each day as it comes is also really important."
Learn more about our mentoring service and register for support today.