Juliette's Spinal Circuit challenge – cycling 1799km on a stationary bike
3 June 2020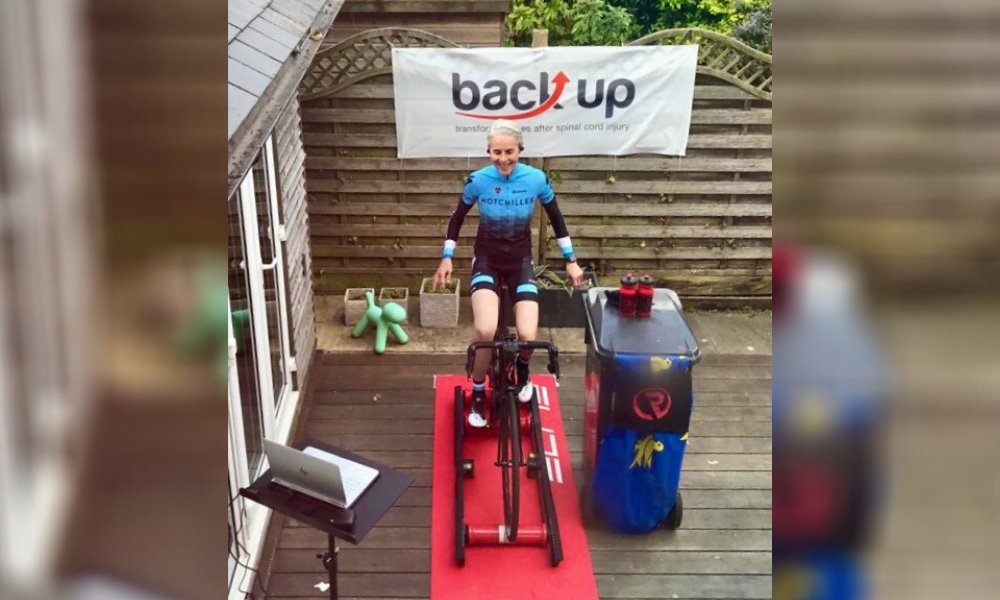 Last month, we held a new fundraising challenge to help support our services during these tricky times. The Spinal Circuit was a challenge where participants walk, run, wheel, or cycle as far as they could around their local area. The circuit is the equivalent distance of all 11 spinal centres in the UK and one complete lap is 1799km.
We had participants taking part all over the UK, ranging from people walking their dogs through country lanes to people tackling coastal pushes. Most participants spread their challenge across six weeks, but ultra-endurance cycling specialist decided to take on something extreme. She rode an entire lap of nearly 1800km on a stationary bike in just six days!
Juliette decided to take on this mammoth challenge because she has seen first-hand the impact of the work we do to support people affected by spinal cord injury. Two years ago, she was a ride captain on our #RideforDanny challenge where a team of cyclists – including hand cyclists – took on a London to Paris ride to fundraise for our services.
"Back Up are an incredible charity and I've been lucky to work with them the past eight years, taking on several other challenges for them in the past. I have seen first-hand the amazing support they provide to people affected by spinal cord injury. Their services are vital to proving that life can still be lived to the full with a spinal cord injury."
Even for a seasoned endurance cyclist like Juliette, her challenge was immense. Over the course of just under a week, she was cycling 300km a day.
"This challenge was one of the toughest I have faced. I estimated that it would take around 60 hours to cycle the entire 1799km lap, around 10 hours a day. I stopped every hour for a one minute break for a stretch and every four hours to change my shorts."
By taking on this challenge, Juliette managed to raise a spectacular £9,025, which contributed towards our grand total of £30,000 – three times our original fundraising goal. Since the start of the coronavirus lockdown, we have rapidly evolved our services to ensure that we can still be there for everyone affected by spinal cord injury. The money raised by everyone who took on the Spinal Circuit challenge means our life-changing work can continue.
Do you want to help us in these unprecedented times? Make a donation here.