Hanna's story: Answering questions about spinal cord injury.
30 November 2021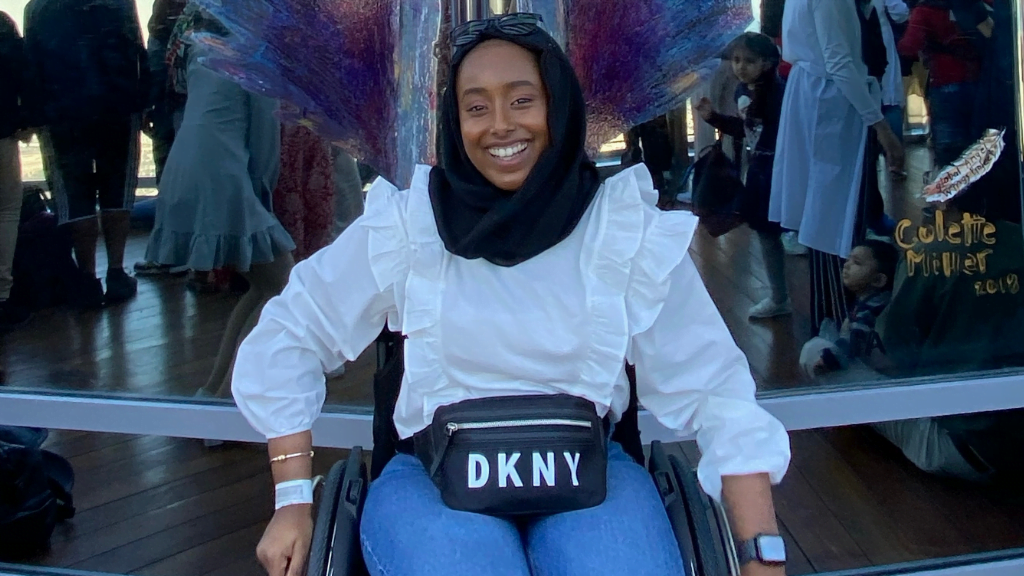 Discover how our mentoring service helped Hanna when she had spinal cord injury questions.
When Hanna was 17, her life was changed. At the time, she was living life like any other teen. She had a part-time job, and was studying in sixth form. Just as she was gaining her independence, Hanna sustained a spinal cord injury.
Not every spinal cord injury happens due to a physical accident. In Hanna's case, her spinal cord was damaged by spinal cists.
"I was born with Arachnoid Cists, but I didn't know I had them until I was 17. By the time I was diagnosed with them, the damage had been done to my spinal cord. I started losing sensation in my hands and legs."
As Hanna's injury developed over time, she started facing difficulties. One major worry was from the uncertainty that comes with being newly injured. Hanna says that it was often a struggle to make others understand what she was going through.
"Since my injury wasn't immediately visible, I feel like no-one really took me seriously in the early days – even I thought I was 'making it up' sometimes!
"Even though I was in a lot of pain, I was still trying to study and work. This was a struggle, as I could hardly stay awake sometimes due to fatigue."
Eventually, Hanna met Back Up. We were able to show her that she was not the only person who had sustained their injury from spinal cysts, and that the difficulties she was facing were valid.
While she was in rehab after an operation she met Luke, a member of our Outreach and Support team. Luke was visiting the ward for "Wacky Wednesdays" – a weekly social event on the ward, where our team visit young patients for some cooking and a chat.
"Luke told me all about the Back Up mentoring service. I got in touch, and was paired up with a mentor in a similar situation. I have benefitted a lot from this service."
Our mentoring service helped Hanna realise she was not alone. As a young person Hanna wanted to go out and live life to the full, but her injury made her feel like her life was over. Determined to get back on track, Hanna went into her mentoring relationship full of questions – covering topics such as school, university, and socialising with friends. Hanna's mentor helped her find answers to these questions, and discover how to live well after spinal cord injury.
"My mentor was a perfect match. She was a similar age to me, but further along on her spinal cord injury journey. She was very independent, and proved to me that I could do what I wanted.
"I was determined to go to uni, and my mentor showed me that was possible."
Our mentoring service helped Hanna reach her goals after spinal cord injury – she is currently studying Clinical Pharmacology at university. Alongside this, she is volunteering as a Back Up mentor. She finds it rewarding to give something back.
"I am a mentor myself now! I'm really happy volunteering with Back Up. I've come full circle, so now I can help people in a similar situation."
Discover how our mentoring service can help you.