'Trooping the colours' – Back Up's Platinum Jubilee themed City Dinner Event 2022
30 May 2022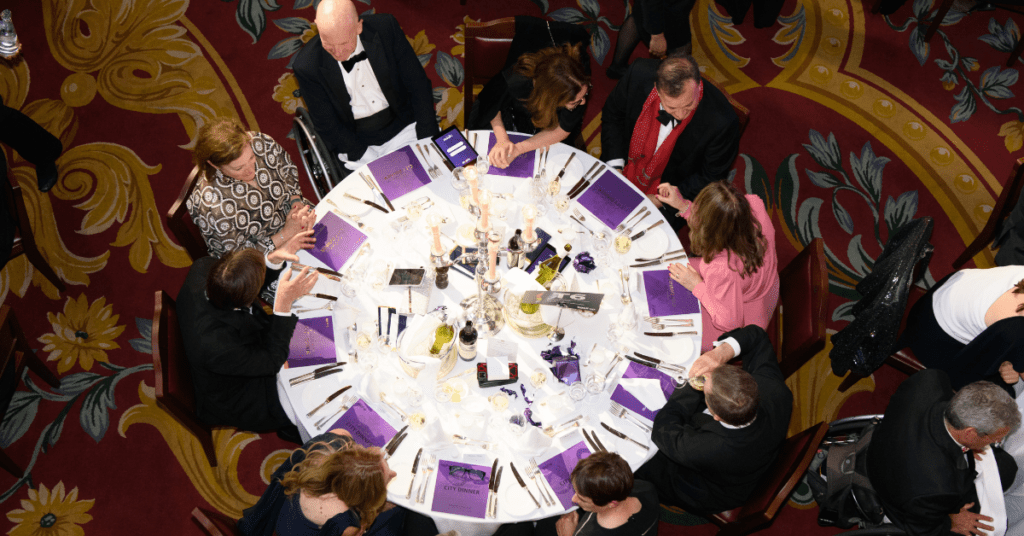 "A beautiful night for a very deserving cause"
"A fantastic evening…lots of money being raised for this fantastic charity"
"A fabulous evening"
These supporters are talking about one event – our flagship fundraiser, City Dinner, sponsored by Savills. This year, there was only one theme that would ensure our guests received the 'royal treatment' – the Platinum Jubilee.
Throughout the evening, guests were treated to live music, the National Anthem sang by the wonderful Emily Estelle and accompanied by organist Michael Brown, and even trumpeters! Our live auction caused a ripple of excitement throughout the dining hall, followed by a competitive silent auction with guests snapping up a wide range of prizes – from artwork, to tasting sessions with top chefs, and even a giant bottle of tabasco sauce. The event raised an incredible £187,000 in total!
We also heard from Kris Aves, the Police Officer who sustained his spinal cord injury in the Westminster Bridge attack. Kris gave us an insight into those first few weeks of rehabilitation and how he came to terms with his life changing injury. For Kris, it was the regular phone calls from Back Up that meant the most to him. The fact he could pick up the phone and speak to someone who had been in a similar situation was invaluable. These calls showed Kris that he could continue to do the things he loves, just in a different way.
Find out more about Kris's story:
But that's not all. Abigail Lock, our CEO, also shared Back Up's ambitions for the future. Touching on our plans to provide more specialist support for children and young people, developing our family rehab service, and reaching even more people affected by spinal cord injury – Abigail painted an exciting picture of Back Up in 2025. To find out more, check out our Transforming Lives Strategy.
It truly was a fantastic evening – but we couldn't have done it without our brilliant volunteers. Our committee has over 50 years of volunteering experience for Back Up combined, and have been instrumental in making our legendary City Dinner events a success over the years. And to our main sponsor Savills, and our long-standing sponsors Maples, Rosewood, Chopard, and Halcyon Days – thank you for your continued support. We couldn't continue to do what we do without your generosity.
Find out more about how you can get involved with Back Up.