Charlotte's story: Re-learning how to access the world through the Back Up community
4 July 2022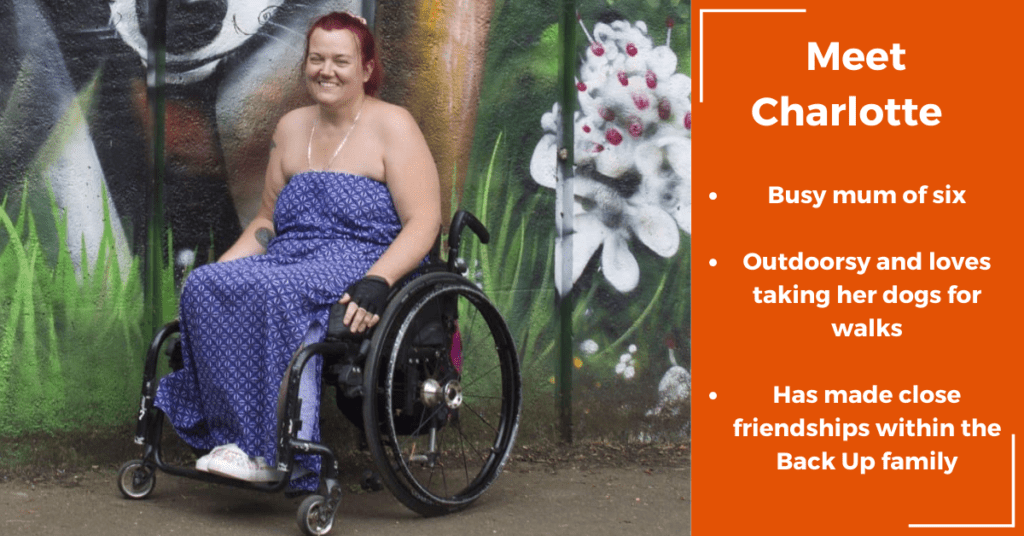 Four years ago, Charlotte had a hectic, busy life. She's a mum of six children, was home educating her daughter, and was involved in multiple volunteering roles.
"I was doing a lot of charity work locally. I was volunteering to read at school and was also the treasurer on the PTA (Parent Teacher Association), so life was really busy," explains Charlotte. "I decided to dedicate my life to my community and my children."
"My daughter has cerebral palsy, and we pulled her out of mainstream education. It wasn't working for her, so I wanted to home-educate her. I made the decision then to live life my way. But then my injury put a spanner in the works."
Charlotte sustained a T8 level spinal cord injury.
"Before, I made up the rules of how I was going to do things. But I couldn't do that anymore. I became hopeless."
"My life was stressful, and I dealt with it by walking the dogs at 5am every day. No matter what was going on, that 20-minute walk set me up for the day. But then I felt like my injury was stopping me from going outside. I was sitting in the chair, watching the world go by."
"I wasn't prepared for what life would be like outside of hospital. It's tough on the family as well – everyone wants to help you by doing. They don't want to watch you struggle, so they do everything for you."
"I didn't know how to cope. I didn't know where to turn."
Feeling ready for support
After meeting Back Up in hospital, a member of our team called Charlotte to see how she was doing. And after that initial phone call, we stayed in contact with Charlotte through our telephone support service to see how she was adjusting.
"That regular contact from Back Up was so important. To just have a normal conversation with someone was huge. It's not about health, if you've eaten, or gone to the toilet. Someone just phones up and says, 'how are you?'"
"I started to have ideas about how life could look and the services I could access. That support was drip-fed until I was ready to consider my options," says Charlotte.
"Then I said to Back Up: I don't know what I'm doing. I don't know how to use my wheelchair. The world is passing me by. I'm living through everyone else."
Learning to live again
"While I was on Back Up's Multi-Activity course, the wheelchair skills trainers helped me develop my confidence in using my wheelchair by supporting me through one to one training in the evening."
"On the same course, Tim, one of the Group Leaders, summed things up so beautifully for me. We'd just got out of the water, and I was in bits. In that moment, I didn't want to go home. He said, 'You're having to re-learn how to access the world. We're all learning to live again.'"
"Everyone wants to keep you safe. But he told me it's okay to tell your loved ones 'I know this is scary for you, but this happened to me. And I want to live again.' I can see clearly now I just needed someone to say that to me. He gave me hope."
"When I came home after the course, my whole family could see the difference in me. My perspective had changed completely, and I felt ready to get back out into the world again."
Charlotte's daughter Abigail now helps others with a spinal cord injury as she's seen the difference the support has made for her mum.
"My daughter, Abigail, is in her third year of university but is going to volunteer on her second Back Up course. She's supporting Back Up, and I know they will support her. That's the Back Up family."
"Hannah, the young girl Abigail supported on her first course, is now one of her best friends –they went to the Back Up Ball together. They buddy up and take on anything and everything together. Hannah's mum and dad adore Abigail because of the way she's supported Hannah. That's what Back Up is about – all our families supporting one another."
"My daughter is living proof that the support radiated out to the whole family."
Want to take part in our life changing courses? Take a look at our courses calendar and sign up today!