Celebrating Julie's 30 years as a Back Up volunteer
11 May 2021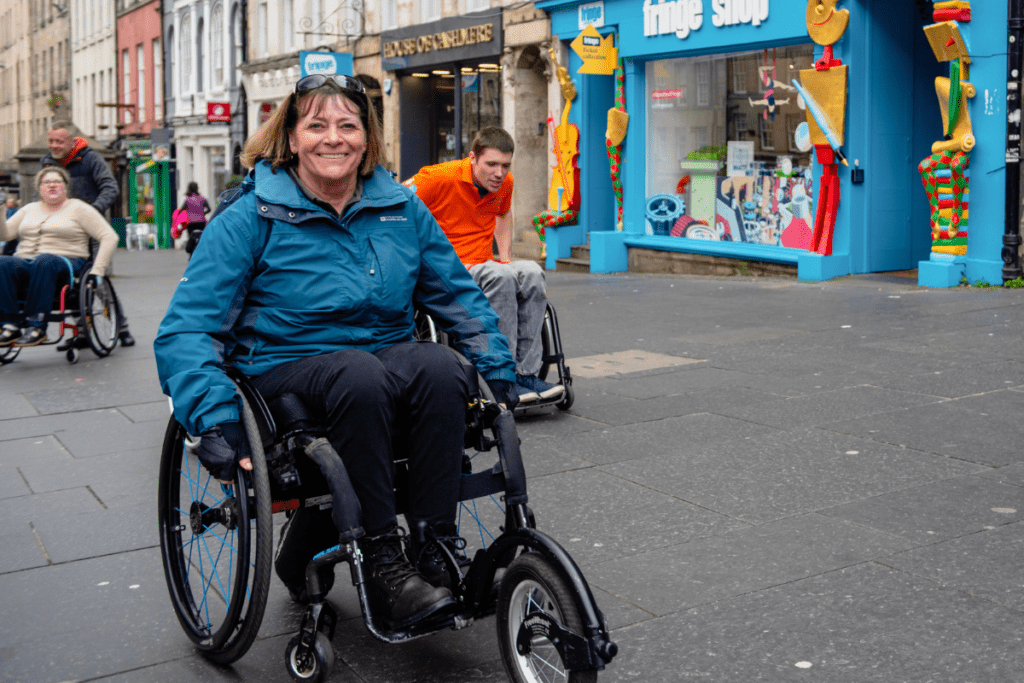 Volunteers are a big part of Back Up. We were founded by volunteers and they remain at the heart of all we do. We spoke to Julie Hill, one of our volunteers who has reached an astounding milestone of 30 years of service. Read on to hear her story, and discover how she supported us with our first ever virtual course – "What Next".
Tell me a little about yourself – who you are, what you do, and a fun fact about yourself
I'm Julie. I was injured in 1990, sustaining a complete spinal cord injury at the T9 level as the result of a road traffic accident.  
This year marks 31 years since I was a service user at Back Up. I attended a course and immediately caught the Back Up bug. I was a fundraising volunteer first, before joining the Board of Trustees as the Chair for five years.  
A fun fact about me is that I have written a book about my experiences – "Footprints in the Snow", this was made into a TV film starring Caroline Quentin in 2005. 
What do you do as a volunteer? 
At present, I wear the following volunteering hats; Group Leader, Education Advocate, Mentor, and Wheelchair Skills Trainer. I am immensely proud of spending 30 years volunteering with Back Up. It is in my blood! Volunteering gives me back so much more than I give. It's a great feeling to watch people with a spinal cord injury learn and grow.
I was privileged to be involved recently with the development and delivery of Back Up's first virtual course – "What Next?".   
How was "What Next?" 
It was a positive learning curve. It felt so good to be able to support people during the pandemic – people we may not have otherwise been able to reach. The course was centred around knowledge and building people's confidence. It 100% did what it set out to do, and I'm keen to help develop it in the future.   
Did you enjoy the experience?
I did. It was good to do something during the pandemic while we aren't offering face-to-face services. I felt like I was still giving something, which is important.  
 We're thrilled that Julie has supported us as a volunteer for 30 years.  Huge thanks and congratulations on this wonderful achievement.