Back Up launches new partnership with Visara Media to drive awareness of spinal cord injury
6 August 2020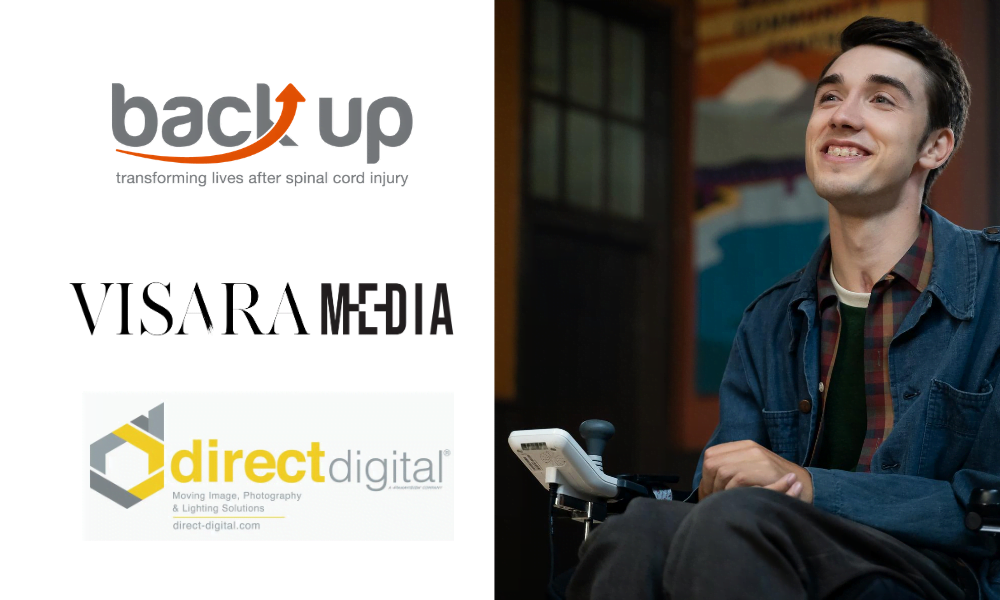 We're announcing a new partnership with Visara Media to develop a series of short films that educate the viewer by challenging the common perceptions of what can be achieved with a physical disability. The film series aims to document the different journeys of life with a spinal cord injury and prove that with a supportive environment, determination, and drive anything is possible. Direct Digital, a Panavision company, is sponsoring film equipment for this project. The first film is currently in the production stage, and will tell the story of George Robinson – star of Netflix's Sex Education!
Conceived during the lockdown period and following the cancellation of many of our major fundraising events and loss of face-to-face visits in UK spinal centres. We have since had to diversify and explore new opportunities of reaching a wider audience.
The films' purposes are twofold; to expand our reach and support in order to connect more people on a wider stage to the brand, and to provide a visual representation of the desire to live life to the full following permanent physical trauma that affects all aspects of life including bladder, bowel and sexual function.
The films will celebrate the spirit of resilience, drive and confidence emphasising that success is defined by the individual.
Viewers will learn about the impact, and range of spinal cord injury, and will be asked to share the film widely, so that we can continue to provide vital support to people affected by spinal cord injury at a time when this is needed more than ever.
Abigail Lock, CEO of Back Up, says…
"Spinal cord injury can affect anyone at any time through accident or illness. We want to use these films to challenge perception about disability and inspire people with spinal cord injury to realise their full potential.
"Working with Visara Media is a fantastic opportunity to work with an experienced professional production team, to share these uplifting and informative stories. They will showcase the life changing support that Back Up can provide to anyone affected by spinal cord injury to a brand new audience. We are so excited for these stories to be told."
Christopher Alexander of Visara Media says…
"At Visara Media we are passionate about telling inspiring and emotionally engaging stories. A film can incite change and make the world just that little bit better. We reached out to Back Up with the idea of sharing some stories from the incredible people who rebuilt their lives with help of the charity. The importance of telling such stories is not only to raise awareness of their personal journey but also to inspire others in a similar position.
"We have teamed up with the dynamic William Penrice to produce this series of films to inspire people to look at disability differently; to see opportunities that disability can create, as opposed to opportunities lost. We aim to challenge perceptions and show that there is a rewarding life after spinal cord injury."
Simon Browitt, Direct Digital's Business Development Manager says…
"We are delighted to be able to support Back Up and Visara Media with their production. Like many charities at this time Back Up are facing a huge challenge with fund raising, it is our pleasure to be able to offer support to such a deserving charity."