Assistance while travelling on rail after spinal cord injury – a guest blog from Network Rail
6 July 2021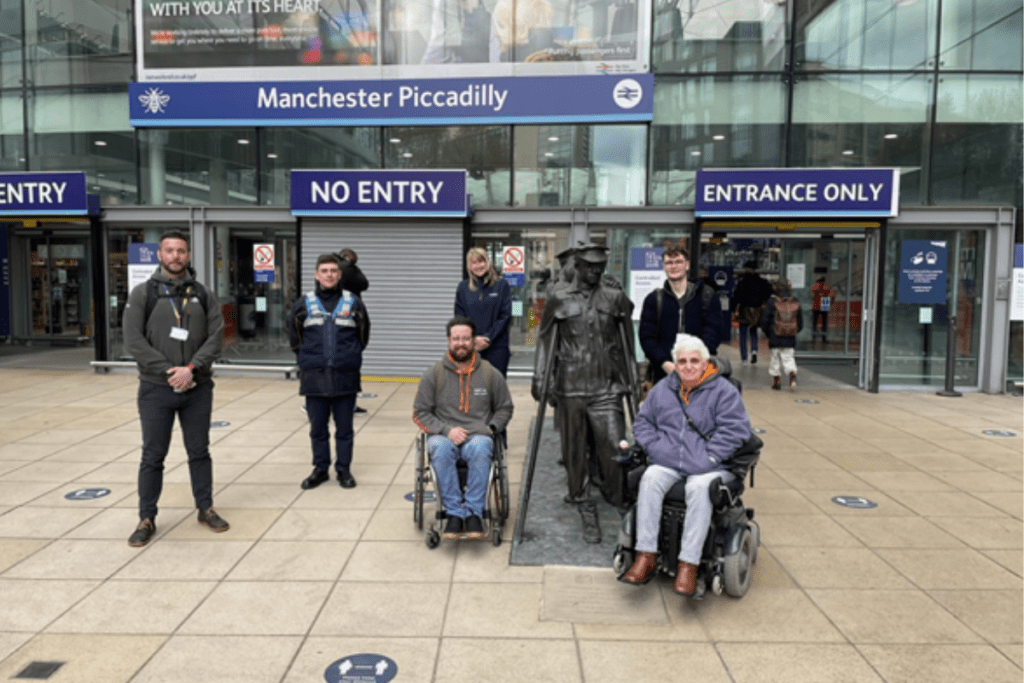 We recently partnered with Network Rail and Transpennine Express to create a series of videos about the different assistance options available on the UK rail network. They have also written us this blog, giving some more information about train travel after spinal cord injury. Read on to learn more.
As lockdown restrictions lift, many of us are travelling more and more. Whether it be a return to the office, a Great British staycation, or a visit to relatives after an extended period apart, why not make the most of quieter stations and emptier trains to make your journey by rail?
Historically, there have been a number of physical and perceived barriers to rail travel for disabled passengers. These contribute to the damning statistic that in 2019, disabled passengers made almost three times fewer rail trips than those without a disability despite 92% of trains being accessible (National Travel Survey).
As well as the clear barriers to rail travel associated with built environment, improving accessibility for disabled passengers is also about alleviating fears and anxieties like "what could go wrong?" or "what if my plans change?".
To this end, Back Up have teamed up with Network Rail and Transpennine Express to produce instructional videos designed to ease common anxieties which you may feel at the prospect of travelling by train. Ultimately, we hope to give you the peace of mind and practical toolkit to travel with confidence.
The videos will tell you all about the obstacles you may face when using the network as a wheelchair user, the services available on your journey, as well as hints and tips from experienced disabled travellers on the techniques you may need to navigate obstacles.
Take a look at the videos below, which are hosted on the Back Up wheelchair skills app, giving you guidance on the go.
How do I book assistance when travelling via rail after spinal cord injury?
We advise that you book assistance before you travel to make sure someone is available to greet you at the right place, at the right time. However, if you are unable to book in advance, speak to station staff at your origin, or use an information point to contact staff who can arrange assistance for your journey from start to finish.
You can book assistance via a brand-new app which has in fact been developed since the videos above were created. The Passenger Assist app is a one-stop-shop for booking all types of assistance on your chosen train quickly and easily. Your details and requirements are all saved to your profile, meaning lengthy calls with train operators or repetitive online forms with a different operator for every journey will become a thing of the past. Amendments to bookings can be made in the app in real time, giving station staff up to date information and giving you the confidence that the correct assistance will be provided.
Additionally, you may not be aware that you could be entitled to a disabled persons railcard, giving you a third off rail fares. In fact, even if you do not have a railcard you may be eligible for a concessionary fare discount for you and a companion if you're travelling in your own wheelchair.
Produced in partnership
These videos have been developed by a team of Network Rail colleagues on an internal leadership course, without professional skills in film making, with no budget. The project would not have been possible without the time and insight generously offered by Back Up staff and volunteers, particularly Rich, Penny and Ollie as well as Transpennine Express staff. We'd like to wholeheartedly thank them for their time, expertise and support.